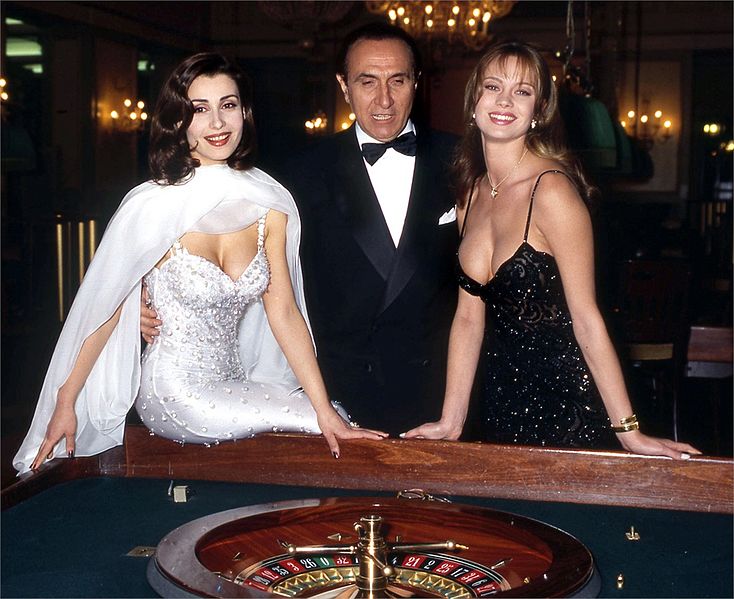 In Italy, as in North America, the 1990s saw a huge jump in popularity for two types of programs: information shows and reality shows. In the 90s Mediaset launched their own newscasts and both RAI and Mediaset added socio-political talk shows and informational programming to their daily schedules with the Mani Pulite ("Clean Hands") political scandal fuelling the debates on these shows. Where mindless entertainment is concerned reality became all the rage with these cheap-to-produce shows becoming increasingly popular with viewers and producers alike. And while Italian television continued to produce strong fictional programming the number of TV shows imported from the United States kept getting higher, increasing the influence of American culture on Italy.
Talk, News and Information
Today we live in an information age. It's hard to remember a time before twenty-four hour news channels and the internet, but that world existed. In Italy the shift towards more information started on Thursday, January 17, 1991 when Emilio Fede, director of VideoNews, appeared before the Studio Aperto cameras to follow the first phases of the Gulf crisis. Also contributing is Silvia Kramar, a journalist working for the Giornale, who is in New York and tuned in to CNN. It is the first time many in Italy hear about the American cable news channel, which was founded in June of 1980 by Atlanta mogul Ted Turner. Watching history unfold live becomes a sort of national obsession in Italy and the number of informational programs—ranging from news and talk shows to analytical programming—continues to rise throughout the decade.
The 1990s sees the birth of news channel TG5 (1992) and the programs of Michele Santoro (Rosso e Nero, Tempo Reale, Moby Dick). There is Investigation hosted by Giuliano Ferrara (1991) and Milano, Italia, which was hosted by, in order, Gad Lerner, Gianni Riotta and Enrico Deaglio. The Clean Hands scandal is the most popular topic of conversation and features prominently in the chats between Emilio Fede and his correspondent Paolo Brosio on the TG4 newscast.
The Women of the 1990s
The female symbols of this decade in television are Ambra, Alba Parietti and Mara Venier. Ambra, in the beginning, was just one of the many girls who animated Non E' La Rai, a program of games and songs written by Gianni Boncompagni and Irene Ghergo, which aired every afternoon live on Italia 1 from 1991. The first edition of the show was hosted by Enrica Bonaccorti and the second by Paolo Bonolis. In 1993 the transmission become self-managed by the girls after which it became a cult hit with lots of gadgets and dedicated merchandising including books, journals, shirts, magazines, figurines and music compilations. Teenagers camped outside the studio to catch a glimpse of the girls and there were many debates as to the merits and drawbacks of such a program.
As for the beautiful Alba Parietti, few had heard of her before 1990. The ex-wife of Franco Oppini, a member of the comedic ensemble Gatti del Vicolo Miracoli, she became a household name after her work on Galagoal on Telemontecarlo, a show dedicated to World Cup Italia '90. Much of Parietti's fame can be attributed to the high stool on which she sat, the perfect way to show off her long legs. Parietti is just one of the many examples of attractive women who not only work on Italian television shows, but also use their physical attributes to attract viewers. Four years later during World Cup USA '94, Parietti and Valeria Marini would become the World Cup sirens on Raiuno.
Mara Venier also used to date a Gatto, in her case Jerry Cala, and hovered on the edge of stardom for twenty odd years before exploding into the public consciousness like a thunderbolt. In 1993, Venier was just one of many involved in the Domenica In broadcast helmed by Luca Giurato. It only took a few weeks for Venier to become the undisputed Queen of Sunday. Venier's success lasted four years and ended with a telepromotion scandal that saw her say a temporary farewell to RAI. Venier would then have an unlucky stint on Canale 5 with flop shows like Ciao Mara, Una Goccia Nel Mare, Forza Papà and La Vita è Meravigliosa.
Another popular television hostess of the 90s is Milly Carlucci, who worked with Fabrizio Frizzi on the popular Scommettiamo Che? Other much watched shows included Karaoke (the launching pad for the astounding career of singer Fiorello), Le Iene hosted by Simona Ventura, Francamente Me Ne Infischio, which marked the return of Adriano Celentano, and cult hit Blob.
Fiction Vs. Reality
The 1990s also saw the launch of popular dramas like Dottoressa Gio (since 1995), Maresciallo Rocca (from 1996), Un Medico In Famiglia (since 1998), Ultimo (from 1998), and the long running serials Un Posto al Sole and Vivere, on Raitre and Canale 5, respectively. While Dynasty and Dallas closed up shop a new host of American programs were ready to take their place including 90210, Baywatch, ER, Friends, The Bold and the Beautiful (just Beautiful in Italy) and the hugely popular Twin Peaks. British Mr. Bean was one of the decade's most popular comedic programs.
For the first time shows also began to feature regular people as protagonists. Programs like C'Eravamo Tanto Amati, Gelosia, Perdono and Scene da un Matrimonio began the trend of reality TV, which is still going strong. Two other popular programs are Stranamore, hosted by Alberto Castagna, and Carramba Che Sorpesa!, which marked Raffaella Carrà's triumphant return to Italian television following a stint in Spain.
In June of 1999 one of the pillars of Italian television, Corrado Mantoni, passed away marking the end of a TV era. As the new millennium approached the trends developed during the 1990s would strengthen into the 2000s, especially in the area of reality TV.