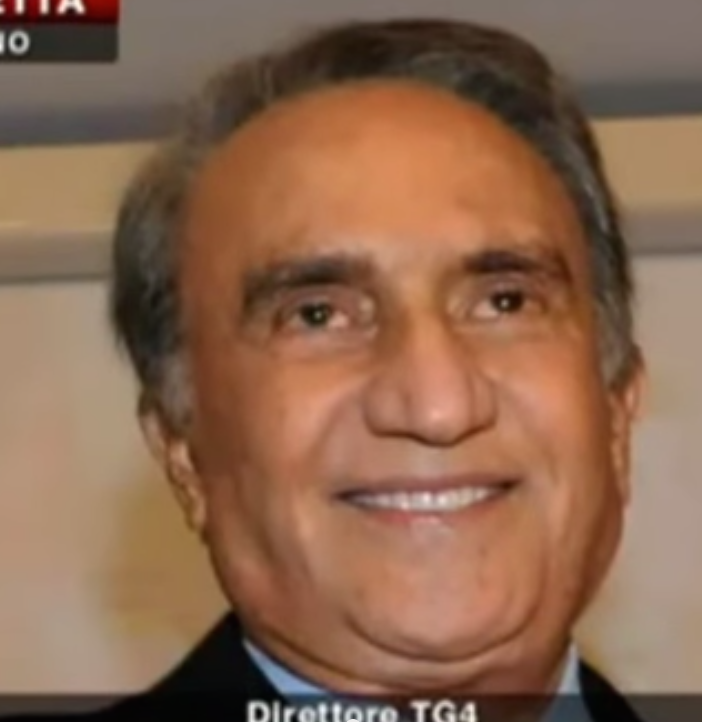 The younger generations see Emilio Fede as an anchorman who is able to deviate from just telling the news. Nowadays, Fede is known more as a showman and comedian, than a journalist. The truth is, however, that Emilio Fede has a long history in journalism and is one of Italy's newsmen with the lengthiest career. In the 1970s Fede, along with colleagues like Massimo Valentini, were predominant figures at Tg1 (or TeleGiornale 1, the news at one of Italy's state-run TV channels). A long run, alongside some of the best in the business at RAI, ensured Fede honed his skills and he shot to fame due to his appeal to the masses. By 1980, though, the novelty had worn off and Fede didn't seem to be just as appreciated by the public: it is at that very moment that he left RAI and the TG1, and his metamorphosis began.
Emilio Fede interview with Ruby on the case.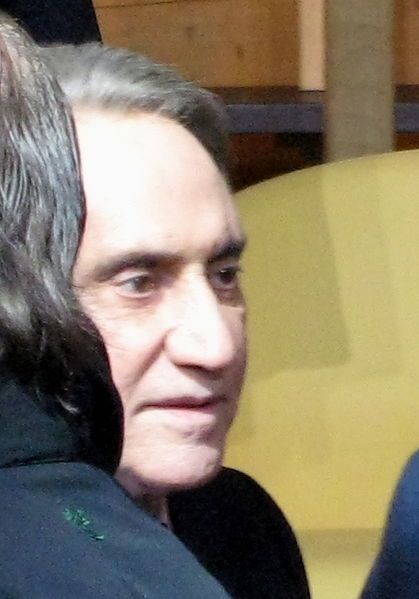 Emilio Fede might have left RAI, but he wasn't ready to give up on success. Instead, the veteran journalist reinvented himself as an anchorman for Rete A, another national TV network, and then became the face of Studio Aperto, the Italia 1 news (property of Silvio Berlusconi); few years later, he became the director of Tg4, the news brand of the Mediaset network, owned by Silvio Berlusconi. At first, it seemed a great return and an interesting decision, but no one knew how interesting until Fede and Tg4 broke all the rules of traditional television. Viewers were truly surprised: the Emilio Fede they had grown up watching was now seemingly a very different person, with a new rhythm and style. Fede's news became a sort of show, and although it was still presented in a traditional way, the feel and atmosphere was anything but. Fede's newscast became like a lengthy editorial and he didn't try to hide the fact that he was trying to shift his audience's opinion in a certain direction. While Fede never manipulated the facts, his comments made his political views clear.
With Berlusconi entering politics, Fede's and Tg4 changed their angle, leading to a clear and obvious support of Berlusconi to the extent that the Prime Minister jokingly accused Fede's support of backfiring, by making Berlusconi seem less credible. Although Berlusconi owns the network and is Fede's boss, there is no evidence that there has been a direct order to tell the news in any particular way. And while Fede's style has likely cost him some viewers, it has also rewarded him with the rabid loyalty of others. During his direction, Tg4 could not in all honesty be labeled as objective, but it was amusing to watch and relatively legitimate. Indeed, while Fede makes it clear what he believes, he doesn't impose his views, instead choosing to present them in a polite way and often inviting members of the opposition to speak with him. All who do so are treated with dignity and respect, something that is not always the case on other networks. In 2012 Fede and Mediaset couldn't find an agreement on his employment, so he quit and moved to work for a local tv.
Another interesting aspect of Emilio Fede is his love for gambling and for a certain type of social life. Happily married and loyal to his wife, he never refuses to appear on talk shows or attend special V.I.P. events. He enjoys going to the casino, something that creates room for much gossip – such behavior and his overall image are, of course in direct conflict with the academic stereotype of the journalist, and even with Fede himself, when compared to the early stages of his career. Maybe he even exagerated, because he's involved in the Ruby Gate, the trial for prostitution against Silvio Berlusconi, Nicole Minetti and Lelle Mora, besides Fede.
Fede's time at Tg4 has seen some very funny moments that have become TV classics. Two of the most notorious bits involve Paolo Brosio and the "weather girls": Paolo Brosio was a reporter who was sent out into the field and had to correspond in real time, often in terrible weather conditions. He was not able to take cover, controlled and bossed around by Fede all the times. The scenario almost became a sitcom and many tuned in to the news just to watch the long suffering Brosio. The "weather girls" are another show-like addition to Fede's newscast. Two beautiful girls announce the weather, clearly meant to appeal to the men in the audience. While tasteful, this is obviously against the traditional rules of conduct for an evening news program. His audience enjoyed him just as he is, which is a good thing because Emilio Fede isn't making any apologies.