Verona is the head town of the homonymous province in the region of Veneto, in the northeastern part of Italy. With its 258.917 inhabitants, it is the twelfth Italian city by population. The city of love is a place that everyone should see at least once. Even if you're spending just one day in Verona, there is much to explore!
Visit Verona, Italy
The city of Verona is an important touristic destination, visited annually by more than three million people, especially thanks to its wealth of art and architecture.
The city has been declared a World Heritage Site by UNESCO for its urban structure and its architecture: Verona is a clear example of a city that has developed progressively and uninterruptedly over two thousand years, incorporating artistic elements of the highest quality for different periods. The architectural layout of the city is very reminiscent of Rome, as styles have evolved without disappearing, always maintaining some sort of connection with one another. This has given to the city a sense of artistic and visual continuity that transformed it almost into an open air museum.
We cannot speak about Verona without thinking of Juliet's balcony. This simple fact makes it one of the most romantic spots on Earth, where lovers go every day and leave their little notes, hoping that the spirit of Juliet will make their wishes come true. If you're planning a walking tour in Verona, well, the house of Juliet can't miss from your list!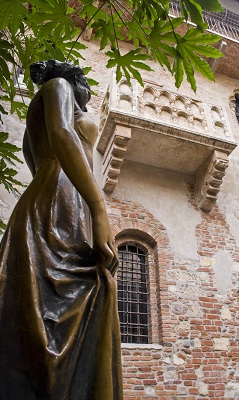 Verona probably owes a great deal of royalties to Shakespeare, however the town clearly goes far beyond being the home of Romeo and Juliet and, indeed, it offers extraordinary monuments and beautiful sites to visit. Historically, the city always had a particular and special relationship with its river, the Adige, which used to have a huge relevance for Verona's economy, although this strong link has been somewhat reduced in recent years.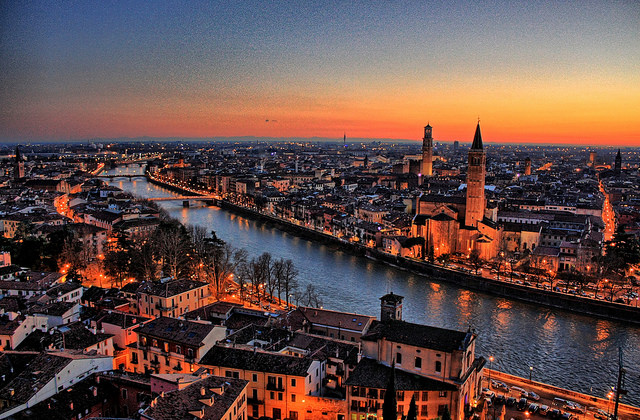 The ancient Romans considered Verona and its river a very important site for settlement and later, during Medieval times, Verona's relevance grew also from a military and strategic point of view. This status in particular seems to be a constant in Verona's history: during World War II, Verona symbolically became the heart of the Republic of Salò, Mussolini' s last attempt at ruling the country. During the Cold War, Verona represented one of NATO's last western outposts.
To the many tourists who visit every year, Verona appears to be a miniature-Rome, with the Arena right in the middle of the city. The Arena is a Roman amphitheater, a smaller version of the Coliseum, if you wish, and it is still used today for concerts and special events. In fact, Verona is particularly lively, especially when it comes to music. The summer, which is balmy and pleasant in the North-East of Italy, is particularly rich of musical events to enjoy during the day, as well as in the evening.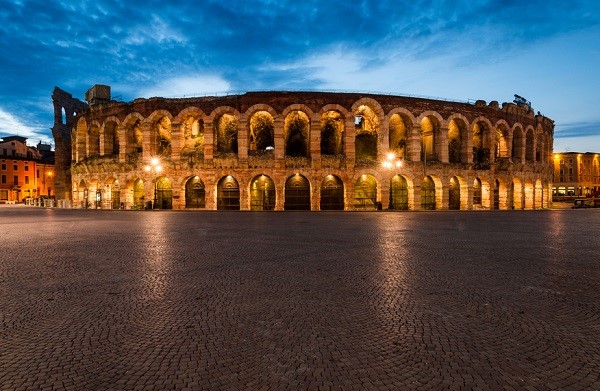 Let's conclude our quick look at Verona with some notes on its economy and its food.
Wine is certainly one of best known products of the Veronese (the Verona's area), its Pinot Grigio and Trebbiano known and exported all around the world. Marble quarries, mostly owned by smaller, family run businesses, extract beautiful red and pink marbles, which are not only sourced, but also treated and cut in the area. In fact, Verona is considered one of the main world centres of the marble industry. For all Italians, Verona is also synonymous with Christmas: pandoro, a light and fluffy cake shaped like a star and covered in icing sugar, is as famous as panettone and is regularly part of every Italian family's Christmas dinner. Other famous dishes from the city include risotto al radicchio (chicory risotto), polenta (typical in fact of all Northern Italy) served with poultry stews and salame, as well as dishes made with donkey and horse meat!
Updated and edited by Francesca Bezzone