Do you know where is Montagnanga? Montagnana is a comune and town located in the Veneto region of Northern Italy and is situated in the province of Padova. The town is located close to the most faous vities of Veneto region: Venice andPadova. Montagnana covers an area of over 45 sq km and has a population of close to 9500.
Montagnana is a medieval walled city and its fortifications and walls are still well preserved. In fact it seems that the medieval walls of Montagnana are one of the most well preserved in Europe. Montagnana was also the birth place of two of the most famous opera tenors from the 20th century: Giovanni Martinelli and Aureliano Pertile. They were both born in Montagnana in 1885.
Attractions in Montagnana
The Town Walls
The medieval walls of the town in Montagnana are the most interesting to explore. These walls have been standing in the town for centuries, moreover, they are famous for being the best preserved medieval walls in Europe. Except for a few spots where the walls suffered for damages, most parts are still intact and the façade is still the original one.
Castello di San Zeno Montagnana
The castello di San Zeno Montagnana is one of the most visited sites in Montagnana Padova. The ruler of Bassano, Ezzelino III da Romano and Adelaide degli Alberti di Mangona ordered the construction. They belonged to a family of counts from Tuscany. The castle is quite well preserved and has been renovated a few times over the centuries but much of the façade is still undamaged.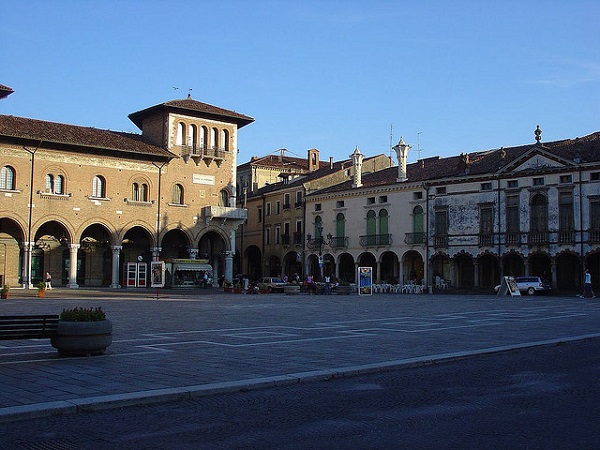 Rocca degli Alberi
The Rocca degli Alberi is another castle in Montagnana which was built in 1360 by the Carraresi family. They were an important family in northern Italy and had an overwhelming power and patronage. The family had extensive property in Montagnana as well as in the province of Padua and had a major political prominence which is why they were often compared to the Visconti of Milan. The castle was built by them as a private residence and is still very well preserved.
The Cathedral
The cathedral of Montagnana is the most important religious center in the town. The cathedral was built in 1431 in the gothic style of architecture. The building has been renovated a few times in the past centuries and several late Renaissance style additions have been made to the main building. Inside the cathedral are many beautiful art works, the most noteworthy being the Transfiguration made by Paolo Veronese. There is also a beautiful fresco of Judith and David inside the cathedral which has been attributed to Giorgione.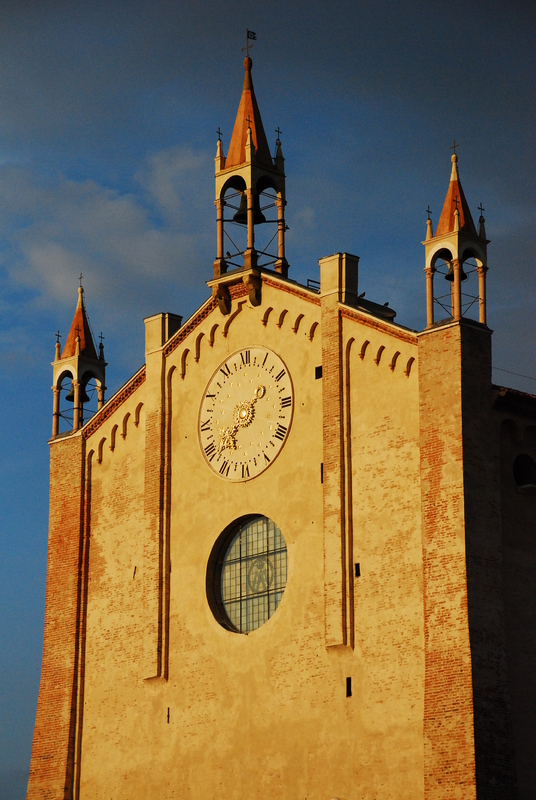 Palazzo Magnavin-Fioratti
The beautiful Palazzo Magnavin-Fioratti is worth a visit because of its excellent architecture. The palace was built in a Venetian gothic style of architecture and has several noteworthy elements incorporated into the design of the palace.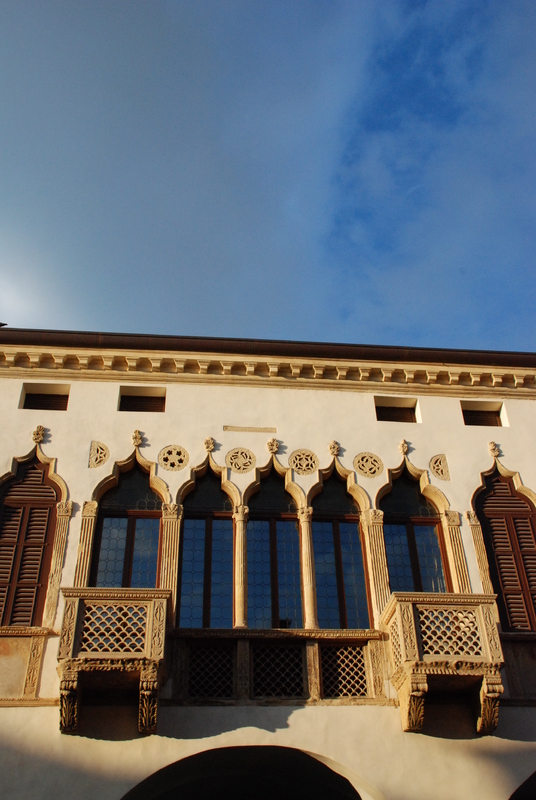 Getting to Montagnana
Autostrada A4 connects Montagnana to Venice and Mantua which are only 84 km and 60 km from the town. Visitors can take the same route from Padua to reach Montagnana which is located 45 km from the town. There is also a train station in Montagnana which connects it to the cities of Milan, Venice, Genova and Trieste. Trains leave a few times every week from each of these cities for Montagnana and are quite comfortable for travel. Visitors can also travel by the state buses from all of these locations to reach Montagnana. However, the easiest thing to do is to drive down to the town since it is located in close proximity to Venice and other larger towns.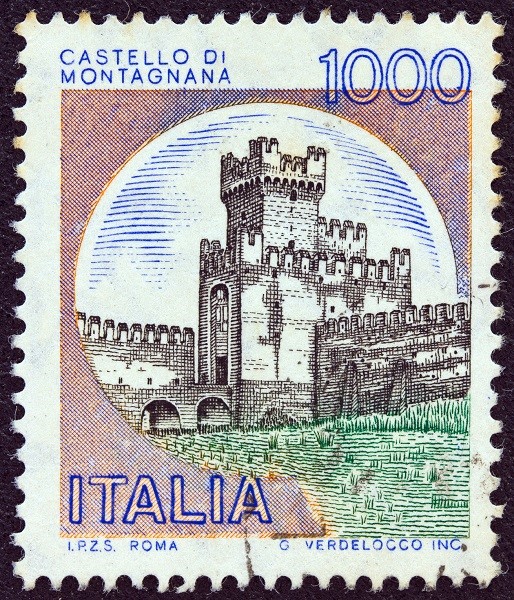 Moving Around Montagnana
There are only a few places in Montagnana that would be of interest to tourists. Most of these attractions are located within the town and can be easily explored on foot. Montagnana has picturesque pedestrian streets that are not very crowded, except for in a few areas, so walking around can be quite enjoyable. Visitors can also travel by the local public buses or drive around if they have their own car. There are several parking lots strewn through the town where parking spots are easily available. Many tourists also opt for mopeds or scooters which can be rented at many shops in Montagnana.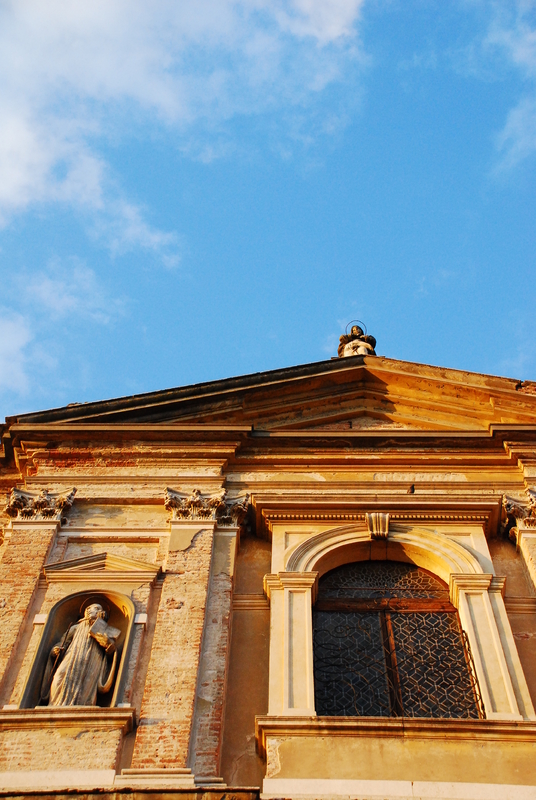 Stay and Accommodation
Montagnana is quite a small town and it attracts very few tourists. Because of its proximity to several large cities like Venice, Padua and other larger towns in the province, most people visit Montagnana as a day excursion. Since there are only a few places to visit in the town, most people do not spend the night in Montagnana. There are very few hotels located in the town, most of which offer comfortable rooms at low prices. Visitors can also stay in the few farm houses and ancient homes managed by agritourism located on the outskirts of the town. Some of the most well known hotels in the town are Hotel Aldo Moro, Hotel Albergo Dalla Tosca and Hotel Albergo Ezzelino.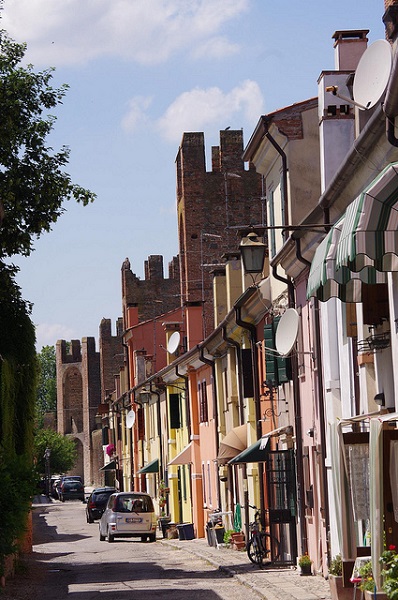 Eating in Montagnana
There are a handful of good options for visitors to eat out in Montagnana. The town has a few good restaurants, pizzerias and trattorias where visitors can find home style cooking in a casual atmosphere. There are also a few bars and cafes that serve good wine, coffee, sandwiches and light appetizers. Food served in most restaurants is Italian and regional dishes which are popular with the locals. Some of the most popular restaurants in Montagnana are ristorante hostaria San Benedetto, trattoria bar Locanda Concordia, trattoria Da Stona, pizzeria Da Beppe, pizzeria express Di Paluan Graziano, trattoria San Zeno and pizza mania Di Mainardi Luigi.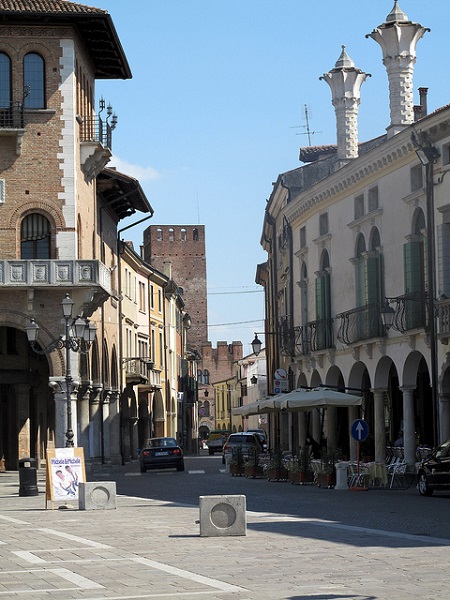 Shopping in Montagnana
Visitors who plan to shop in Montagnana should visit the older section of the town that has plenty of streets lined with small ancient shops selling everything from clothes and jewelry to food products and handicrafts. Locals do most of their shopping at these locations and visitors will be able to find good locally made products at reasonable prices.