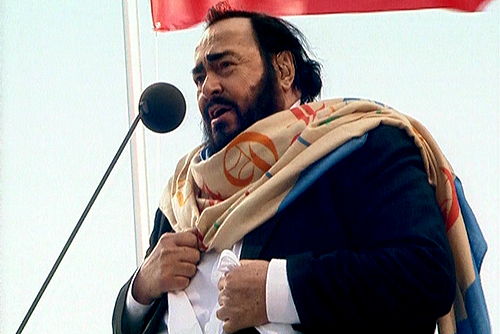 If you are not an opera buff and you are asked about opera singers, it is very likely your thoughts run to the Three Tenors who, between 1990 and the mid 2000, managed to bring opera arias and themes into the homes of an enormous amount of people worldwide. They were Placido Domingo, José Carreras and, of course, the Italian Luciano Pavarotti.
Known for his powerful, moving tenor voice, Pavarotti enjoyed international fame and is considered by many as one of the greatest Italian singers of all times: it is, to many respects, also thanks to him that opera music has returned to enjoy a popularity it had not had for almost a century. Pavarotti did take opera and placed it once more centrestage, where it truly belongs,  attracting fans of all ages.
Pavarotti roared his way into the world on October 12th, 1935 in the city of Modena, Emilia Romagna. The only child of a baker, who was also an amateur singer, the young Pavarotti was a member of the Rossini Choir in Modena, alongside his father. With this experience, Pavarotti received his first taste of singing. As a child, Pavarotti was also part of a soccer team, a passion which he would not relinquish for the rest of his life.
In 1961, while in his mid-twenties, Pavarotti received his big debut as the character Rodolfo in La Bohème, at the Reggio Emilia opera house. This is also the year he marries his long term girlfriend, Adua Veroni, from whom he was to have three daughters, Lorenza, Cristina and Giuliana.
A few years later, he debuted in the United States, in Miami: it was 1965 when Pavarotti performed in Donizzetti's Lucia di Lammermoor, with acclaimed Australian soprano Joan Sutherland. He was immediately perceived as a great up-and-coming tenor, but his real success would not come until the early 70s.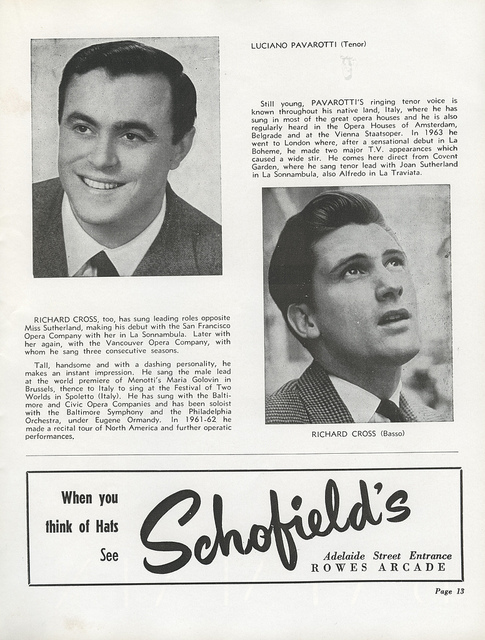 On February 17th,  1972 he achieved the groundbreaking success that would instantaneously launch him into the realm of the unforgettables. On that cold Winter day, the stage of New York's Metropolitan Opera was raging with passion as Pavarotti performed in Donizetti's La fille du Régiment to an ecstatic crowd. When the great singer completed three high Cs, the crowd erupted into applause at his impressive display of talent. He achieved seventeen curtain calls from his gripping performance, which propelled him into stardom. Following his astonishing performance, Pavarotti enjoyed immense fame, drawing crowds in record-breaking numbers. In 1977, his performance as Rodolfo for the televised performance of La Bohème from the Met attracted the largest audience ever for a televised opera. He sang on many stages, sharing his wonderful voice with a crowd captivated by his passionate performance.
Pavarotti's success ever since has been undeniable. He has enthralled audiences for decades while performing around the world to sold-out crowds, mesmerized by his incredible voice. Each of his performances on stage have been recorded and he has sold millions of copies of his music worldwide. In the 90s, Pavarotti's success was to continue as he would give outdoor concerts and serenade the attendants with his majestic voice. Most notable was the concert he gave at Hyde Park in London, which drew a record 150,000 attendees and his concert on the Great Lawn in New York's Central Park which drew over 500,000 listeners. Both of these were televised and the number of viewers was in the millions. He also performed a concert at the Eiffel Tower in Paris, attracting a crowd of 300,000 listeners.
Pavarotti in Hyde Park in London, 1991.
He would, however, become largely known in the 90s for his partnership with Placido Domingo and José Carreras to form The Three Tenors. Their first concert was held in 1990 in Rome, during the soccer World Cup. From here, they went on tour around the globe singing in places such as the Dodger Stadium in Los Angeles, Paris and even Yokohama, Japan. They even performed in Broadway, and their songs were enormously popular. Many opera purists have made detracting statements against the trio, stating that business made them loose passion for music. However, criticism left their popularity unscated.
The 1990s were also a turbulent sentimental and personal time for Pavarotti. His long marriage came to an end when indiscretions, then proven true, of his relationship with young PR Nicoletta Mantovani emerged. Pavarotti and Mantovani were to marry in 2003, in a grandiose ceremony at the Modena Opera House, with a guest parterre which included Bono, Zucchero Fornaciari, Ligabue and many other artists and performers. The wedding took place only a few months after Nicoletta had given birth to the couple first and only child together, Alice. Alice had a twin, Riccardo, who died at childbirth.
Pavarotti made his final tour in 2004 at the age of 69, and passed away on the 6th of September, 2007, after having been diagnosed with pancreatic cancer. His death was mourned by millions and brought about, at least according to world media, a good deal of legal issues in relation to his inheritance, even though the parties involved, his second wife, Mantovani, and his daughters from his first marriage, always denied such circumstances.