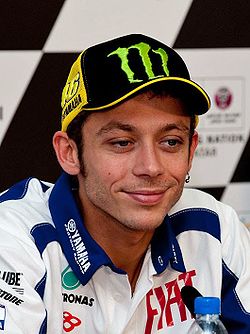 Italy always produced great bikers: it's almost like the country's racing in its blood. When, in the 1960s and 1970s, Giacomo Agostini reached the Olympus of world motorbike racing, it seemed nobody could do as well as him. It was truly so for decades, until Valentino Rossi came onto the scene.
Valentino's amazing career
Born in 1979, Rossi is already a legend in his sport and has shown a great talent for handling motorbikes from a very early age. Rossi's true debut in the World Championship Class 125 was in 1996, when he won his first race. A year later, he joined the Aprilia team and won his first world title, at the tender age of 18.
In 1998, Rossi jumped up to the 250 class and his talent shone through immediately: he came second, behind only to his own team mate Loris Capirossi, largely considered at the time the best pilot around. A year later Valentino was to become champion of the 250 and in 2000 he joined the highest tier of motorbiking, the 500 or half liter, with the Honda team.
Even if he no longer raced for an Italian team, he brought with him trusted people and his Italian sponsor. At the end of that first season Rossi came an impressive second and was well on his way to become a legend.
2001 was an amazing year: Rossi won eleven races and, most importantly, a second world championship, which made it the true king of motor racing to the eyes of the world. The following year, the 500 class became Moto GP, where new types of bikes and engines were introduced, so Valentino also has the peculiar distinction to be the last racer to have won a world championship in a category.
Moto GP, Rossi stayed number one: he retained the title for the following two years and never ended a race off the podium.
Amazingly, in 2003 Honda decided Rossi was no longer vital to their cause and basically let him go. The racer transferred to Yamaha, which was seriously struggling at that point, and put in solid work with a great team of assistants and engineers he brought along from Honda and managed to put the Japanese team back on the map of Moto GP.
When he won yet another championship that year, on the very first season with his new team, Valentino celebrated a real triumph, both personal and professional. The win gave Rossi the opportunity to start afresh, leaving Honda and all the harmful gossip surrounding his demise from his former team behind. The following year, in 2004, Rossi did even better, winning the championship with four races left, after scoring a total of eleven victories.
However, darker times were looming: 2006 and 2007 were not good years for "Il Dottore" (as Rossi's lovingly known among his fans), but he made a roaring return in 2008, winning the title and beating Giacomo Agostini's legendary record of 69 victories in motorbike racing. Rossi's ninth – and for the moment, last – title, arrives in 2009, along with his 100th victory.
Issues returned in 2010, when Rossi faced physical problems after an accident, as well as the declining of his relationship with Yamaha, which he was to leave the same year.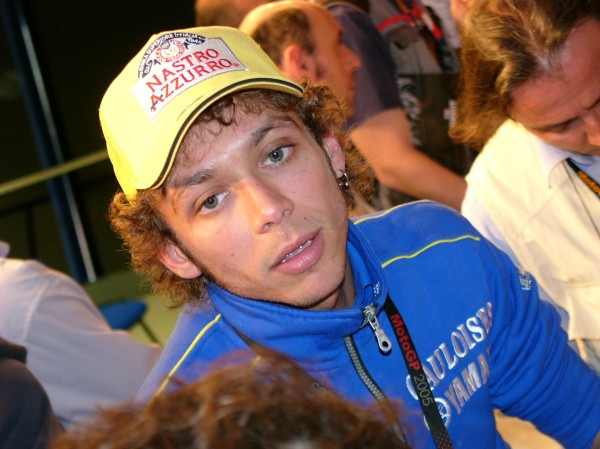 As his next team, Rossi chose Italian motorbike legend Ducati, in 2011. Italian fans began dreaming big, hoping the union between the best Italian racer and the most iconic of all Italian bikes would bring amazing victories, but this wasn't to be. Both 2011 and 2012, the years Rossi spent at Ducati, were professionally bleak and personally painful: in October 2011, he tragically looses his friend – and fellow racer– Marco Simoncelli.
In 2013 Rossi goes back to Yamaha, in partnership with the spanish Lorenzo, the champion of the last races. In 2015 he started the season winning the opening race in Qatar.
As of today Valentino Rossi is the only motorbike racer in history to have won championships in four different classes. In recent years Rossi has tested the F1 Ferrari several times, spurring rumors of an eventual transfer to car racing. While the possibility is tantalizing for racing fans it appears to be more wishful thinking than reality at this point. Meanwhile Rossi often participates in rallies, winning in Monza twice, but has never seemed very impressed with other official races, although he has scored good results overall considering his experience.
Rossi's nickname is the "doctor" and he is well served by his open and genial manner, which makes it easy for him to deal with the media and fans alike. A true showman, Valentino is famous for his colorful post-race celebrations, where he often wears costumes and wigs, all to make things more fun for spectators worldwide who love him and clamor for more.