Bringing Your Pet to Italy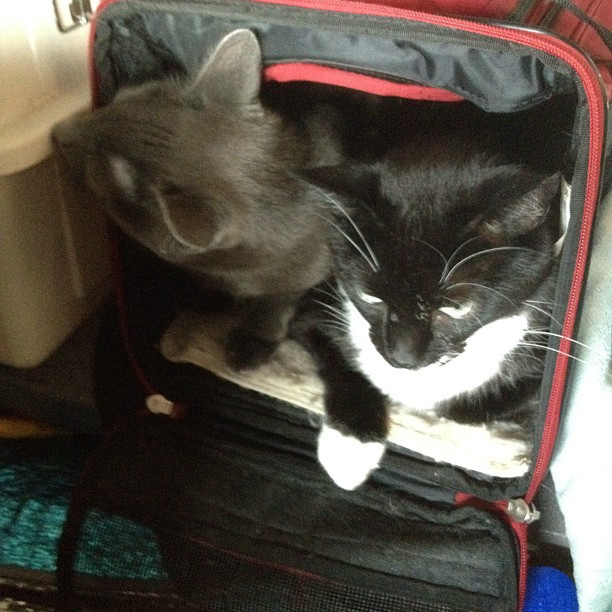 With suitcase in hand and carry-on strapped over one shoulder, it is time to wonder where dear old pussycat will fit among the traveling gear. We decided to read about traveling with pets which covered a slew of rules and regulations, though we still had many questions.
Is he old enough to travel? Will he be comfortable? Do we have a proper kennel? Which flights will cater to him? It was time to face the challenge, and a relief struck as dark yellow eyes sparkled from behind his shining grey fur. Consider your airline. They will consider your pet's health.
You will be required to present a certificate of good health for your pet. Check with the airline you choose for the period of time required. For example, United expects a certificate to be dated no later than 30 days before your flight and if your pet travels as cargo, a 10 day or sooner dated certificate would be necessary.
Your pet's disposition will be reviewed and if found dangerous or violent will be denied likewise. All paperwork must be in order and kennel standards must be met.
Choosing a Kennel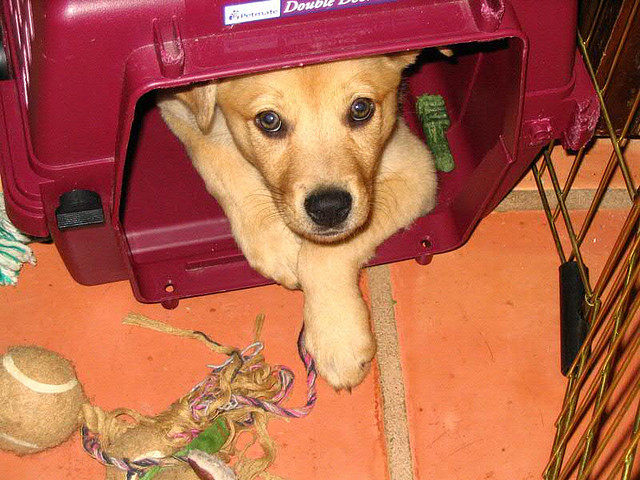 The kennel for your pet must meet the APHIS or Animal Plant Health Inspection Service regulations. It also has to fit the size of your pet, who must be able to lie down and turn around comfortably. It must be sturdy and well ventilated with a secure closing device requiring no tool for its use.
Ventilation spaces must be ensured for adequacy with no possibility of being blocked by adjoining cargo or other kennels. Kennels may be purchased at pet shops or with airlines.
Preparing your pet
Let your pet nose around the new object, sniff and go inside. Throw in your old paisley socks, his favorite toys or blanket: he needs to feel comfortable and safe in the kennel to minimize stress during travel. A good idea is also to feed him every now and then inside the kennel.
Keep in mind kennels should always include empty water and food dishes, secured inside and accessible, and a display of the owner's name and address. Make also sure there are arrows pointing towards the top side of the kennel.
Transporting your pet
*All rules depend on individual airlines, so always contact them directly before planning your trip, to make sure of regulations.
You may keep a small pet in the cabin in a carry on kennel that fits under the passenger seat. In this case also, the chosen kennel needs to meet specific requirements of manufacture and size, which you should check with the air company. On the other hand, if your pet is traveling in the cargo section, keep in mind you must be a passenger aboard that very flight. Your animal may be shipped with 'free animal cargo shipment.' In this system your pet will travel through cargo channels or as special expedited delivery. Here, pets are transported in pressurized (i.e.: the air is the same as that we breath in the passenger cabin) holds located in the same area as checked baggage. There are cargo departments which employ pet transport specialists to assist you.
Specific Rules
A pet cannot have an offensive odor.
A pet cannot be allowed to disturb onboard travelers.
He must adhere to the FAA Federal Aviation Administration rules.
Carriers reserve the rite to embargo pet travel during extreme weather conditions.
Pets with you in the passanger cabin: basic regulations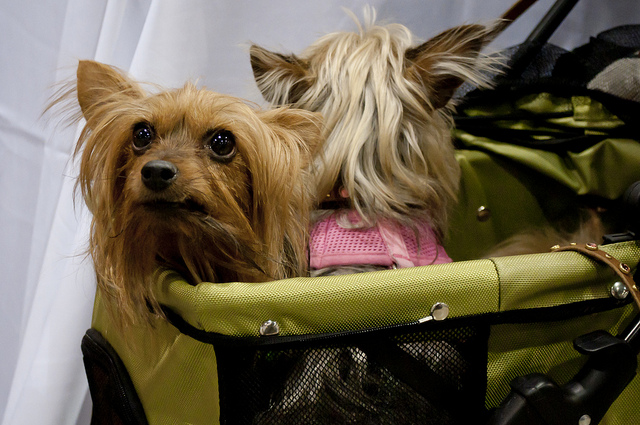 Your pet carrier must fit underneath the seat without blocking any person's path to the main aisle of the airplane.Today, the best choice is to pick a soft sided type of carrier, such as those produced by Sturdy, which are airline approved and waterproof.
Your pet carrier must be stowed properly before the last passenger entry door to the airplane is closed in order for the airplane to leave the gate.
Your pet carrier must remain properly stowed the entire time the airplane is moving on the airport surface and for take off and landing.
You must follow flight attendant instructions regarding the proper stowage of your pet carrier.
Always be considered to your pet!
Book a direct flight.
Avoid weekend and holiday travel.
Travel during warm seasons not hot or frigid ones.
If you must travel in the summer consider taking an extra early flight or unusually late one.
International pet travel
Internationally traveling with your pet may prove to be a heavier burden than expected. You may contact the embassy or consulate in the country of your destination to get the full page on regulations. Obtain necessary paperwork such as certificates of health and passports.
Contact your veterinarian to ensure your pet is in compliance with foreign health regulations. The CDC deals with importing pets into the USA, while the APHIS deal with the International export regulations. At the airport, the TSA Transportation Security Administration will require physical screening of each pet and kennel. He will pass with you through screening equipment at the security checkpoint out of his kennel, so a leash would be essential.
Checking in can be tricky. Determine if your pet is traveling as baggage or with the delivery service. Check-in will usually be at the passenger terminal unless he is traveling through the cargo system. In this case, you must locate the air freight terminal located in a separate area of the airport.
Tips
Be sure to check the cut-off time for your flight.
Check the location from which you can retrieve your pet at the airport of destination.
Allow extra time for connecting flight transfers.
Verify with your booked airline whether or not you'll have the need to check in your pet while changing airlines.
Dealing with layovers
Remember this: if your pet is traveling as baggage most airlines will not transfer him to the final destination served by the other airline. With travel itinerary which includes connecting flights, you will need to claim your pet at the connecting stop the point where you change airlines and check him in with the agent as yourself.
If you're going the cargo route with your pet, this system is able to automatically transfer your pet from one airline to the other. This will take some organizing and transfer arrangements prior to your trip.
In Europe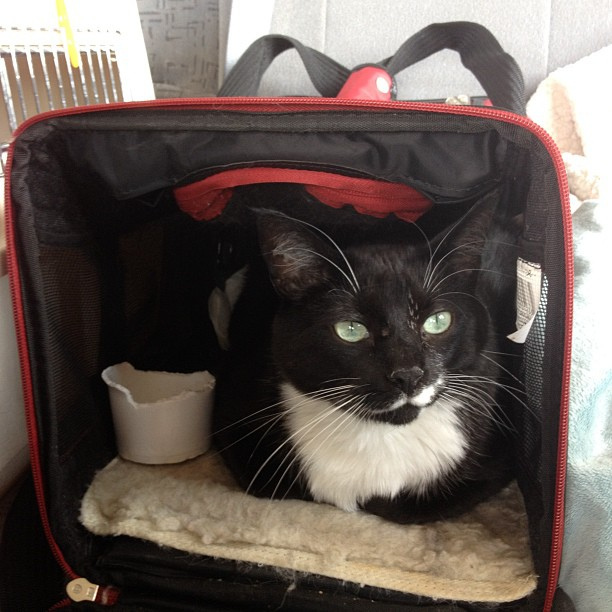 Pets traveling to the Republic of Ireland will be required to undergo a six month quarantine; pets traveling to other EU countries will only need a veterinarian certificate of good health, a rabies vaccine and passport.
The Pet Travel Scheme allows domestic pets to travel to and from the UK without quarantine.
The European pet passport
The pet passport is a little booklet containing obligatory information on your pet. It includes his ID number and proof of valid rabies virus vaccination, which is good for the lifetime of your pet.
*Enter to the UK-the passport cannot be issued until six months after a satisfactory blood test.
The pet passport is valid in all EU countries: Austria, Belgium, Bulgaria, Cyprus, the Czech Republic, Denmark, Estonia, Finland, France, Germany, Greece, Hungary, Ireland, Italy, Latvia, Lithuania, Luxembourg, Malta, the Netherlands, Poland, Portugal, Romania, Slovakia, Slovenia, Spain, Sweden, and the United Kingdom.
It is also valid in some non EU areas such as the Canary Islands, Azores and Madeira.
The passport is valid in Iceland, Monaco, Norway, San Marino, Switzerland and the Vatican City.
Only a vet can issue the pet passport.
Now how does it work? The passport allows domestic animals like cats, ferrets and dogs to cross any European borders freely.
More tips!
All pets must be over 3 months of age to enter on Italian soil. If a rabies vaccine was administered for the first time, you must wait a 21 day period before his entry will be permitted.
To be allowed to enter any EU country, your pet will need to:
Have a microchip implanted surgically into his neck
Have an anti-rabies vaccination
Have a blood screening
Be treated for ticks and tapeworm 24-48 hours before departure
Have his pet passport
As regulations are slightly different to enter the British Islands than the rest of Europe, it would be less troublesome to first consult with a pet travel service or travel agency.
If you're traveling spefically to Italy, you'll need: a valid veterinary certificate with the owner's details, a description of the animal, his ID and proof of his rabies vaccine. Your pet needs also to be microchipped in accordance with ISO-11784 standards. Once in Italy an Italian vet may issue the pet a EU pet passport
Airlines accepting pets
Most airlined today accept pets on board or as cargo. Among them, Delta, US Air, United Airlines, Continental Airlines, Northwhest, Lufthansa are known for their pet service.
All US airlines except service animals. The Department of Transportation (DOT) requires airlines to allow passengers to fly with their service animals in the cabin on all U.S. airlines. Service animals are not pets. They are working animals that assist persons with disabilities.
Allergic to pets?
Most allergens are carried into the cabin on the clothes of other passengers.
If you happen to be allergic to pet dander, you can reduce the chance that there will be an animal in the cabin on your flight. You can fly on an airline that does not allow pets in the cabin. You can also ask the reservations agent for your airline if another passenger on the same flight has made reservations to travel with a pet. You should also check with your allergist or doctor before your trip to discuss travel related risks and ask if you should carry medications with you. If a reaction should occur during the flight, follow your doctor's treatment instructions and ask a flight attendant for assistance.
Your pet is a big part of your life and needs your patience and understanding of the rules that will essentially allow him to travel alongside you.