Blue Grotto
Blue Grotto is one of the most beautiful caves in the world. This is perhaps the most famous cave in Italy for its location, accessibility, and the volume of tourists visiting every year. It is located on the coast of the island of Capri, and must be entered by boat. What is most amazing about this cave is the color of the water against the light, making it a magical environment that only Mother Nature is capable of delivering.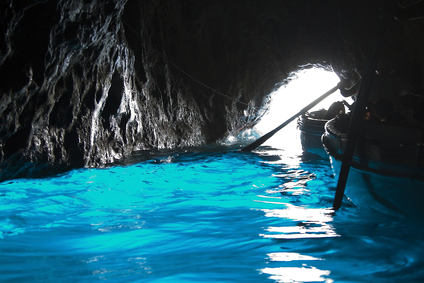 Castelcivita
In the area of Salerno, not far from Naples, it is possible to visit this group of caves. They are famous for their various kinds of stalagmites and stalactites. The caves go on for miles.
Grotta dei cordari
This cave is interesting because is a combination of a natural cave and the work of mankind. It is closed to the public, but truly fascinating to see even from the outside.
Grotta d'Ispignoli
Now, let's go across the sea to Sardinia. This cave has a stalagmite nearly 40 meters tall, almost in the middle of the chamber. The cave also features a long dark hole which is reported to have been used in ancient, pre-Roman times, to sacrifice human lives. This makes it quite a sinister spot to visit.
Nereo Cave
This cave is actually underwater and it is the largest in the Mediterranean Sea. Not far from Neptune's Grotto, off the coast of Sardinia, the cave is big and features several entrances. Additionally this cave is a virtual aquarium for divers, housing its famous red coral, plants, and fish typical of the Mediterranean.