SOCCER: IN ITALY IT'S MORE THAN JUST PASSION
WHEN A GAME BECOMES HISTORY
Fabio Cannavaro was there – we were all there – lifting the 'beautiful cup' in the air as a sign of victory… The scugnizzo napoletano's watery eyes completed a 360 around the world and over the hearts of all of us Italians. This is one of the most fascinating flashbacks of the fourth World Cup won by Marcello Lippi's azzurri, who's eleven rose above every nation in the 2006 World Cup of Germany. After 26 years, the final against France has given the Italians the much needed (and long waited) recognition – the most valuable prize a soccer fan or a professional player ever hope to obtain.
Soccer in Italy is something more than just passion, soccer for Italians means tradition. It's one of the most significant symbols our country has to offer: just like Ferrari, the Coliseum or food. Soccer is also faith, loving your own team means stitching its jersey forever in your heart.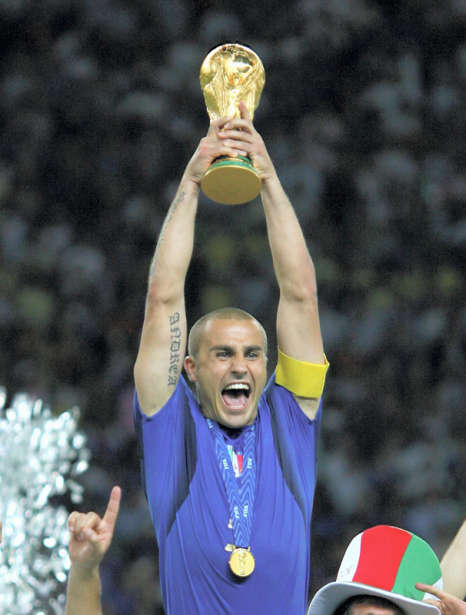 For Italians all over the world, for those who have left their country in hopes of a better future: soccer also means home. The perfectly round-black and white ball has become for them a memory of the past and watching their national team in TV is so much more than a simple sporting event. In fact last July – the day of the World Cup Final – Italians from this side (those residing in Italy) and those patriots from all over (the 'Other Italy'), united their voices in a unanimous chant to celebrate in the piazzas of every nation – crying out loud: 'WE ARE THE CHAMPIONS OF THE WORLD'!
New York, Toronto, Montreal, Sidney, Buenos Aires, Caracas tainted their hearts blue…because soccer is Italy and Italians are soccer – no matter which country they live in.
It evidently becomes unfortunate when all the beauty of such sport gets exploited for violent means. It hurt reading in the newspapers and watching the news about the recent disgraceful events which led to the tragic death of a young policeman during the Sicilian derby Catania-Palermo. That's not the sport we all love …barbaric acts do not belong in our perfect dream which is soccer.
Dreams in fact …who hasn't for once dreamt of becoming a famous soccer player? Hearing the chants of a stadium screaming your name for a moment of glory? Juventus, Milan, Inter, Roma, Lazio, Napoli …we have all worn these jerseys in our minds and we have all laughed and cried over them. That is because soccer lifts every Italian to feel in all the 5 senses the real meaning of the sport…because soccer is in us, soccer is us…SOCCER IS ITALY!
Alfredo Iannaccone, Rome