The town of Pitigliano is located in the Maremma area within the province of Grosseto. The Maremma is an area known for its natural beauty, which is mostly protected by the state through the presence of a national park. Rising about 313 metres above sea level, Pitigliano looks as though its buildings have grown up and out of the cliffs, whilst underneath, many caves had been cut out of the tufa, a variety of limestone, used to house the local olive oil and wine.
Unbelievably, there are documents showing that a small town existed on this rock as far back as the Bronze Age. Catch a glimpse of the town during sunset from the SR74 road…it's breathtaking.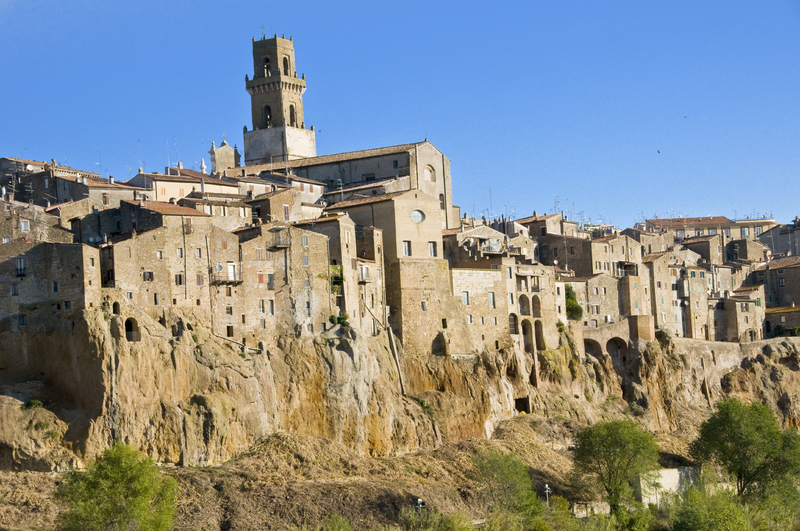 Interesting Places To Visit in Pitigliano
People like Pitigliano because of its timeless charm and the unequalled beauty of its alleys and roads, where small artisan shops, local restaurants and art workshops fill the atmosphere with the scents and voices of times long gone. Of course, a newer part of town has grown outside the medieval walls, but it is within this ancient protective shell made of stone that the real Pitigliano must be sought. Beside the beauty of the landascapes surrounding it, old Pitigliano offers several interesting locations to visit if you are interested in history and architecture. From the tufa-carved alleys of the Etruscans, to a beautifully preserved Medieval Jewish Ghetto, the town will suprise you with the wealth of its patrimony.
Duomo of Pitigliano
The Duomo of Pitigliano, built during the medieval period and dedicated to Saint Paul and Peter, features a large Romanesque bell tower. Renovated in the recent centuries, the façade that is seen today is baroque. The interior is beautifully decorated including two altarpieces painted by Zuccarelli (1702 – 88). Open Daily.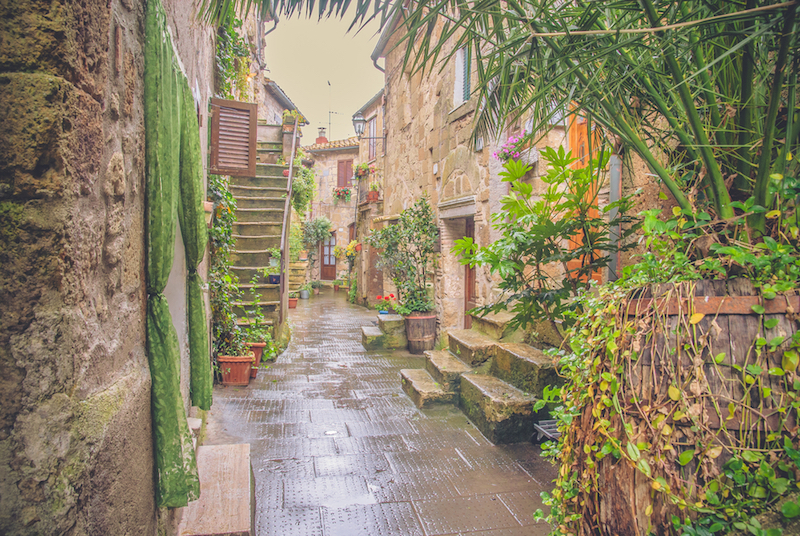 Walking in Pitigliano and Palazzo Orsini
This outstanding building, dating from the 13th century,  houses the Diocesan Museum, Etruscan artefacts and an exhibition of works from local artists including Zuccarelli. Entry fees into the Palazzo Orsini are reasonable. Closed on Mondays. Call 0564 616074 to check on hours of opening, or visit the linked page.
Jewish Ghetto
Pitigliano has a Jewish ghetto in Via Zuccarelli,  including a Synagogue built in 1598. Many Jewish people fled to this town from Rome to escape Catholic persecution some centuries ago, and later the town became known as 'Little Jerusalem' due to its prospering Jewish community. The Jewish community in Pitignano today is no longer as thriving as it used to, but its vestiges are still present and strong. The Synagogue, with its beautiful interior of painted decorations, lamps, Holy Arc, women's gallery, and pulpit were carefully restored in 1995. Most of the old Jewish community's presence has left its mark in the area around the tufa caves, where the kosher wine cellar, butchers, and bakers, as well as the ritual bath, can still be visited. 
Call 0564 616006 for visiting information.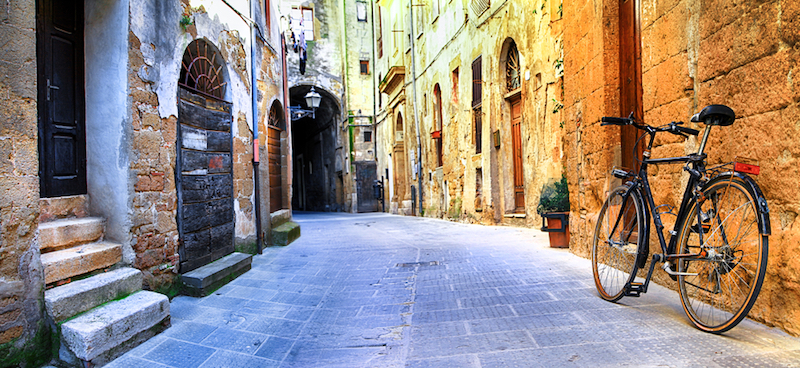 Vie Cave: Etruscan Roads 
TheTourist Office in Piazza Garibaldi (Call 0564 617111) should be able to provide detailed information on recommended walks to take in the amazing Etruscan roads and passageways carved deep into the rock. This fascinating ancient area is very important to Pitigliano. Wear comfortable shoes and enjoy stepping back in time. If speaking on the phone in Italian scares you a bit, you can check the Comune di Pitigliano official website.
How To Get There
If you are arriving by air, Pitigliano is roughly half way between the main airports of ROME (Ciampino or Fiumicino airports) and PISA (Galileo Galilei airport). You would then need to take a train to the large town of Grosseto on the west coast, and from there, take a connecting bus or enquire on the cost of a taxi. The alternative option, of course, is to hire car. Pitigliano is inland along the scenic route of the SR74 stretching itself between Lago di Bolsena and the sea.
Accommodation in Pitigliano
Pitigliano offers several options if you decide to stay overnight. The Hotel Valle Orientina is a lovely three star hotel, with spa, tennis courts and several other lovely commodities to make your stay perfect. The Albergo Guastini, in Piazza Petruccioli, is also a renowned restaurant. The Hotel Belvedere is small, but has a lovely garden and a panoramic terrace, whereas the Podere Melograno is perfect if you wish to spend time in an agriturismo.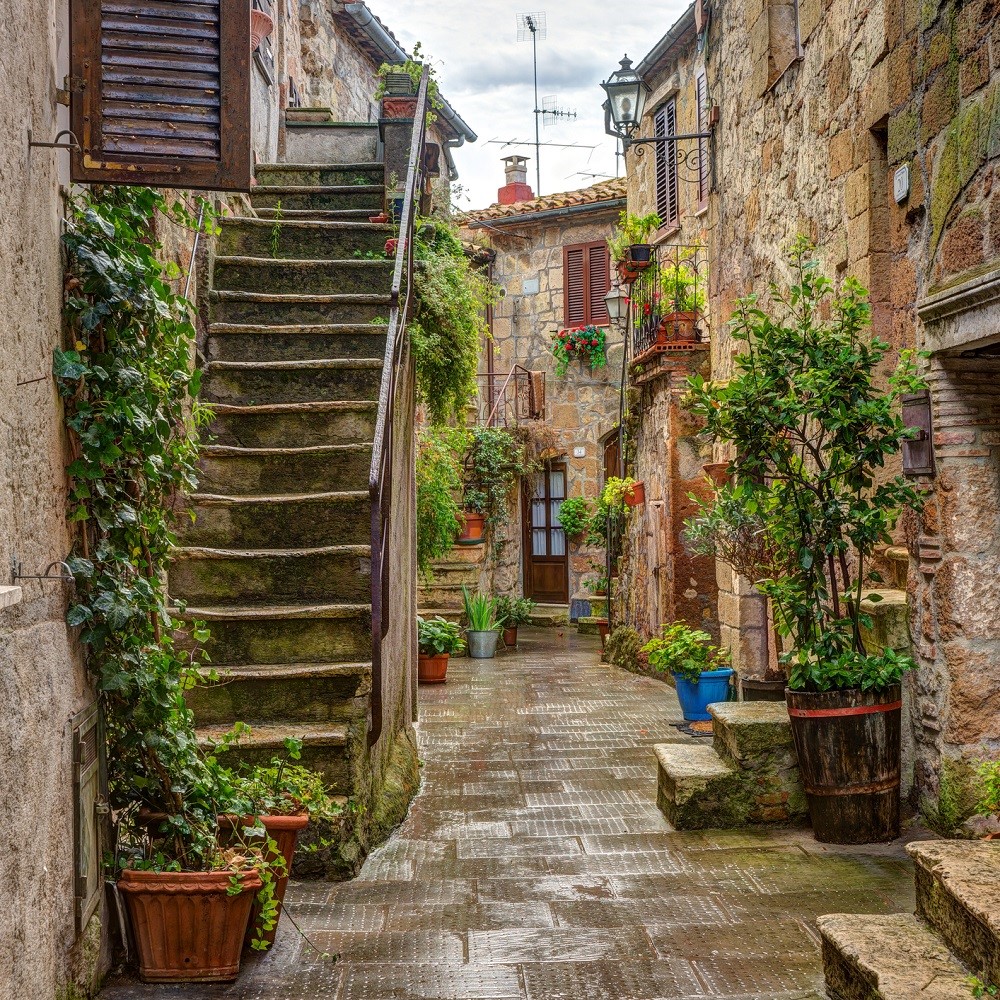 Suggestions on where to eat in Pitigliano
There is a good choice of places to eat out in Pitigliano, for example: Chalet il Noce Pizzeria in Piazza Garibaldi, the Trattoria il Grillo in Via Cavour, La Magica Torre in Piazza Petruccioli as well as the already mentioned Albergo Guastini, which has a lovely restaurant. There are plenty of venues to enjoy locally produced and prepared dishes, and plenty of wine bars and cafés to taste the local wine, the  Bianco di Pitigliano.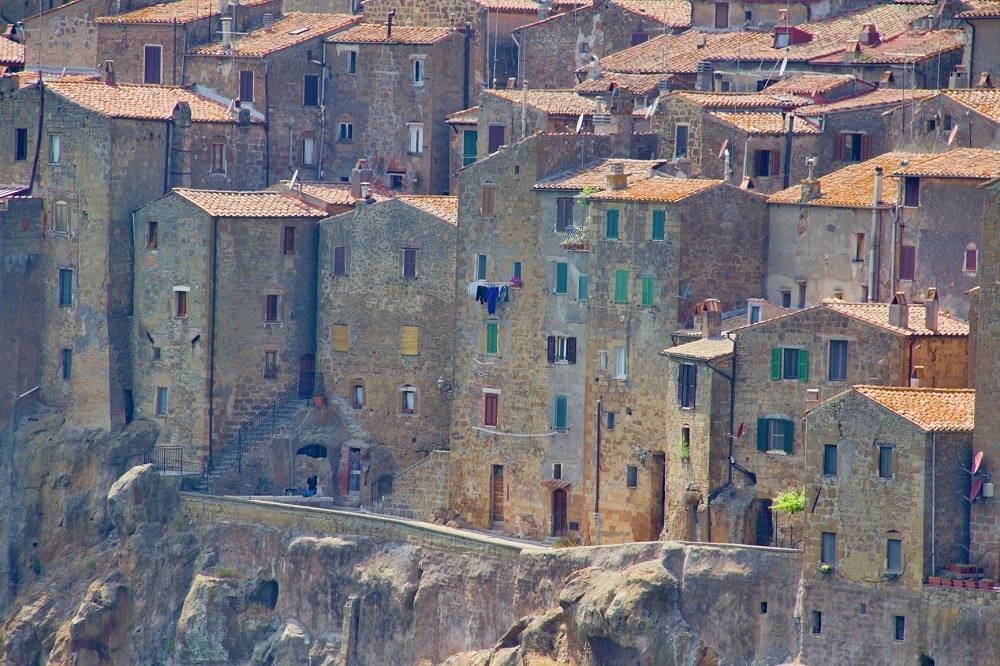 Shopping in Pitigliano
Pitigliano offers all shops typical of any Italian town: florists, jewellers, ceramics, delicatessen and wine shops to try and buy local delicacies and wines. The area is well known also for its olive oil. Every Wednesday, you can enjoy strolling around the weekly market. If you have a sweet tooth, then you must try a local delicacy called 'Sfratto' meaning 'eviction', made in remembrance of the Jewish people evicted from their homes in times past. This stick-shaped pastry, filled with honey, walnuts, candied orange and nutmeg resembles the batons used to knock on their doors. The Sfratto is a Presidio Slowfood. 
Torciata Di San Giuseppe
The 2011 Torciata di San Giuseppe in all its beauty
If you are fortunate enough to visit Pitigliano in March, you will witness the Torciata Di San Giuseppe, a traditional festival that culminates with a candlelit procession, held every year through the historical centre. After the procession, the locals light a big pyre in Piazza Garibaldi as a symbol of purification, good luck and to welcome the coming of Spring. Do check with the tourist information (0564 617111) to know next year's dates.
Should you decide to use Pitigliano as a base to explore the surrounding towns, you'll be pleased to know that the Lago di Bolsena, Saturnia and the beautiful coast of the Maremma are all within easy reach. Pitigliano is also almost touching the border of Lazio, making it an ideal place to sample another province during your stay. The town is associated with Orange Flags, Most Beautiful Villages in Italy, 'City' of Wine, 'City' of Oil (olive), 'City' of Tufa, and Wine Routes.
Updated by Fay Henson and Francesca Bezzone