Lupo Alberto – Italian Cartoons by Guido Silvestri
Lupo Alberto: Cartoon Character
The most marvelous Italian cartoon character is Lupo Alberto. He is from the most entertaining farm in existence, it's more chaotic than not – it may happen that you run into a mass of blue fur with bones as thin as cords, and bulging eyes on a face with a red reindeer nose; this would be Lupo Alberto.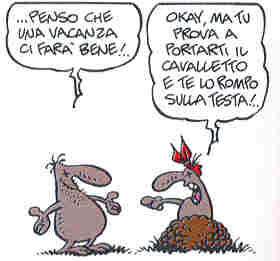 A victim of countless clubbing's by a dog named Mosé who resembles an overweight abominable snowman and always carries a wooden club. Alberto would venture out to go find his lover – the yellow bony-necked chicken Marta, who would love to fly away with him at any moment in time. You will come across the underground dwellers; Enrico la Talpa who is gifted with grand fantasy, but brought back to reality by his wife Cesira – the wife mole with her head wrapped in a red bandana. She has to deal with a husband that is too spontaneous, who always is thinking of inventions or adventures, and who has his head in the clouds. He thinks all things are possible, and gets into various situations all due to his curious nature.
Guido Silvestri (for Silver Art) was born in Modena, Italy on the 9th of December 1952. He entered the world of comics through the Bonvi Studio; creator of 'Sturmtruppen.'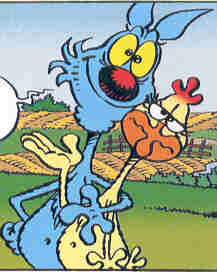 During his apprenticeship he began to prove himself with characters such as; Capitan Posapiano, Nick Carter and Cattivik. He created his first few stories at the beginning of his career, perfecting his text style as he went along. His true debut came along in 1974 when he placed his comic strip in the "Corriere dei Ragazzi," of which the characters were animals living on a farm. The very first stories of his comic strip was created in 1975 and edited by "Dardo." And in March of that year, success came about as he collaborated with "Eureka" and published two books. In that same year, he was presented with 2 awards: the "Comics 76" in Sassari, and the "Rino Albertarelli" in Bologna. Everyone on the editorial staff loved the Lupo Alberto character at first glance, but it also won the hearts of readers in a short time. In only two years Lupo Alberto was the favorite wolf for the majority of cartoon lovers.
Even today Lupo Alberto continues with fruitful success, and keeps multiplying extraordinarily.
©Silver/MCK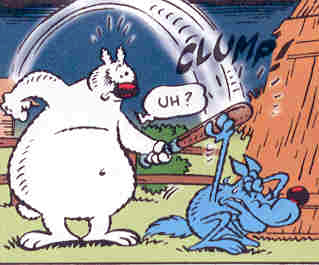 Lupo Alberto must constantly run frantically away from Mosé, the overweight dog whom seems to want to murder him – and in the process he loses his clothes, and often covers his eyes awaiting to get beaten on the head.
He gets in trouble with his love chicken Marta, who misconceives the circumstances. There is always someone behind these unexpected coincidences – of course it's Mosé, who has created havoc between the two. But Mosé also enjoys beating the innocent blue rabbit and accuses him of crimes he didn't commit. The rabbit has a wife with 16 or 17 children. Every once in a while one falls in love with the other, regardless of marriage certificates, that's the fun of it – and this causes all kinds of quarrels.
You may see a young pig peeking around one corner of a house to hand a pretty young rabbit a love letter. He introduces us to many surprise characters that are, without a doubt stylishly drawn. Guido is a fantastic artist that transmits much expression, as well as captivating text with a fashionable sense of humor to make you chuckle.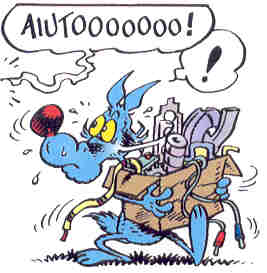 By Jackelin J.Jarvis