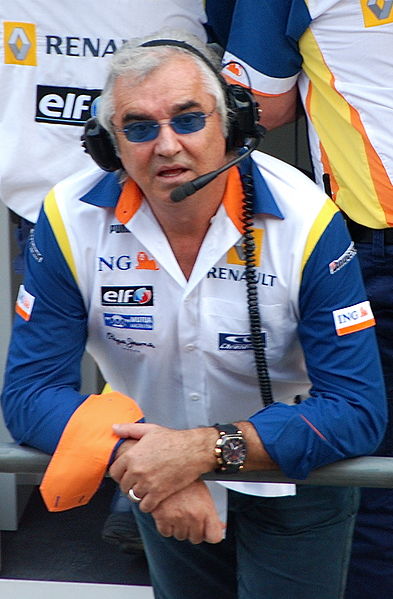 Everybody tries, many fail, very few succeed. Flavio Briatore definitely falls in the latter category, his life an almost perfect depiction of Cinderella's tale. A self made man, who started from nowhere and created a well recognized public position for himself, as well as considerable wealth, Briatore has different faces and aspects to his personality. To the masses, he is an Italian playboy, who enjoys fast life and VIP status: witness to this, the creation of his exclusive summer nightclub, "The Billionaire". Mr. Briatore is after a definite segment of high society.
His ties with some of the most beautiful women of the world turned Briatore into one of the most envied men on Earth; Naomi Campbell and Heidi Klum, for instance, are only two among a long list of VIP lovers and friends the Piemontese enjoyed throughout the years.
There is more to Briatore, though, than his glamorous façade.In spite of the severe legal and financial issues of the past four years, Briatore still has to be considered a successful manager. But let's go by steps and explain. Briatore's main job has always been to be a Formula 1 manager: he started a couple of decades ago, taking over the Benetton racing team and leading it to a glorious and somehow surprising series of victories that included the world championship and, of course, launching the career of a young Michael Schumacher, who won two titles under Briatore. When Benetton sold the team to Renault, Flavio stayed in charge. He repeated the previous success, launching a brand new champion, Spanish hero Fernando Alonso and gaining another couple of championships. Running a Formula 1 team is a serious business and you can't just improvise it.

Flavio Briatore on QPR.
Formula 1 made Briatore a very rich and well-known man worldwide, giving him credibility and credentials, but also access to an exclusive network, where power, money and politics mix constantly. His capabilities and qualities allowed him to take full advantage of his connections, and expand into other venues and even purchasing a legendary English football team, the Queen's Park Rangers.
Unfortunately the last few years have not been the best for Flavio. Indeed, he was suspended from Formula 1, for apparently having ordered young Nelsinho Piquet to crash his car during a race, to help Alonso in his race to win the championship. Although he never admitted it, he is now outside the Formula 1 circle. Around the same time, in 2009, his yacht was confiscated by the Italian Guardia di Finanza (the Revenue Police) and his accounts thoroughly checked for irregularities. Because of it, Briatore eventually decided to close his flagship club at Porto Cervo, the "Billionaire" and to invest in countries other than Italy.
Despite this latest misadventures, Briatore is reported to be a very generous man, sensitive to helping the others whenever possible. He also found peace and stability in his heart, marrying Elisabetta Gregoracci, an Italian showgirl, much younger than him, who gave birth to Flavio's second child, Falco. Flavio has indeed another child from supermodel Heidi Klum.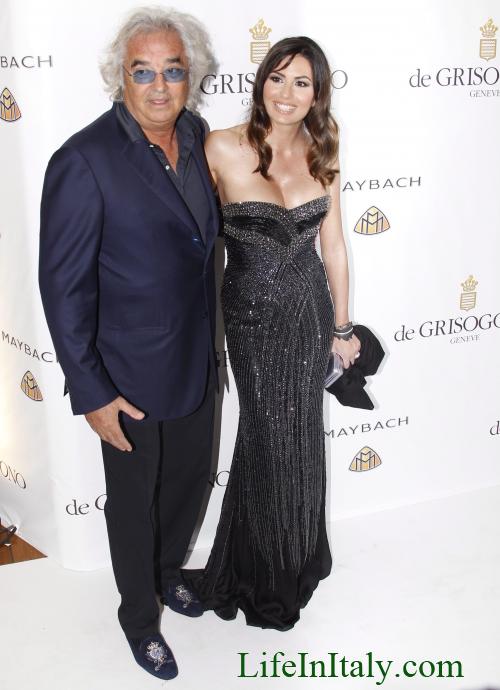 In conclusion Briatore is a man that attracts attention and created in his own way, an image that many want to imitate as he symbolizes a certain style that is influencing Italian society, redesigning its own nature. Of course Briatore is only a small factor, but he represents a trend that initiated and that will not stop easily. But once again, Briatore is a great Formula 1 manager, he has/had a legitimate job. The real problem is when others with no skills whatsoever try to imitate him and demand space in the public eye, without holding any right for doing so. Some talk about a "Briatore's effect"; let's just say that people are not happy with themselves. But we don't want to make Briatore responsible for society's behavior and lets' leave it with a positive note. Flavio was able to be part of the history of car racing, in what is probably the most popular sport after soccer, in terms of popularity and myth. He helped discovering two legendary drivers and brought two teams to the top of the world. Not bad at all for a kid that came from nowhere.