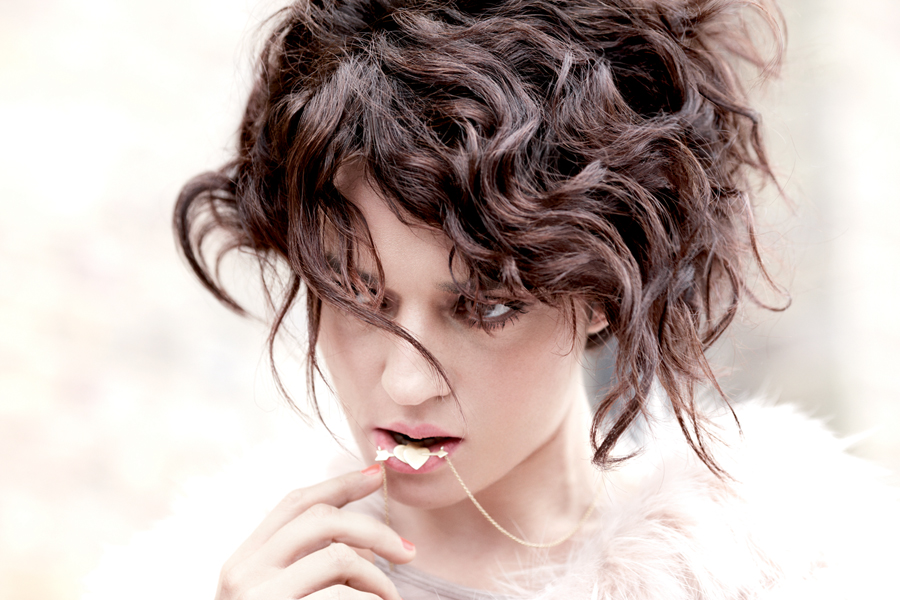 The Sicilian-born Carmen Consoli is one of the most successful female singer-songwriters Italy has ever produced, and certainly one of the most appreciated in the US.
The 41 year-old musician is known for her unflinching emotional live performances of songs that examine broad themes of love, illness, solitude and friendship from a feminine — and feminist — perspective.
She became a household name in the mid-90s when, just over 20 years of age, she participated to Sanremo Giovani, with "Amore di Plastica." She did not do too well, but the song became a radio success: Carmen was young and her image -guitar, doc martens and vintage 1970s clothes- made her popular among italian alt-rock loving teenagers. The following year, she is at Sanremo once more, but her song "Confusa e Felice" does not do well. Nevermind, though: once again the public adores it and consacrates Carmen to definitive success.
Carmen Consoli performs "Confusa e Felice" at the 1997's Festival di Sanremo.
Her love story with music, however, had begun much earlier than the 1990s: Carmen started studying music when she was 9 and at 13 she was already performing in a blues and jazz band in Catania, her city. Her early love for music and performing was kindled by her father, a lover of Italian traditional music and American blues. Her innovative mixture of Italian music with indie-rock influences, bossa nova rhythms, jazz and blues-inspired riffs have engendered a sound unique on the Italian music scene. Consoli has eight studio and two live albums to her credit, all platinum in Italy: they have sold cumulatively over 1 million copies.
Throughout the years, Carmen has matured profoundly as an artist. Her alternative roots are still honored in some of her tracks, but a more introspective, reflective musician appeared. In 2000 she takes once again part to the Festival di Sanremo and, this time, it is a success. In the same year one of her songs, "L'ultimo Bacio," is chosen for the soundtrack of the homonymous movie by Gabriele Muccino: the song, as much as the movie, becomes a hit.
The years 2000s mark Carmen Consoli artistical coming of age, as well as her entry into the international market. Carmen succeeds where many other well known Italian artists failed, she conquers the American market with her mix of creativity, innovation and talent.
In 2012, Consoli decides to take a break from the music business, after discovering her pregnancy. In 2013, she gives birth to her first child, Carlo Giuseppe. It is, then, time to write songs again. Her laterst album, "L' Abitudine di Tornare," is released on the 20th of January 2015 and reaches the second position in the Italian charts.
"L' Eccezione," from the homonymous album (2002).
Prices and honors
Consoli has been honored with numerous awards including the MTV Italian Music Award for Best Video (Parole di Burro) in 2001, the Best Female Artist at the Italian Music Awards in both 2002 and 2003 and Best Song at the Taormina Film Festival for the soundtrack of the international hit film "L'Ultimo Bacio" (The Last Kiss). She also received the Targa Tenco in 2010, for her album "Elettra."
She served as Artistic Director of the summer 2008 Etna Music World Festival in Sicily. In May 2006, Consoli was named a Goodwill Ambassador for UNICEF representing Italy then went on to headline the MTV Europe Foundation's Exit concert in Vlore Albania, to benefit NGOs working against human trafficking in the European Union.
In February 2005, Consoli was chosen to represent Italy at the Africa Unite concert in Ethiopia celebrating the 60th anniversary of Bob Marley's birth. She participated in Quincy Jones' "We Are The Future" project, a live concert held at the Circus Maximus in Rome in May 2004, which was a fundraiser to support children in war-torn cities. The resulting benefit CD was sold in Starbucks in the US.
Consoli's debut New York City and Austin, TX appearances at Joe's Pub and the SXSW Festival in March 2004 were aired in Italy as an MTV Rockumentary. In 2012, she became Cavaliere dell'Ordine al Merito della Repubblica, a high statal honor awarded to those distinguishing themselves in the fields of the arts, literature and economics.
"L' Abitudine di Tornare" (2015)
They say of her
"…She was as much Piaf as PJ (Harvey)…" Jon Garelick, Boston Phoeni
"… a remarkable combination of rocker and intellectual." Jon Pareles, The New York Times
"…a powerfully expressive vocalist, a superior melodicist, and a skillful if not virtuoso acoustic guitarist…" New York Rocker
" '…'She and her band played more original musical ideas in her first three songs than most American, or for that matter, English bands manage in a whole evening…' marveled an inspired Elvis Costello following her Joe's Pub performance." Global Rhythm