Carla Bruni has worn a lot of hats in her life: heiress, supermodel, singer, mother and First Lady among them. Famous for her good looks, natural talent, and a penchant for dating equally well known men, Bruni-Sarkozy is something of a force of nature. After marrying French President Nicolas Sarkozy following a whirlwind courtship, the world watched as the Italian model settled into her new role, which culminated in the birth of the couple's first child together. While the relationship has caused its share of whispers and raised eyebrows, there is something compelling about the tall, well-dressed Bruni-Sarkozy that the world doesn't seem to be able to get enough of.
Born in Turin, Italy in 1967, Carla Gilberta Bruni Tedeschi was the privileged heiress to the CEAT tire empire, which was founded by her grandfather, Virginio Bruni Tedeschi (n the 1970s CEAT was sold to Italian tire giant Pirelli). The Bruni Tedeschis were an influential Northern Italian family and one of her childhood homes was an 11th century Piedmontese castle that featured a widely praised 18th century interior created by her father, Alberto Bruni Tedeschi. While Bruni-Sarkozy is legally the daughter of Alberto and Marisa Borini, a concert pianist, the French First Lady revealed in a 2008 interview with Vanity Fair that her biological father is indeed someone else. That someone is Maurizio Remmert, a classical guitarist who reportedly had a six year affair with Borini and is now a grocery magnate. Bruni-Sarkozy has a sister, the actress and director Valeria Bruni Tedeschi, and a brother, Virginio, who is now deceased. Through Remmert, Carla also has a half-sister Consuelo.
In 1975, the Bruni Tedeschis moved to France to escape the kidnappings and murders of the notorious Italian terrorists, the Brigate Rosse (the Red Brigade). After boarding school in Switzerland, Bruni-Sarkozy returned to Paris to study art and architecture, eventually abandoning her studies to become a model at 19. It wasn't long before Carla's trim figure, bright blue eyes, dark hair and startling, artistocratic features caught the eye of modeling agencies. After signing with City Models, Carla began racking up the assignments including campaigns for Guess Jeans and work for famous fashion houses like Dior, Chanel and Versace. Eventually Carla Bruni would become the highest paid model in France, raking in $7.5 million a year.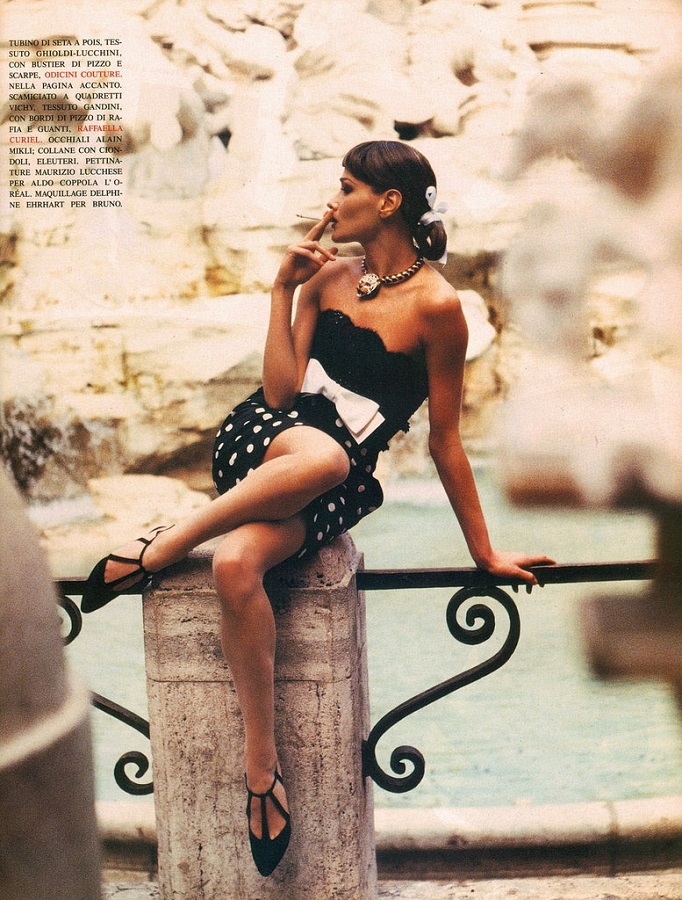 While modeling gave Carla the freedom to travel and be financially independent, it did not satisfy her need for art and music in her life. From her parents Carla inherited a love and talent for music, which was cultivated at a young age with sing-alongs that included family friends like opera legend Maria Callas and the conductor Herbert von Karajan. Carla's mother was once quoted as saying that she "could love a man who wasn't handsome or physically strong, but that she could not love a man who didn't love music". It was a sentiment that Bruni-Sarkozy heartily endorsed not only in words, but in her choices of romantic partners like Eric Clapton and Mick Jagger (Mick's longtime girlfriend Jerry Hall acknowledged that the Rolling Stones singer's involvement with Carla was one of the causes of their eventual separation). It also wasn't surprising when Carla turned to music after more or less leaving the world of modeling behind. Carla's first album, Quelqu'un m'a dit (Somebody Told Me), was released in 2002 and went on to sell 2 million copies. In 2006 her second album, No Promises, would sell 400,000.
Those Dancing Days Are Gone by Carla Bruni
While Bruni-Sarkozy seems to have been attracted to musical men, it's also no surprise that she's been drawn to men of power. Carla was once quoted as having declared: "I want a man with nuclear power". Past lovers have included not only Jagger and Clapton, but also actor Vincent Perez and former French Prime Minister Laurent Fabias, among others.
One of Bruni-Sarkozy's longest love stories began with another scandal. After living with philosopher Jean-Paul Enthoven for several years, Carla fell in love with his son, Raphael, who was ten years younger and already married. Carla would write a love song for him entitled simply, "Raphael." Raphael's relationship with Carla led to his bitter divorce from wife Justine Levy, daughter of philosopher Bernard-Henri Levy, who went on to write a scathing novel called Nothing Important, about a husband stealing, song writing supermodel. Levy's book would sell 200,000 copies in France.
While Carla would claim that the Enthovens' marriage had already been unraveling when she and Raphael got together, it didn't do much to stop people from pegging her as the femme fatale homewrecker. Still, the former supermodel didn't seem all that concerned with the gossip. "I'd rather be called a predator than an old flea-bag. Predator – it's not that bad for a woman". In 2001, Carla and Raphael had a son, Aurelien. About relationships Carla would also famously remark, "I'm monogamous occasionally but I prefer polygamy and polyandry. Love lasts a long time but burning desire, two to three weeks". Years later Bruni-Sarkozy would come to realize that these types of statements were much more appropriate for a bohemian model-singer rather than France's première dame.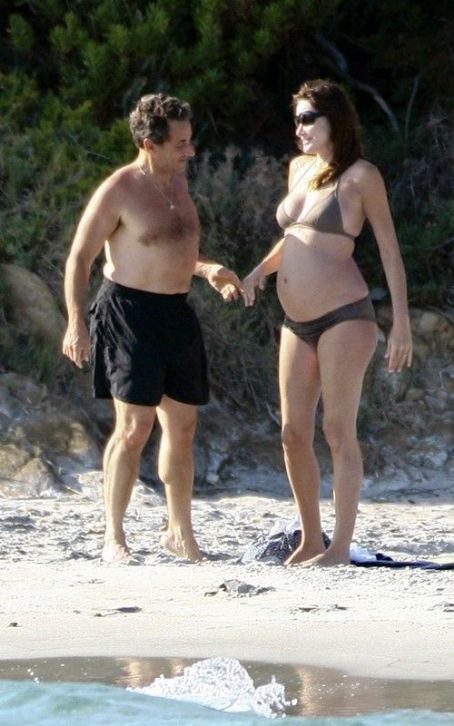 The year 2008 was a big one for Carla Bruni. Not only did she marry Nicolas Sarkozy, but she was also out promoting her third album, Comme si de rien n'était (As If Nothing Had Happened). Of Carla and the relationship, fashion designer Karl Lagerfeld has famously declared: "She's imaginative, clever, educated. She knows how to behave. She speaks many languages. It must be an embarrassment for the wives of other heads of state to see this beautiful creature who can wear anything and speak like that. They are hunters who met predators. It's a good thing. He had seduced many women, and she was a kind of seductress. When two like this meet, it can be good".
People debated the politics of both Sarkozy and his younger wife, not to mention Carla's impeccable style–especially on a much publicized official trip with Sarkozy to the UK–and her newfound need for flat shoes. Even the rather laidback French had to get used to a First Lady who came with nude photos that were easily accessible on Google, and it made headlines when a nude photograph taken of Bruni in 1993 would sell at auction for US$91,000 (€65,093), apparently more than 60 times what it had expected to fetch.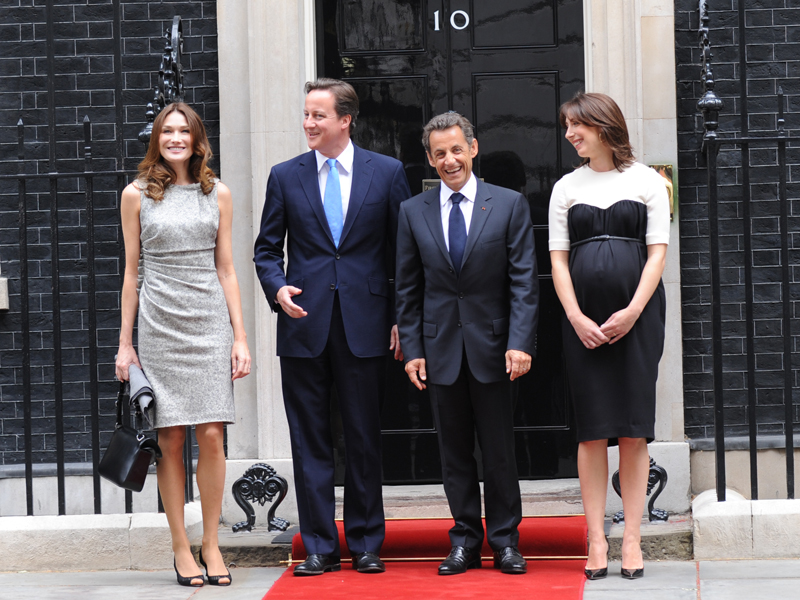 Bruni-Sarkozy has spent her time as First Lady getting involved in many different philanthropic ventures including being an ambassador for the Global Fund and working to raise AIDS/HIV awareness. The Vatican reportedly asked Carla not to join her husband on a visit because she had been critical of the religion's policy in regards to AIDS, and because they didn't want her racy modeling pictures pulled forth and associated with the visit. After Bruni-Sarkozy expressed her condemnation of the stoning sentence handed down to Sakineh Mohammadi Ashtiani for adultery in Iran, the state's paper labeled the First Lady a "whore" who deserved to be put to death herself.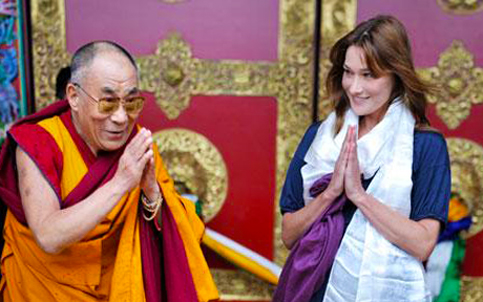 In 2009 she created the Fondation Carla Bruni-Sarkozy, an ONG with the purpose of patronize access to culture and knowledge for everyone, and in 2013 she published her fourth album, Little French Songs.
Not the classic Première Dame, she has raised discussions and polemics during her time at the "Elysée", but she has also proved to be a good model in life, not just on the catwalk.
By: Lisa Anne Sanderson
Updated by Connie Limoncelli