Even their name is sweet and delicious: baci di dama, lady's kisses. These rich, yet delicate cookies filled with a thin layer of chocolate are one of the many gifts to Italy of Piemonte's baking tradition.
Their origin dates back to the 19th century and is shredded in an aura of legend. It seems they were created by a pasticcere in Tortona, but others believe it was one of the chefs of the house of Savoia who baked them for the first time in 1852, when Vittorio Emanuele II – at the time still only king of the Kingdom of Sardinia – felt like trying something new.
Their name, it seems, comes from the way the two halves of the cookie are joined by a thin layer of chocolate, as if they were two mouths delicately touching each other.
The original recipe is made with toasted almonds, but here we propose their most popular variation, where hazelnuts are used instead. Hazelnuts are a typical product of Piemonte and quintessentially autumnal, making these baci di dama a perfect dessert for this time of the year. The other ingredients remain the same: butter, flour, sugar, all in the same quantity, and a hint of vanilla.
The Baci di Dama di Tortona hold a PAT denomination, which means they are considered a "prodotto agroalimentare tradizionale," a traditional culinary product of Italy. All PAT products must be made following traditional methods and recipes, using only the best ingredients.
The chocolate used to fill baci di dama is very important: even though some recipes suggest to use chocolate creams such as Nutella, or melted gianduja chocolate (a dark chocolate with a a high content of hazelnuts, also typical of Piemonte), tradition calls, quite simply, for high quality dark chocolate, containing at least 60-70 % of cocoa.
As said, we give you here the recipe for hazelnut baci, but if you like to try those made with almonds, just substitute the hazelnuts with the same quantity of almonds, which shall be toasted and ground in the same way.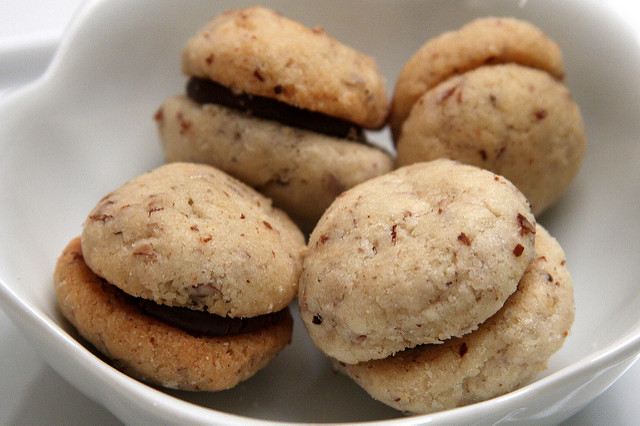 Baci di Dama
Ingredients
150

gr

hazelnuts

toasted and finely ground

150

gr

flour

150

gr

butter

at room temperature

150

gr

sugar

1

dash

vanilla extract

150

gr

dark chocolate, 60-70% cocoa
Instructions
Toast the hazelnuts in the oven, peel them and let them cool. With a mixer, grind them finely. If you don't fancy preparing the hazelnuts from scratch, you can use 150 grams of hazelnut flour. However, nothing beats the taste and texture of freshly toasted hazelnuts, keep that in mind!

Once ready, mix them with the flour, sugar and butter, which should be soft and malleable. Add the vanilla extract. Knead the dough until it gets homogeneous and firm. Make a ball, wrap it in baking paper and let it rest in the fridge for at least 30 minutes.

After that, take the dough and make small balls, roughly the size of Ferrero Rocher or Lindor chocolates. Place them on a tray covered in baking paper and leave them in the fridge for another 30 minutes.

In the meanwhile, heat up the oven at 300 F and, after the 30 minutes have passed, take them out of the fridge and bake for 10-15 minutes. Once cooked, let the cookies cool completely. You'll see the little balls you made look like half spheres now, as the part in contact with the flat surface of the tray got flattened, too.

Melt the chocolate, then spread in on half of the cookies. Top them with the other half.

Voilà! Your baci di dama are ready!
Notes
Delicious served with your coffee, or with Spumante Rosato dell'Alta Langa or a Passito di Pantelleria.