Red snapper is not a Venetian fish, but you are unlikely to find sea bream, a variety the Venetians might use for a recipe like this. Besides, like the reveler who dons a fanciful mask and becomes Venetian for Carnevale, red snapper takes on a Venetian accent when it is dressed in a seductively sweet-sour mixture of onions, raisins, and pignoli akin to the classic preparation "in saor." "The important thing is for the fish to be fresh," Francesco cautions. Buy a whole red snapper and have the fish market split and bone it. Black Sea bass can be substituted for the red snapper.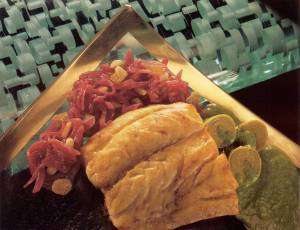 Red Snapper with Red Onion, Pignoli, and Rasins
Ingredients
1

whole red snapper, about 2 pounds (1 kg), boned and split in 2 fillet

4

tbsp

(60 ml) Extra Virgin Olive Oil

2

cups

(250 g) thinly sliced red onions

3

tbsp

(30 ml) red wine vinegar

1

tbsp

dry red wine

1

tbsp

sugar

1

tbsp

pine nuts

1

tbsp

golden raisins

1

tbsp

freshly grated orange zest
Instructions
Arrange the fillets skin side down on a broiling pan and brush with 1 tablespoon of the olive oil.

Heat 2 tablespoons (30 ml) of the oil in a large, heavy skillet. Add the onions and saute over medium heat until soft but not brown.

Stir in the vinegar and red wine. Broil the red snapper until lightly browned, about 6 minutes, do not turn it.

Reheat the onions and mix in the sugar, pinoli, raisins, and orange zest.