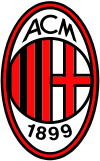 This glorious football team was founded in 1899 by two British gentlemen living in Milan. The traditional colors of the jersey are red and black, and the logo is a devil. More than for its marketing design, AC Milan impresses for its amazing winning history, domestically and especially internationally: 18 Italian titles, seven Champions Leagues (second only to Spanish legend Real Madrid), three Intercontinental cups, one World Cup for clubs, five UEFA Super Cups, and the list goes on. Some of the best players in the world had a stint in this team and some of the best coaches trained it. Let's mention just a few names like Rivera, Meazza, Maldini Senior and Maldini Junior, Franco Baresi, Lidhlom, and Ancelotti (both players and coaches) as well as Fabio Capello and Giovanni Trapattoni, then Gullit and Van Basten and of course Roberto Baggio, Paolo Rossi, and most recently Ronaldo, Kaka', Ronaldinho and Ibrahimovic. In other words, the history of soccer.
A special recognition goes to Nereo Rocco, the coach who brought AC Milan to the international spotlight, and also to Arrigo Sacchi who gave a spectacular playing style to the team. The squad he trained is, very probably, one of the best ever put together: that team used to play with grace and style and it will be very hard to find another squad of such class. The strength of AC Milan has always been its desire to merge a great game to a great show. Gianni Rivera, its historical captain, was a true poet with his feet, and we all remember his speech in the field announcing his retirement, just after Milan had won his tenth Italian title which meant having a golden star attached to their jersey forever. An achievement that, up to modern days, only three teams have achieved in Italy: AC Milan, FC Juventus and Inter Milan.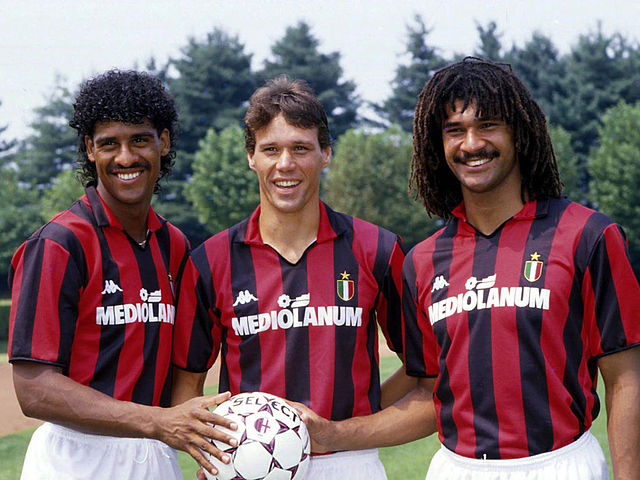 After decades of great successes, AC Milan hit rock bottom at the beginning of the 1980s, when it was relegated to second division for fixing games. The team struggled to clean its image and to gain back the power and the allure it used to have. All of that changed when TV magnate Silvio Berlusconi purchased the team, saving it from bankruptcy. The debut was astonishing; the team was flown in with helicopters and music was played to announce the new squad. Money was spent and AC Milan begun a winning streak that lasted for a couple of decades, and still continues today. As the team grew in popularity, it started to prefer international exposure versus the Italian league. Although it won seven Italian championships under Berlusconi, it was clear that European tournaments were more in AC Milan's DNA and that a special effort was made every time the night lights turned on in the European games.
AC Milan plays in the stadium of San Siro, named after Giuseppe Meazza, that it shares with its archrival, Inter Milan. Although the teams officially hate each other, in reality they exchange players all the time, creating a very interesting scenario when they play the milanese derby. Often, heroes of one squad turn to the other, among the supporters' disbelief. But that is in the very nature of soccer. AC Milan has also a very peculiar tradition: it tends to keep the same people around, promoting them as coaches or managers after they are done playing. Even the players are kept in the field until they are older than many, and are always offered a priority spot regardless of the age. That so far has been paying off, although from time to time it creates some problems when some players get too old and not really capable of high performances.
None of this seemed to stop the continuing effort that the society puts into preserving the AC Milan brand. As years go by, Milan is still there fighting for the top spot and just when it seems in need of a major restructuring, it surprises the world by winning a championship. After Berlusconi became Prime Minister, he kept the ownership of the team but had to resign from the presidency, although every Sunday he attends the games. Many of his opponents are actually huge AC Milan fans, creating a particular and interesting situation.
And one last point: AC Milan is the third team with most international titles in the world (18, together with Boca Juniors, after Real Madrid and Al-Alhy), although in domestic titles it is second to FC Juventus.