Eating, Drinking & Shopping Tour of Rome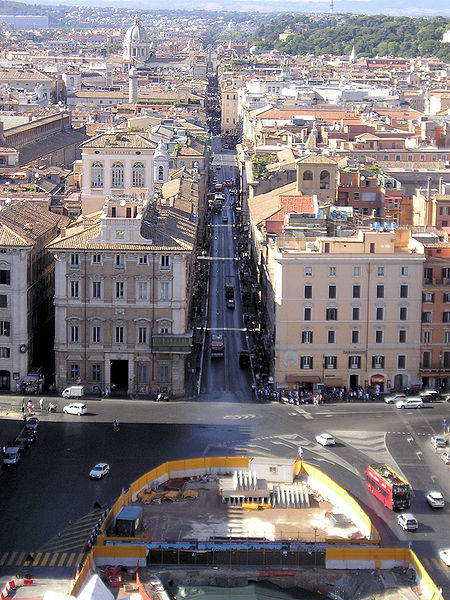 When you visit Rome you'll have to set some time aside to embrace more than its deep history. Touring Rome would be incomplete without embracing the food & drink, the nightlife and the shopping. Rome has maintained its reputation when it comes to great festivals and feasts. Even in ancient times the Romans were known for their ability to celebrate with food and drink. In order to capture Rome for all it has to offer take some time to get out and about the local community of restaurants, cafes, nightclubs and shopping.
DAY 1 – ROMAN FOOD TOUR
Please look also at the page Best Restaurants in Rome. See what to eat in Rome and where to do so!
Osteria del Pesce
If you love fish as much as I do then mark this restaurant on your calendar and make a point to take an evening to enjoy all it has to offer. When you arrive at Osteria del Pesce you quickly notice the themed entrance of a high end fish market. Eating at this restaurant is a total experience. The atmosphere is warm and welcoming with hardwood floors, bright walls splashed with blue and red and a mix of dim lighting adds a beautiful flare of excitement and relaxation. The menu is extensive with seafood from south of Rome; tuna, sea bass Carpaccio, seafood pasts dishes and grilled fish platters. The wine list is excellent, offering a wide variety of Italy's finest white wines. It is a bit pricey so budget appropriately. You can find Osteria del Pesce at Via di Monserrato 32, near Camp de' Fiori. Telephone 06/6865617
Il Palazzetto
This small restaurant is a part of the International Wine Academy offering traditional Roman lunch and dinner items. Here you'll find homemade gnocchi with sausage, stuffed calmari, and many other pasta and meat entres. Due to the size of this restaurant I would encourage you to phone ahead to make a reservation. They also hold special events, featuring different Roman chefs teaching specifically how to cook with wine. This is a great afternoon event. You can find Il Palazzetto at Vicolo del Bottino 8, Piazza di Spagna. Telephone 06/6990878
Remo
You have got to stop by this Pizzeria! How could you go to Italy and not have Pizza? Remo is extremely popular so you can expect to wait in line for a few minutes and when you get to the front make sure you know what you because the customers behind you are will be waiting on you. Pizza is not sold by the slice, it's sold by weight, so if you're used to ordering a slice, make sure you know how heavy you'll want it to be. This is a quick stop for a bite to eat; there aren't any decorative tables or welcoming atmosphere, just genuine Italian culture. This is a must. Remo is located at Piazza Santa Maria Liberatrice 44, Testaccio. Telephone 06/5746270
As a foodie in Rome, you'll have plenty of options to try different types of food, and really great quality ones usually, with high-quality ingredients. Thanks to the changes the past years, there are quite nice options for vegans in Rome too!
DAY 2 – NIGHTLIFE ROMAN TOUR
The Fine Arts of Nightlife
Upon arriving in Rome make sure to ask for a listing of art events happening during your stay. Rome has a long history and relationship with the arts; music, dance, theater, opera and film just to name a few. To truly embrace Italian culture, you'll have to make time in your busy schedule to attend at least one event. Some venues to look into are Sant'Ignazio, the Rome Opera Ballet, Warner Village Moderno, Opera Theater of Rome, Parco della Musica, Teatro Argentia and Teatro dell Opera. Most of these venues have different performances almost continuously so make your plans early and enjoy the fine arts of Roman culture.
Bars
Take a night to experience Rome's varies bars throughout the city. Bar della Pace is a great cocktail bar for the elite of the city. If you want to be cosmopolitan, check this bar out. It offers a trendy and innovative environment. If you're looking for a younger atmosphere then stop by Acqua Negra which offers great food and drink. It's a smaller bar that attracts people ranging in ages 20-40. It's a younger crowd and offers a great nighttime environment. If you're heading to the bar late at night then stop by Stardust for cocktails with a high energy environment with music and dancing.
Clubs
When in Rome, do as the Romans do – dance. Rome's most popular Jazz club can be found behind the Vatican Museums and it is always the hot spot. This club has gained international fame for its performances. It is also is a restaurant so you can virtually spend your entire night here. If Jazz and Blues are something of interest to you, then mark this club on your schedule. If you're looking to dance then check out Supperclub, near Piazza di Spagna. This club is considered the trendiest in Roman clubs. You'll find various styled DJ's from different styles including hip-hop, trance, R&B and so on. You can dance late into the night.
DAY 3 – SHOPPING ROMAN TOUR
Markets
Take a trip back in time to the old country and experience the outdoor markets of Rome. Under the open sky these markets are open Monday – Saturday from early morning to a little after noon. In order to get the best price and most variety, you'll need to get there early. Check out these few outdoor markets: Campo de' Fiori (south of Piazza Naona, Trionfale market (north of the enterance to the Vatican Museums) and Pora Portese(Via Ippolito Nievo). You will find clothing, jewelry and lots of food at these markets. They are great fun and my wife and I spent a lot of time and money at these markets.
Designer Stores
Whether you buy designer clothing or not, you'll have to stop in some of Itay's world famous designer stores. You can visit D&G in the Piazza di Spagna, Fendi which is close by D&G store, Giorgio Armani also close by and Gucci. Most of these are the brands anchor stores so they are very large and elaborate. Some of them give you the idea of walking through a meuseum and royal courtyard. It is quite the experience and I would recommend it to those visiting Rome.
This should give you a good overview of Roman food & drink, nightlife and shopping. There will be a ton of information in the hotel you stay at, so be sure to check with the front desk. Rome is a lively place at night so make sure you don't hit the sack too early, besides it's your holiday so sleep in!
If you are visiting Rome in May and you're a runner, make sure to sign up to Race for the Cure event!