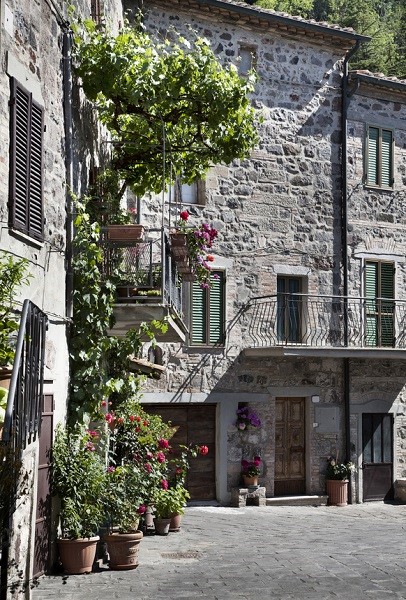 The small rural town of Radicofani is located in the scenic Val d'Orcia area, within the province of Siena and situated approximately 780 meters above sea level. The town's buildings are gathered at the base of the volcanic rock with La Rocca (Fortress) at the peak, visible from many kilometers away. The economy of Radicofani revolves around agriculture, dairy products, manufacturing of furniture and production of wine and olive oil.
Interesting places to visit in Radicofani
The Fortress of Radicofani
The most important place to visit in Radicofani is its ancient castle or fortress. The fortress is known to have existed since at least 973 AD and was previously the castle of Ghino Di Tacco. Located at an altitude of 896 meters, the castle is located on the highest peak of the hill. Over the centuries, the castle had to be renovated a few times; however, most of the façade of the castle is still original. The castle provides beautiful views of the surrounding regions and if it is a clear day visitors can also see the tower of the castle in Siena from here. There are two walls around the castle, the outer wall in pentagonal and the inner one is triangular in shape with three towers at the corners that are now destroyed.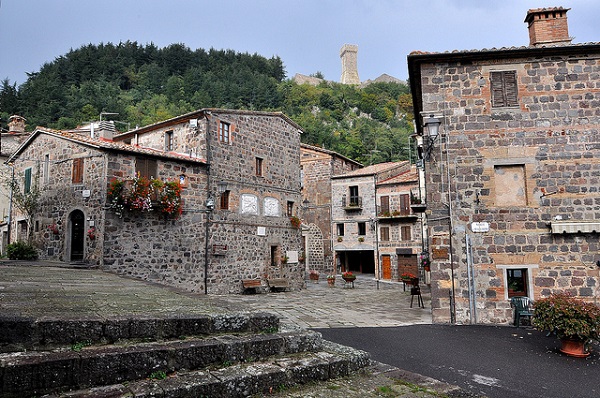 Church of San Pietro
The church of San Pietro is the most important religious place in Radicofani with beautiful Romanesque architecture. The interiors are wonderfully decorated with oil paintings, frescoes and a collection of terracotta pieces from the Della Robbia workshop, as well as wooden sculptures.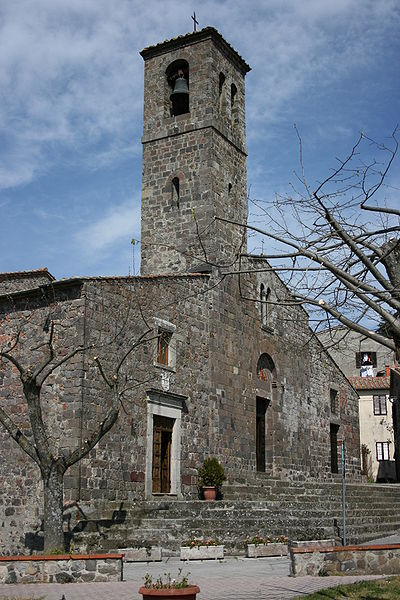 Ghino di Tacco
Adjoining the Church of San Pietro, are pleasant gardens with seating. Here you can look out across towards Lazio, Monte Amiata and the Val d'Orcia. The views are breathtaking. Within these gardens is the statute of Ghino di Tacco, previously known as a bandit, rough rogue and a gentleman, some say similar to the figure of Robin Hood.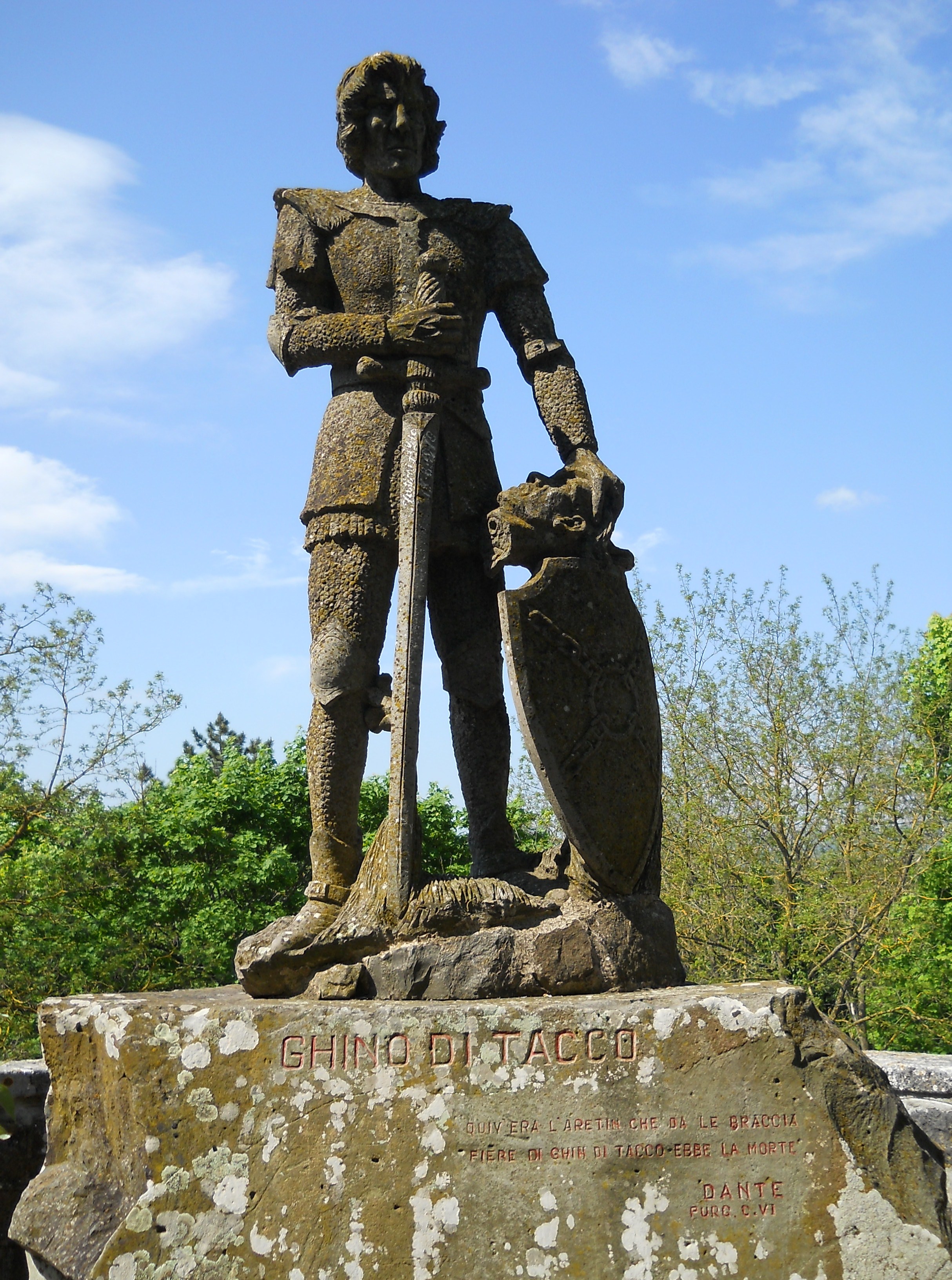 Church of Sant'Agata
Can be found opposite the church of San Pietro in the same little square. Once a convent, the church of Sant' Agata has been beautifully decorated inside and there is also a precious Madonna with Saints by Andrea Della Robbia.
Events in Radicofani
The One Thousand Mile race is a very old and popular event held every year in May. The vintage cars travel from Brescia (Lombardy) to Rome and back to Brescia again. Visit www.millemiglia.it to check on routes and dates. The festival includes a parade of vintage cars that starts from Ponte Del Rigo and passes through Radicofani going on to the other towns and villages in the region. People from across Italy and even from other countries come to the region every year to witness the event and the beautiful cars that pass through the most scenic routes in Tuscany. Visitors who are in Tuscany during May should definitely attend the festival.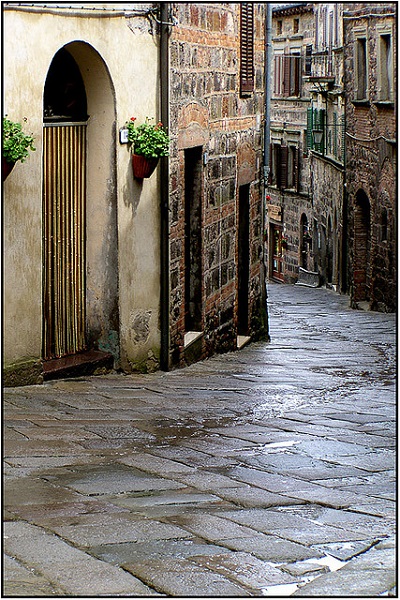 February sees the Festival of Sant'Agata, a procession in the historical centre. Every first Sunday each month from May through to September there is a small antique/collectable market. In June, there is a Festival of Ancient Crafts, and a Fiat 500 rally. Everyone who owns a Fiat 500 or a derivative are invited to attend the meeting. Departure is usually scheduled during the morning from the historical centre. September sees the traditional Onion Fayre and in, October, the town has the Harvest and Chestnut Festival.
How To Get To Radicofani
If you are arriving by air, there are currently three main airports not far from Radicofani. ROME (Ciampino or Fiumicino airports) are approximately one and a half/two hours away; PISA (Galileo Galilei airport) approximately two/two and a half hours away using the main A1 autostrada (motorway), the junction being approximately 24 km away. The train station at Chiusi is approximately 31 km away and depending on time of day, there is a bus connection. A taxi service is also available from the train station. The alternative option of course is to hire car. If you choose to use Radicofani as a base to explore the surrounding towns, you'll be pleased to know that Siena, Pienza, Montepulciano, Monte Amiata and S.Casciano dei Bagni are all within easy reach. Should you be travelling along the Cassia road (S2) Radicofani is only approximately 4 km off this road. Radicofani is close to the border of Lazio, making the position ideal to sample another province during your stay.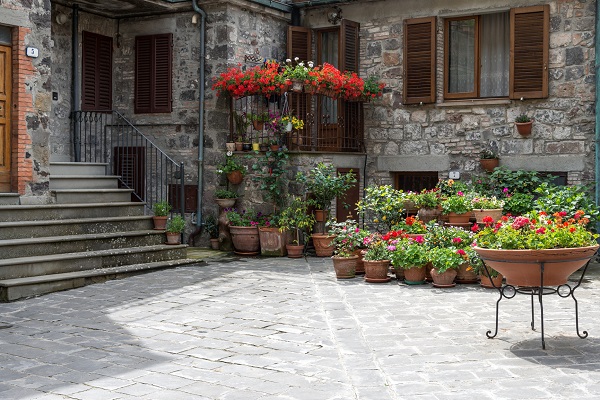 Accommodation in Radicofani
Radicofani is not swamped with tourism and therefore there are not many places to stay actually within this small town. There is La Torre Hotel and Restaurant in Via Matteotti with fantastic views. Contact 0578 55943 telephone/fax. On the outskirts, there are agriturismos for example, The Selvella, Casa Tonietti and Podere Pantano.
Suggestions on where to eat in Radicofani
The dishes prepared here are simple and delicious, made with fresh local ingredients. La Grotta is a very popular restaurant located inside a small square called Piazza St. Agata. The prices are very reasonable indeed and it is understood that their soup, Zuppa di Funghi (mushroom) is frequently requested. The menu choice is excellent ranging from various types of pasta and sauces and a large choice of meat. Call 0578 55866 to reserve (closed Tuesdays). If you are looking for a snack or light lunch, at the entrance to the historical centre on the right-hand side is Bar Enoteca, (Wine Bar) La Stella. A pleasant place to take an aperitif and eat Bruschette e salumi (toasted bread and cured meats.) There is a huge selection of famous wines to enjoy as well as typical Italian coffee. Seating is available outside.
Shopping
Radicofani does not have many shops to choose from, however, within the historical centre there are quaint gift shops and delicatessens. There is plenty of famous locally produced wine, olive oil, cheese and salami to take home together with souveniers. There are a couple of banks and an Internet Point if required.
If you are looking for a small tranquil village in Tuscany, with little traffic and fantastic views, then Radicofani is certainly a place to visit, whether for the day, or for a few. The historical centre is set on a bit of a climb, therefore maybe it would be a good idea to take comfortable shoes, then take your time and enjoy.
Updated by Fay Henson