Province of Pesaro Urbino
The Territory of Urbino
Tucked away in a corner of northern Marche and in the Provincia of Pesaro-Urbino is the territory known as the Montefeltro. In many ways it is unexpectedly different from other parts of the region. Yet despite its differences, it still maintains the genuine aspects of typical life in the Marche.
Compared to Southern Marche (with the exception of the Sibillini Mountains, which is rather similar), it is a wilder, yet beautiful territory. The Montefeltro is noted for its picturesque hilltop towns and villages, green pastures, dense forests of Monte Carpegna, rare flora, formaggio di fossa (a cheese that is matured in pits), Visner (a fortified wine made from cherries), chestnuts, pane di Chiaserna (a local bread that is sought after by northern Italians), prosciutto di Carpegna, truffles, numerous castles and medieval fortifications. It also includes the Riserva del Furlo and Parco Naturale del Sasso Simone e Simoncello. It is one of the most beautiful and yet undiscovered parts of northern Marche.
The Montefeltro first emerged around 1154 and initially included parts of Romagna, the Marche and San Marino. The territory consisted mainly of two rival and powerful fiefdoms: The Montefeltro of Urbino and the Malatesta of Pesaro. Members of the noble Montefeltro family were noted patrons of the arts who opposed the papacy in the struggle between the Guelfs and the Ghibellines, but perhaps the most famous family member of all was the Lord of Urbino, Federigo da Montefeltro, the one time mercenary general who commanded the Florentine army to defend Florence from invading Venetian forces in 1467. Remnants of this once powerful dynasty are still visible today.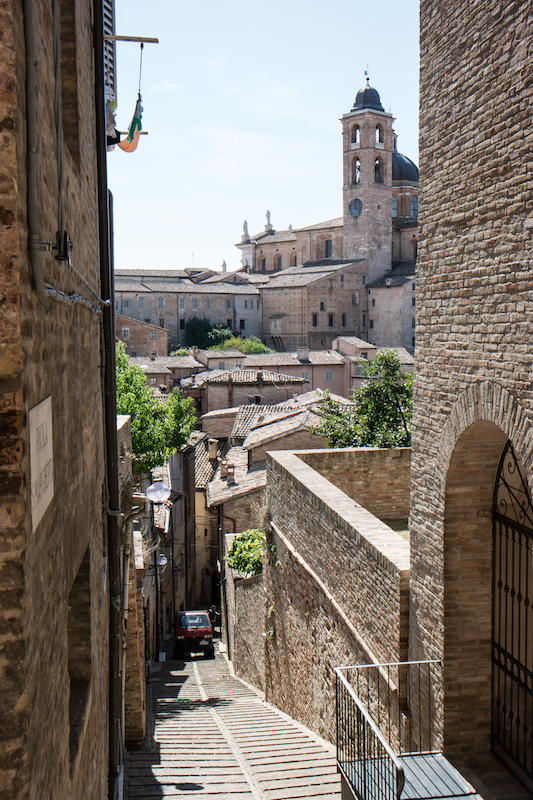 A treasure chest rich in nature, art, history, folklore and culinary traditions, here you will find, among other gems, the famous and extraordinary Rocca di San Leo, the Teatro Angelo Mariani in Sant'Agata Féltria (one of the oldest in Italy), The 15th century Rocca Ubaldinesca in Sassocorvaro, the 13th century Convento di Montefiorentino near the village of Frontino, the market town of Pennabilli with its Santuario della Madonna delle Grazie and 11th century castle remains, Urbino – the masterpiece of Renaissance cities and important seat of learning, and innumerable pretty towns and villages in their splendid isolation high up in the hills overlooking the valleys. Renaissance Palazzos and Churches with fine works of art can also be found dotted around the countryside whose seasonal colours and mountainous landscape mix together to paint many dazzling scenes.
The Montefeltro's largest natural attraction is the Sasso Simone and Simoncello National Park, particularly noted for its rare orchids, red lilies and wildlife. The park takes its name from the rocky crags called Simone and Simoncello (Simon and little Simon). The park still reveals traces of an interesting past where you can see the remnants of the odd crumbling wall and paved areas near the summit of Simone, where the Malatesta's and the Medici's attempted to build a stronghold in the 15th and 16th centuries respectively. There's' also evidence of a military garrison and a site of a 12th Century Benedictine monastery.
The Montefeltro is today still relatively undiscovered, although it is becoming increasingly popular among northern Italians and buyers from the Netherlands. The territory is off the beaten track for tourists – not unlike the Casentino in neighbouring Tuscany – but not completely remote or inaccessible, and that is what makes it attractive. The road infrastructure is well organised and you can reach the region from a number of places such as Cesena (20Km to S. Leo) to the north, Arezzo (50Km to S. Angelo in Vado) to the west, Rimini (30Km to S. Leo) and Pesaro (30Km to Sassocorvaro) to the east and Gubbio (40Km to Urbino) to the south. Nearest airports are Forli, served by Ryanair (30Km from S. Leo), Rimini served by Easyjet (30Km from S. Leo) and Ancona served by Ryanair (80Km from Sassocorvaro) or if you are arriving by autostrada (A14 Bologna-Bari) convenient exits are at Cesena, Rimini, Pesaro or Fano.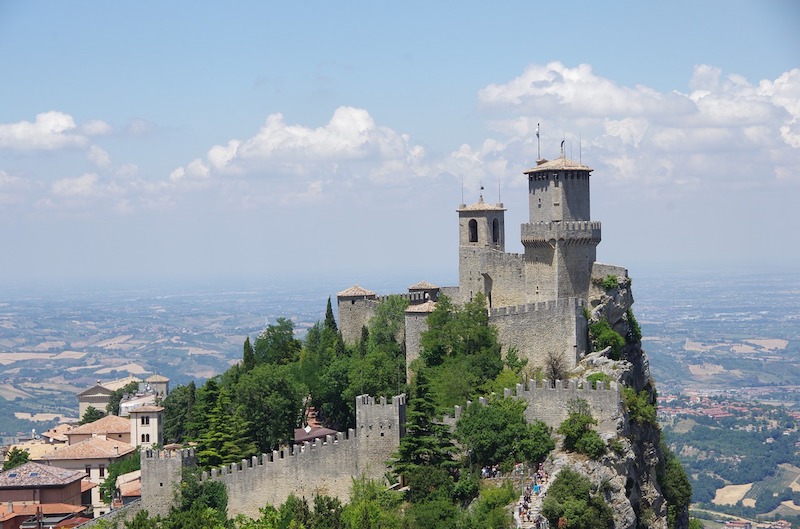 The climate is generally hot (the heat is not unbearable) from May to September, supporting plenty of outdoor and sporting activities like hiking, rock climbing, cycling, horse riding and hang gliding. Monte Carpegna provides skiing in winter and if you are a sun worshipper, then the Adriatic coast with its sandy beaches is less than one hour away. Main resorts here include Gabicce Mare with its promontory of Gabicce Monte, Pesaro and Fano. The tiny Republic of San Marino is also close by.
Those who choose the Montefeltro do so for the unassuming character of its medieval hubs and the quality of the unspoilt countryside. Even Dante, who visited San Leo during his exile from Florence, was so impressed that he mentioned the place in his epic Divinia Commedia. Today, personalities like Umberto Eco, the Italian literary critic and novelist who gained international fame with his detective story Il Nome della Rosa (The Name of the Rose) have homes among Raffaello's unique and famous landscapes. Moto GP Champion, Valentino Rossi also comes from Tavullia near Gradara in northern Marche.
According to a popular Montefeltro saying: "campa cavallo che l'erba cresce" (Horse, don't give up hope, the grass will soon grow again). At first sight the landscape is remarkably rocky. You cannot fail to notice San Leo and Maioletto perched high on their steep, rocky crags for example. The many ancient strongholds you see scattered throughout the territory were built to provide protection against expected invasion. They were also used as palaces for the Feudal Lords, symbolic of the power that each fiefdom displayed during these turbulent times. With plenty of verdant countryside you won't have to worry about the grass. Say what you like about it, the more you explore the Montefeltro the more you will experience a land of great historical, cultural and gastronomic riches as well as a land of rare natural beauty.
Gastronomic Traditions in Montefeltro
Many of Italy's regions have a cuisine that is sophisticated, offering a great variety of dishes that are rich in ingredients and renowned for quality. However, when it comes to the classical and most time-honoured of culinary traditions, you will find that the cucina povera is simply the best. By cucina povera we mean dishes that have rural, peasant roots.
Apart from the coastal areas of Northern Marche that offer some great seafood specialities such as brodetto for example, the essential characteristics of Montefeltro cooking are mainly based on their roots in the country, or as we prefer to say in the Marche, cucina di terra.
Sant'Agata Feltria area
Culinary traditions in the Montefeltro are as diverse as its people, who pay strict attention to the quality of their local products as well as their recipes. Whereas meat dishes dominate the inland areas (these include beef, lamb, goat, poultry, pheasant, duck, rabbit, pork and wild boar), you will also find that some areas combine rural flavours with the fresher flavours of the Adriatic; not surprisingly, the territory combines the cultures of both the mountains and the sea. Picture also some of the finest fresh, seasonal ingredients, homemade pasta, cheeses, truffles and bread (Pane di Maiolo, Pane di Chiaserna, La Crescia – like Piadina Romagnola and Pizza Spianata) and you have all the right elements for creating an excellent and healthy eating experience.
If you appreciate good, wholesome food, you will discover many gastronomic treasures in the Montefeltro. The Valmarecchia (here we find Casteldelci, Sant'Agata Feltria, Pennabilli, Talamello and San Leo) is predominately cheese, mushroom and truffle country. Cheese production is based on ancient traditions and the most well known include caciotta, formaggio di fossa, ravaggio, pecorino and slattato. October is an important time for truffles.
There are 9 varieties of truffle:
Bianco pregiato
Nero pregiato
Bianchetto
Nero d'inverno
Moscato
Nero d'estate
Ucinato
Nero ordinario
Nero liscio
Each variety has its own distinctive characteristics. Sant'Angelo in Vado and Acqualagna are also well known Montefeltro truffle hot spots.
Other delicacies produced in the area include prosciutto and salame. You should try the salamino del fumaiolo, salamino di cinghiale and salsicce al tartufo.
The Fiera Nazionale del Tartufo Bianco Pregiato is held in Sant'Agata Feltria every Sunday during October and is well worth a visit.
We now head towards the heart of the Montefeltro passing through Carpegna (Carpegna is famous for its ham: prosciutto di Carpegna DOP) and the Parco Nazionale Simone Simoncello and down towards Urbino. Here the flavours of the mountains come to the fore. Delicious soups, broths and pasta dishes such as cappeletti and maltagliati con ceci, tagliatelle, ravioli and gnocchi with funghi or tartufo, passarelli in brodo, polenta with faggioli and ragu' di cacciagione
To uncover the best meat dishes then we suggest a visit to the Il Piacere della Carne, an event held in the Montefeltro during weekends throughout March each year. Here you will get to sample the very best Carne Marchigiana that the region has to offer, which include tagliata (strips of steak) with aromatic herbs, ossobuco (braised veal knuckle) with peas, spezzatino (stewed beef) with porcini mushrooms and stufato (beef braised in wine) with fresh seasonal vegetables. Most villages and towns host weekly markets where you can buy fresh produce and if you are into cooking, then these markets are not only a great place to visit, they are an invaluable source for buying fresh food at more competitive prices.
The Marche region produces a large range of wines; including 13 varieties of DOC designated wines. The most important in the Montefeltro are Sangiovese dei Colli Pesaresi DOC (a refreshing red) and Bianchello del Metauro DOC (a dry white). Other specialities include Visner (a cherry wine) and Santangiolino (a sweet, fortified wine rather like Vin Santo).
Nearest airports:
Forli, Rimini and Ancona airports are the closest and you can find the website for each below.
Ancona Airport
Nearest motorway:
A14 (exits: Cesena, Rimini Sud, Cattolica, Pesaro Urbino and Fano)
Suggested Itinerary
1) Sant'Agata Feltria – Rocca Fregoso, Teatro Angelo Mariani and production of Formaggio di Fossa (fossa being the pits in which the cheese is matured)
Ristorante, I Tre Castagni
2) Pennabili – Castle and tower of Maciano, Sanctuary of the abandoned Madonna's, lake Andreuccio
Ristorante, Piastrino
3) San Leo – Rocca di San Leo
Ristorante, Locanda, San Leone
4) Parco Nazionale Simone e Simoncello
5) Unusual rock formations at Pietrarubbia (The Giant's Finger)
Ristorante, il Vicariato, Pietrarubbia
6) Sassocorvaro – Rocca Ubaldinasca, Museum of rural life
Ristorante 2000
7) Gradara – Rocca di Gradara Ristorante Mastin Vecchio
8) Urbino – The Ducal Palace, spiral staircase, Marche National Art Gallery, Raffaello's birthplace and the botanical gardens.
Ristorante Nenè
9) Gola del Furlo
10) Urbania – Ducal Palace and Museo Civico, which contains Mercator's globe
Osteria dal Cucco
11) Piobbico – Brancaleone Castle, woollen carpet weaving and the Brancaleoni Palaeontology-Natural History museum. The area surrounding Piobbico provides trekking, horse riding, canoeing and nature trails.
Ristorante Montenerone
Sant'Agata Feltria
Sant'Agata Feltria is a medieval hilltop town situated 607 metres above sea level with a population of about 3000. The town has ancient origins, the earliest settlers being the Umbrians. During the Middle Ages, the Malatesta, Montefeltro and Fregoso families settled here and dominated the area. The Rocca Fregoso (now housing a museum) is living testimony to these once powerful dynasties.
The historic centre is well preserved and Sant'Agata comes into its own during October when it holds the renowned white truffle festival.
Related Articles
Marches – Le Marche