Australia has been heavily influenced by its many Italian immigrants and Australians of Italian descents. Italians are the third largest ethnic group in the country and Italian is the third most commonly spoken language. Since Italian immigration began in the 1850's, there have been many successful Italian-Australians in all areas of life, and Italians have influenced our food and our culture. Some of our best known and most distinguished actors are of Italian-Australian descent, such as Greta Scacchi and Anthony LaPaglia.
There are many Italian-Australian Associations, such as the Dante Alighieri Society – this was formed in 1896 in Melbourne and it was the first outside Italy. There are also Italian-Australian magazines, such as Italy Down Under, and Italy is a reasonably large trading partner of Australia.
Italian Immigration to Australia
Italian immigration to Australia began almost at the same time as Captain Cook's discovery of the country in 1770. There were two men of Italian descent on board his Endeavour – James Matra and Antonio Ponto. There was also an Italian convict, Giuseppe Tuzo, who was sent out with the First Fleet, and later resided in Sydney.
Some Italians came here as free settlers, but there was no real Italian community until the Victorian and West Australian gold rushes began in the 1850's. Immigrants from several countries, including Italy, came here in droves, attracted by the dream of wealth and glitter of the gold.
Many Italians started to come to the cane fields of Northern Queensland as indentured workers in the late 1800's. Although conditions were harsh – wages were low and the workers had to work long hours in the ghastly heat – this is one of the biggest Italian communities in the country because most stayed in Australia, and eventually developed their own farms.
Several Italians also migrated to Australia in the 1920's, but the true surge began after the Second World War when economic conditions were bad in Italy but better in Australia. A large section worked on the Snowy Mountains Scheme. They lived and worked in the cities, started wineries, farmed tobacco, and cut the sugar cane. This is when they began to influence Australian life and culture.
Some Successful Italian-Australians
These include the actors Greta Scacchi and Anthony LaPaglia. Greta Scacchi was born in Milan but raised in England by her English dancer mother, who was divorced from Greta's father. She came to Australia when she was 15. After studying at The Bristol Old Vic in England, the beautiful young actress caused a sensation when she starred in the movies, Heat and Dust, White Mischief and Presumed Innocent. But a traumatic break-up with the father of her daughter, Leila, Vincent d'Onofrio (who starred in Men in Black) caused her to become a virtual recluse in Sussex. She turned down the lead role in Basic Instinct, which made Sharon Stone a fortune, because she didn't like the director, and went through a period of unemployment and general hardship.
Now she is happily married to her cousin with whom she has a son, Matteo, and she is getting good roles in movies. Her latest role is in Head full of Honey, with Nick Nolte and Matt Dillon.
Anthony LaPaglia grew up in Adelaide which he remarked is like 'a little Bronx, but with Australian accents'. This is an unusual way to describe Australia's 'city of churches'. Racism was rife in Australia in those days, at least according to the actor who has complained about having to contend with it at school. LaPaglia moved to New York when he was twenty-five. He starred in many movies, including Betsy's Wedding, Lantana and Looking for Allibrandi. He is now appearing in the American TV series, Without a Trace, and was also highly acclaimed for Murder One.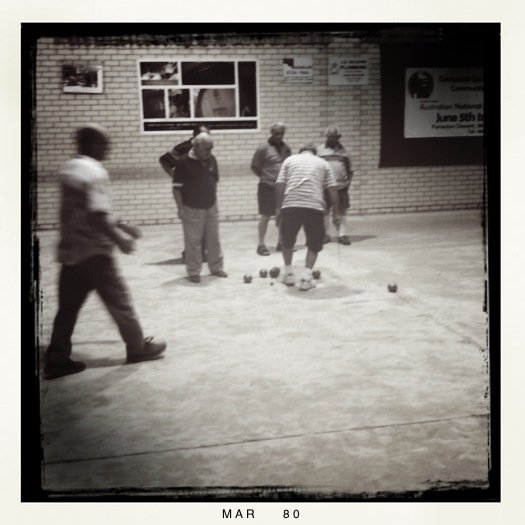 Italian Food in Australia
According to the article, 'Italian Australians Trailblazers for Multiculturalism' by Dr. Laura Baldassar in Multicultural Communities Online: "It is today hard to believe that garlic was once an unknown and highly suspicious food, that olive oil was only available from chemists in small glass bottles for medicinal purposes, that bread was prized for its ability to be cut in thin square slices, that cheese came in silver paper and melted into slippery blobs when cooked, that pasta was not a familiar dish, that wine was considered a foreign beverage for foreigners and that tea was a far more popular drink than coffee." (cf. Baldassar and Pesman 2004).
Now Italian restaurants can be found everywhere, even in the suburbs. (There is a good one near where I live.) Cappuccinos are a favorite beverage of Australians and Australians love to eat pasta and drink wine.
Italians played a big role in introducing Australians to wine and Italian-style wines, such as logrein, barbera, and sangiovese are increasingly popular. They also helped to make the 'coffee culture' popular and many coffee brands in Australia have Italian origins and many different types of coffee are available at coffee shops and in the supermarkets.
Australians are also beginning to realize the health benefits of the Mediterranean diet, based as it is on delicious olive oil, salads, pasta and wine.
The Italian influence on Australian life has been enormous and it is almost too difficult to categorize it. Since they first came here more than one hundred years ago, Italian immigrants and descendants have done their best to introduce Anglo-Australians to 'La Dolce Vita'.