Italy is world-known for the rejuvenating effects of its thermal spas. Beauty treatments, massages, leisure activities, and world-class menus are usually included in the Italian spa experience. The popularity of Italian Spa Towns and natural hot springs (terme) is once again on the rise. Many of the traditional locations have been either building new facilities, or modernizing the still surviving spa palaces of the early 20th century.
No matter what part of Italy you are traveling in, there is some sort of spa treatment available in this geologically active part of Europe. Whether you are looking to relieve a particular ailment, just want a day to relax (or shop), or are simply curious about these natural hot spots, there is a place for you in Italy. Many of these spa towns offer deluxe and standard hotel accommodations with their own unique setting of thermal provisions. In-house doctors and professionally trained staff oversee the treatments that include indoor and outdoor thermal pools. Accommodations are further enhanced with the presence of walking trails, tennis courts and golf courses. Lounges, bars, and restaurants provide Italian, as well as, international cuisine. Below is a list of spas and thermal baths sorted by region.
ITALY – Principal thermal spas grouped according to region: (by the Italian Tourist board)
1 –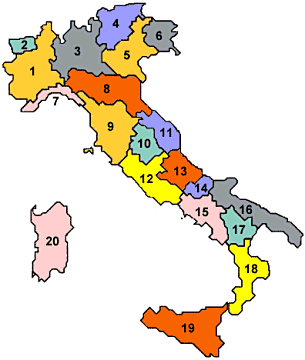 Piedmont – Acqui Terme – Agliano – Bagni di Vinadio – Castagneto Po – Crodo – Garessio – Monte Valenza – Terme di Lurisia – Terme di Valdieri 2 – Valle d'Aosta – Pré-Saint-Didier – Saint-Vincent 3 – Lombardy – Angolo Terme – Bagni del Masino – Bagni di Bormio – Boario Terme – Rivanazzano – Salice Terme – San Colombano al Lambro – San Pellegrino Terme – Sirmione – Tartavalle Terme – Trescore Balneario – Terme di Miradolo 4 – Trentino-Alto Adige – Bagni di Rabbi – Campo Tures / Sand in Taufers – Comano Terme – Levico Terme – Merano / Meran – Pejo Terme – Sesto / Sexten – Terme di Brennero / Brennerbad – Vetriolo Terme – Vigolo Baselga 5 – Veneto – Abano Terme – Battaglia Terme – Galzignano Terme – Lido di Jesolo – Lido di Venezia – Montegrotto Terme – Recoaro Terme 6 – Friuli-Venezia Giulia – Arta Terme – Grado – Lignano Sabbiadoro 9 – Tuscany – Bagni di Lucca – Bagni San Filippo – Chianciano Terme – Monsummano Terme – Montecatini Terme – San Carlo Terme – San Casciano dei Bagni – San Giuliano Terme – Terme di Caldana – Terme di Montepulciano – Terme di Petriolo – Terme di San Giovanni – Terme di Saturnia 12 – Lazio- Latium – Bagni di Tivoli – Bagni di Viterbo – Ferentino – Fiuggi – Terme di Cotilia – Terme di Suio 15 – Campania – Agnano Terme – Barano d'Ischia, Forio – Casamicciola T., Ischia – Castellammare di Stabia 8 – Emilia-Romagna – Bagno di Romagna – Bobbio – Brisighella – Castel San Pietro Terme – Castrocaro Terme – Cervia – Fratta Terme – Monticelli Terme – Porretta Terme – Riccione – Rimini – Riolo Terme – Salsomaggiore Terme – Tabiano Bagni 10 – Umbria – Acquasparta – San Gemini – Terme di Fontecchio 11 -Le Marche – Acquasanta Terme – Sarnano – Tolentino 13 – Abruzzi – Caramanico Terme – Contursi Terme – Lacco Ameno – Montesano sulla Marcellana – Telese 20 – Sardinia – Fordongianus – Terme Aurora – Terme di Casteldoria – Terme di Sardara 18 – Calabria – Antonimina Terme – Cassano allo Ionio – Galatro – Spezzano Albanese Terme – Terme Caronte – Terme Luigiane 19 – Sicily – Acireale – Ali Terme – Castroreale Terme – Sciacca – Terme Segestane – Termini Imerese 16 – Apulia – Margherita di Savoia – Santa Cesarea Terme – Torre Canne 17 – Basilicata
Abruzzi Caramanico Terme Abruzzo 13
The most famous spa in Abruzzi and has been dispensing treatment for over four hundred years. The twin springs located in this medieval village are known for a high sulphur content and alleviation of breathing, digestive and arthritic conditions.
Campania Ischia Campania 15
The Island is home to natural hot springs, geysers and fumaroles with very popular spa centers located in Cavascura, Sant'Angelo and Barano. The spa resorts on Ischia offer mud treatments, mineral water baths and vapor inhalation therapies. Also popular are Ischia's caves, which are naturally heated by volcanic activity and can be like a dry sauna or like a humid Turkish bath.
Emilia Romagna Bagno di Romagna Emilia Romagna 8
Southeast of Bologna lies this small town surrounded by mountains, forests and streams. The springs here contain a wide variety of essential minerals and produce waters that are said to aid in the prevention of illness as well as treatment. The spa facilities at Bagno di Romagna are some of the most comprehensive in Italy and include a full range of treatments such as therapeutic mud, thermal baths, inhalation therapy, cave treatments, nasal, and ear and throat therapies among others.
Brisighella Emilia Romagna 8
This spa town is home to sulphorus springs that have been dispensing its treatments for over a century. Besides a wide range of treatments, including the treatment of cardiovascular disorders, the town is surrounded by beautiful countryside of the Apennine foothills. The ancient cobbled streets of Brisighella are home to a well-known medieval festival every summer.
Tabiano Terme Lumbardy 3
Close to Parma is a gorgeous valley where lies the spa town Tabiano Terme, known for the most sulphurous waters in Europe. For centuries, the local inhabitants used these springs to treat their ills and today they are used especially to treat the lungs, ears, nose and throat. Besides these specialties the year-round Tabiano di Terme offers a full range of modern spa therapies.
Arta Terme Friuli Venezia Giulia 6
This former Roman town was built close to hot sulphur springs that were used until the Middle Ages. With the reemergence of spa therapy in the late 19th century, the town became a popular tourist destination. Today the spa treatments, especially the stress relief programs, are complemented by a series of footpaths through the beautiful countryside.
Lignano Friuli Vezia Gulia 6
This seaside spa town is located on a peninsula within the Marano Lagoon. Lignano has become a very popular seaside resort with plenty of shopping and nightlife in the summertime and is home to modern spa facilities located right along its beach. Inhalation treatments here are known for using sulfurous water, seawater, or a combination of both.
Lazio Fiuggi Latium 12
Spa treatments are available in this charming medieval hill town and its large spa house is packed during the summer months. The waters here are famous for treating kidney stones, including the ailments of Popes and European royalty. Fiuggi is only a short distance south of Rome.
Bagni di Tivoli Latium 12
Just outside of Rome is town of Tivoli, famous for Hadrian's Villa and for the therapeutic springs that made Tivoli a popular resort in the late 19th century. The hot sulphur springs, known locally as Acque Albule have been praised for their healing properties by Virgil and Strabo in ancient times and were once home to the extravagant Agrippa Baths. Today the waters can be ingested to treat gastrointestinal disorders or used in inhalation therapies for the nose and throat. Both the sulphurous waters and mud are used in soothing baths for arthritic and skin disorders.
Viterbo Latium 12
This city north of Rome was once known as the "City of Popes" and is home to famous thermal springs discovered by the Etruscans, known as the Terme dei Papi. The curative properties of the local hot springs are utilized by two modern spa facilities in the form of mud and inhalation therapy. Besides the treatment centers, the countryside around Viterbo is dotted with several natural thermal springs that are free to use.
Piemonte Acqui Terme Piedmont 1
Located on the wine trails of the Piemonte region, Acqui Terme dates back to the ancient times of the Romans and offers a hot sulphur spring. The sulphurous water is credited with its restorative properties and treatments including mud baths draw tourists annually.
Sicilia/Islands Sciacca Sicily 19
This charming fishing port is home to an open-air thermal pool as well as a modern spa facility open from spring to fall. Ancient legend attributes the local thermal caves of Monte Kronio to Dedalus (creator of the mythic labyrinth) and today the caves are used to help in reparatory treatment. The spa facilities offer treatments using sulphurous waters as well as salt-water treatments containing bromide and iodine for inflammatory conditions.
Termini Imerese Sicily 19
An ancient town close to Palermo, whose thermal springs once powered Greek and Roman baths. Today there is both the old spa resort as well as a new facility that take advantage of the hot sulphurous water to dispense treatments, built on the foundations of the previous Roman and Arab baths.
Aeolian Islands Sicily 19
The Terme di San Calogero on the island of Lipari has been popular since the Ancient Greeks and can still be enjoyed today among the ruins. The hot springs on the island of Volcano are known for their very hot water and mud that relieves arthritic conditions and skin problems, especially psoriasis.
Toscana Montecatini Terme Tuscany 9
Home to nine spas and over six hundred years of tradition that hark back to the golden age of thermal baths. The spas are virtual palaces with marble columns, spacious halls and relaxing gardens that take you back to the early 20th century. The waters of the local springs contain several minerals and are known to treat liver and digestive disorders.
Chianciano Terme Tuscany 9
This spa town is set in the beautiful Tuscan countryside is famous for its treatment of liver ailments. There are several spa treatments available including drinking the waters for gastrointestinal disorders as well as thermal baths and inhalation therapy. Away from the spas and the modern city is the historical center with an art museum, medieval buildings and churches.
Bagni di Lucca Tuscany 9
Over fifty hot springs feed the thermal baths here, and was once very popular with the Tuscan nobility. Today there are modern facilities that offer a full array of treatments using the area's sulphur and calcium rich waters.
Terme di Montepulciano Tuscany 9
Located in the southern area of the Tuscany region, is part of the hilltop town of Montepulciano. Its spas offer the therapeutic values of sulfur rich waters that have been visited for centuries for their curative powers. In addition to rejuvenating treatments, Montepulciano is famous for the quality of its wines.
Terme San Filippo Tuscany 9
Characterized by the white rock deposits left by the thermal waters, Terme San Filippo offers water therapies, as well as mud baths and inhalation treatments. Attractively set in between Monte Amiata and lush green hills, Terme San Filippo is a small, quiet town.
Terme di Saturnia Tuscany 9
Located in Tuscany, has an elaborate leisure complex of four outdoor thermal pools complete with a modern fitness center, hair salon, tennis courts, golf range, and art gallery. Dating back to the time of the ancient Etruscans, the spa received its name after the Etruscan goddess Aurinia. The Romans later changed her name to Saturnia, hence the spa's name. Surrounded by beautiful countryside, the spa offers accommodations in one of three separate facilities. In line with the Italian belief in the wellness of the entire being, Terme di Saturnia offers water therapies, beauty treatments, diet plans, fitness regimens, and stress therapies.
Val d'Aosta Saint-Vincent Val D' Aosta  2
Centrally located in the valley at the foot of Mt. Zarbion. Offers everything from Spa treatment to sports, hiking, and even a Casino with spectacular scenery.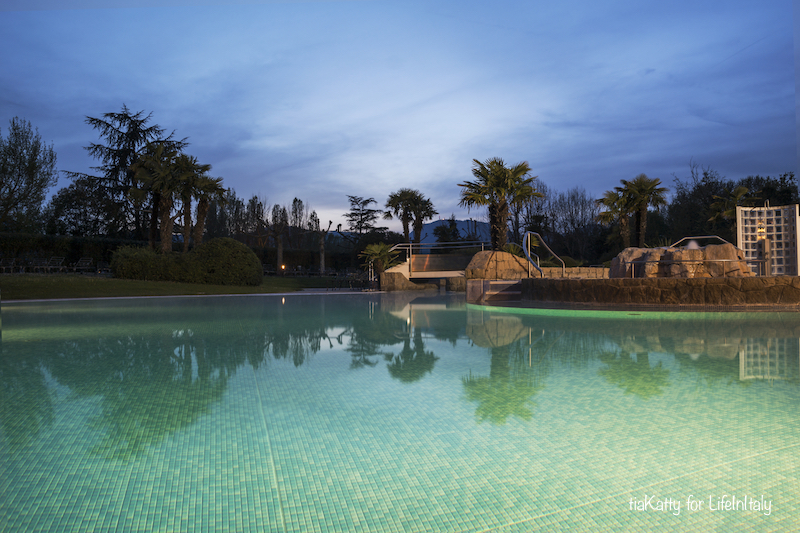 Veneto Abano Terme Veneto 5
Thought of by many as the oldest spa in the world, is home to 130 thermal springs. Legend has it that the son of the sun, Phaeton, warmed the waters when he had fallen. Located close to Padova in the Veneto, this small town is also near transportation hubs in Treviso, Verona, and Venice.
Montegrotto Terme Veneto 5
Located in a beautiful setting of hills and parks in the Euganian hill area, known for its therapeutic mud baths and a distinctive line of hotels. Nearby ruins, dating back to the time of Julius Caesar, provide an interesting outing in between treatments.
By Justin Demetri
Related articles: