Italian food is some of the most popular in the world so during your trip to Italy, why not give yourself the ultimate souvenir by participating in one of the many cooking schools throughout Italy!
Some of these culinary schools are located in beautiful countryside villas, so you can learn the secrets of authentic Italian cuisine while having fun with people that share your passion for food. No matter what level of cooking skill, there is a school for you. Many of these schools are involved in the increasingly popular Slow Foods movement, which supports locally raised and prepared foods using traditional methods as opposed to mass produced food products. Of course, the best part of this experience is that you get to eat everything you make. Here are just a few of the most popular Italian Culinary Schools found on the Internet.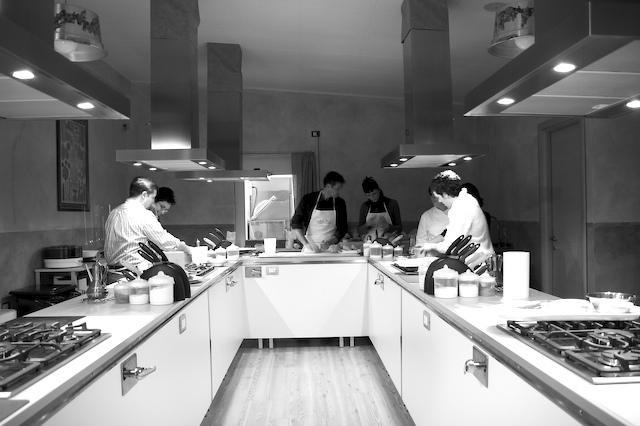 Cooking Schools
These are more designed for tourists and short-term visitors to Italy. The classes last from one day to a few weeks and have a fun and casual atmosphere. These schools, some of them held in countryside villas are enjoyable for any level of cook, from amateur to professional. Before we roll into details about cooking schools, if you're in Italy, especially in Rome, make sure you check out the best cooking classes!
Cook Italy
Cook Italy offers regional cooking lessons, specializing in the foods of Tuscany and Bologna. This is done in a relaxing, family-style manner in some excellent locations such as Bologna, Cortona, Lucca and even Siracusa in Sicily. Carmelita gives her cooking lessons in her kitchen in the very centre of Bologna.
Mama Margaret & Friends
Mama Margaret offers numerous tours and cooking vacations in several regions of Italy and can even custom tailor a cooking tour of Italy. The tours are offered in three tiers – from Premier (all top-quality) to Hearth and Home (more affordable) to Wander-Free tours (on your own to arrive at the cooking classes). Besides cooking, Mama Margaret itineraries include visits to vineyards, country farms, and the kitchens of local chefs.
Chef Paolo Monti's Cucina Italiana
Cucina Italiana is offered by Chef Paolo Monti in various locations in Italy. From half day to 7 days cooking packages include practical courses where you will learn the basics of Italian cooking, pasta, risotto, fish as well as some regional favorites. Cucina Italiana also offers Cinque Terre cooking and hiking vacations as well as a Flavors of Sicily package.
Cucina con Vista
Cucina con Vista is in the heart of Florence and is managed by chef Elena Mattei. They offer classic courses centered on traditional Tuscan cuisine, or special courses for corporate events, dinners and group activities. The classic courses range from 1 to 4 days and are limited to a maximum of 4 people (but for largers groups you can contact them of course); they can be customized. Courses are held in a house that dates back to the 16th Century, with a typical Tuscan feeling.
Castello Banfi – Il Borgo
Castello Banfi is an 18th Century hamlet on the hills of Brunello, Tuscany. This boutique hotel offers 2 or 3 nights packages that include a 5 hours cooking lesson (and you will eat what you cook), a guided wine tasting and a tour of their winery.
Academia Barilla
Academia Barilla is a culinary institute in the centre of Parma, located on the grounds of the former Barilla pasta factory. They organize food tours that include cooking lesson (one focused on pizza) and different activities depending on the tour: a guided visit of the town Parma, visit to the producers of Parmigiano Reggiano, Prosciutto di Parma and Colli di Parma DOC wines, shopping in a nearby boutiques village. They also offer customized cooking classes.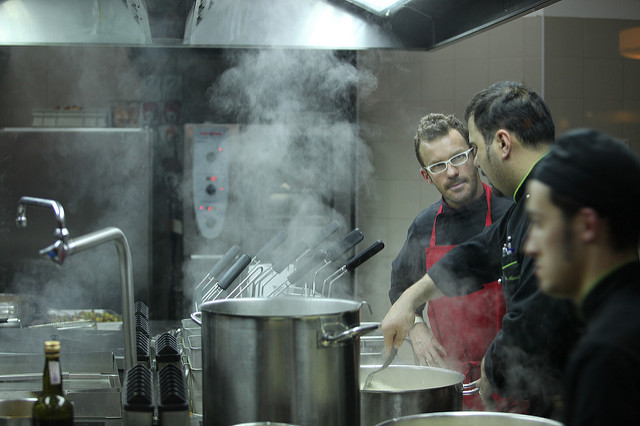 Culinary Institutes
These are run more like an Academy and are more for professional or aspiring cooks and usually not for beginners. The courses at these institutes are much more intensive than those designed for tourists and can last up to a full semester. Italian culinary institutes are for those who would like to master every aspect of Italian cuisine from regional and national specialties to pastries and desserts. Some of these institutes now offer shorter classes for all levels of cooks.
Scuola di Arte Culinaria Cordon Bleu Florence
The Cordon Bleu School of Florence offers both intensive courses in gourmet cooking for aspiring chefs as well as day classes for visitors who just want the basics. There are also shorter courses for more experienced visitors who would like to master one or two specific dishes. Cordon Bleu also offers cooking packages for families or small groups.
Apicius – Culinary Institute of Florence
The Culinary Institute of Florence, located in the heart of the city, has programs for all levels, from beginners to experienced chefs. Offering both yearlong and summer programs, Apicius offers programs in wine expertise, hospitality, Italian language and culture besides their culinary classes. Apicius is also ideal for those travelling to Italy and willing to get an understanding of Italian cooking, with courses ranging from 1 day to 3 weeks.
More suggestions on a cooking holiday in Italy here: http://www.lifeinitaly.com/food/cooking-holidays
Above: Learning to make fresh pasta at a cooking school in Italy