Besides the articles, I wrote on the local wines and pork meat, or 'porchetta' of Castelli Romani, I would not absolutely miss the local king of the forests: the mushrooms of Castelli Romani! You'll also find within this post an Italian mushroom sauce recipe with Tagliatelle pasta to make at home!
Mushrooms in Castelli Romani
The surrounding hills and wooded area – with chestnut trees and oaks – make the Castelli Romani an ideal spot for mushroom hunting. After a rainy day, in the summer period, they sprout like… like… mushrooms! The smallest one I saw – got many friends in the area who go for them like maniacs – weights a little less than 1kg. The places where they pick them, are held jealously as a secret. To search for mushrooms, you have to know them. That's why there are classes that enable you to recognize them. Some time ago, an individual was caught, by the park rangers, with a basket 'generously' filled. Besides getting fined, his mushrooms got taken away. He was very lucky since, the rangers, found all of them were of an extremely poison species!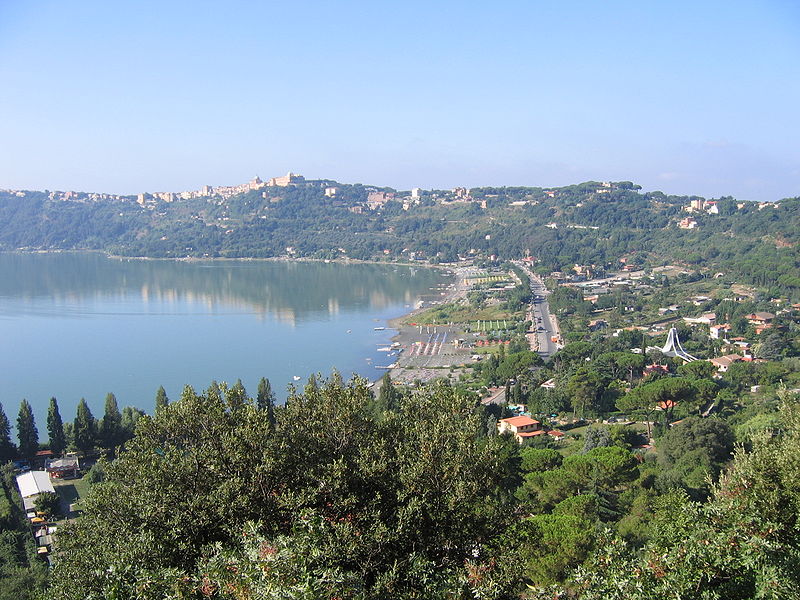 Mushrooms in Lazio's Castelli Romani area
They practically saved his life. The class is short, usually a couple of days, at the end of which, a permit card is issued. This permit allows the holder, to hunt for mushrooms in the protected park area – Parco Regionale dei Castelli Romani – Regional Park of the Roman Castles. If you get caught without it, you can be heavily fined. You can also be fined if your 'loot' exceeds a certain number of mushrooms, from 15 to 20 – or three Kilos in weight – depending on the type of mushrooms. Using some tools, such as rakes, hooks, and anything that could damage the environment, is strictly prohibited.
The types of mushroom found, around the area:
Porcini – Corpulent white stalk with dark brown cap, usually found under chestnut trees.
Ovoli Buoni – Latin name: Amanita Caesarea. Thin stalk, orange in colour, can be found from July to October under oak trees in dry environments.
Porcinelli – Can be red, or orange in colour, found in the summer and autumn seasons. Robust, on a chubby stalk, has sometimes, large dimensions.
Prataioli – White in colour, can be found in spring and fall seasons in fields or clearings.
Gallinacci – Yellow-orange in colour, grows in the spring and fall seasons in circles or groups in mucus soil.
Spugnole – Brownish in colour, it grows in the spring season, on sandy or rocky grounds.
Chiodini – It's the best-known kind of mushrooms because it grows just about anywhere, in the fall season. If the weather freezes, these mushrooms become toxic.
Inspired by the mushrooms of Castelli Romani
Italian mushroom sauce recipe
Tagliatelle al Ragu (Pasta with red sauce and mushrooms)
Feeds 4. Preparing: time 1 hour and 625 calories per dish.
320 gr. of tagliatelle (fettuccine will do)
300 gr. of mixed mushrooms
20 gr. of dry porcini mushrooms
150 gr. of ground pork meat
150 gr. of sausage
3 spoons of minced herbs for frying
300 gr. of tomatoes
1 dl. Of red wine
1 small branch of thyme
3 spoons full of extra virgin olive oil
Salt and pepper
Soften the dry mushrooms in warm water, while cleaning the others. Then cut the bigger ones into pieces. Add oil in a frying pan and let the herbs brown with the ground meat and the sausage, adding the dry mushrooms, thyme, salt, and pepper. Sprinkle the wine and let it evaporate on a high flame adding the tomatoes and the fresh mushrooms and let it cook for another half an hour (watch the flame). Add salt and pepper as need it. In the meantime, prepare the tagliatelle al dente, drain them and, add the sauce. This Italian mushroom sauce recipe is a very tasty and energetic dish. Buon Appetito!!
The mushrooms of Castelli Romani can also be enjoyed on a 'bruschetta'. The bruschetta is but a piece of toasted, homemade, or 'casareccio', bread. Usually with oil, salt and smeared with garlic but it can be made in million ways. With cold tomato sauce. parsley, minced garlic… outstanding!!
Speaking about the bread: the best one around it's the one from Genzano. 18 bakeries make it in the same town. It's the DOC of the bread or 'IGP' – Indicazione Geografica Protetta – Protected Geographical Indication.
This bread is exclusively made in a wood oven, called 'Soccia' and, in the old times, every time was taken freshly baked from the oven, was celebrated as a feast. This bread is distinguished itself because of the natural yeast, which has to be refreshed every day with water and flour. To every 100 Kg., of flour, 2 Kg. of salt, 10/15 Kg. of natural yeast, and 70 litres of water, have to be added. It has to be roughly mixed for 20 to 30 minutes and the yeast has to grow for one hour. The bread is then laid out and shaped in different fashions, placed in wooden boxes, dusted with wheat then covered with hempen sheets and, allowed to grow further for another fifty minutes. Baking, it's done with a wood oven, which lasts between 35 minutes and one hour. One of the best, if not the best bread all around.
So all that's about the mushrooms of Castelli Romani, the Italian mushroom sauce recipe, and the tasty bread from the area! Explore more about the villas in Castelli Romani, the wine in the region, and much more, within Life in Italy.
– Michael Axel Mc Cain –