A smorgasbord of beneficial ingredients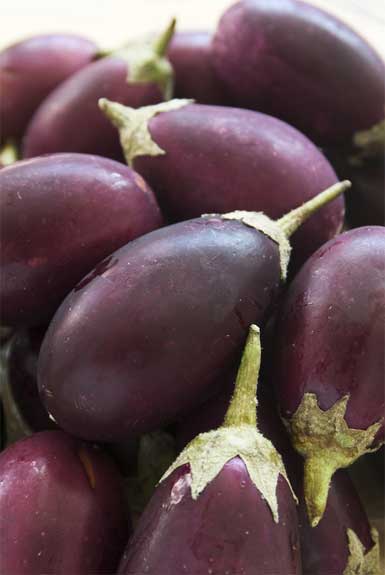 Garlic was grandma's favorite herb. Her eggplant relish is a veritable smorgasbord of beneficial ingredients which, of course, includes garlic.
Everyone knows about garlic's pungent flavor, and is well aware of this bulbous perennial's reputation. But to grandma, the garlic was irreplaceable. A relative of the Lily, the huge ball like blooms of the garlic plant are fused with hundreds of tiny lavender blooms that, like their bulbous root, are rich in sugar and almost as pungent in fragrance.
Ancient Romans believed strongly in the power and value of garlic and grandma was no different. She believed it made her skin more beautiful and smooth, and she also used it to treat toothaches, sore throats and earaches. Modern medicine backs up grandma's belief in the herb. Researchers are finding that garlic contains allyl, an antibacterial agent that seems to affect harmful bacteria. Today, many people are taking garlic capsules to treat the cold virus, diarrhea and poor blood clotting and also to lower blood pressure.
Grandma's Eggplant Relish
1 large eggplant, peeled and cubed
1 large onion, chopped
1 rib celery, chopped
1 cup chopped fresh mushrooms
1 red or green pepper, chopped
1 cup pitted ripe olives, sliced
5 cloves garlic, minced
1 (8-ounce) can tomato sauce
1/2 cup water
1 teaspoon dried oregano
1/2 teaspoon salt
3 teaspoons red wine vinegar
1 teaspoon sugar, optional
1/4 teaspoon powdered Cheyenne pepper or few drops hot pepper sauce
Combine all ingredients; mix well. Bring to a slow boil. Reduce heat; cover and simmer for 20 minutes or until vegetables are tender. Cook a few minutes longer, uncovered, until slightly thickened. Makes a delicious garnish or side dish.
The Benefits of Eggplant
The eggplant is a member of the potato family and like the potato it's a great source of fiber in our diet and it contains low amounts of vitamins A, B and C .Low in calories, about 25 per serving, the eggplant is also low in saturated fat, cholesterol and sodium. It also has amounts of thiamin and vitamin B6.
The eggplant in culture is similar to the bell pepper. The plant can be grown as an ornamental in containers. The Easter Egg is most commonly used for this purpose. (52 days; small white, egg-sized, shaped, turning yellow at maturity; edible ornamental)
For your backyard garden there are several varieties to choose, they include:
Dusky (60 days to harvest, good size, early production)
Epic (64 days,tear-drop shaped)
Black Bell (68 days, round to oval, productive)
Black Magic (72 days)
For best results eggplant should be started from young seedlings. Start plants in individual containers 4 to 6 to a pack. It's important to get the plants off to a good start. Always plant after the soil has warmed and there is no longer a danger of frost. Eggplants are more susceptible than tomato plants to injury from low temperatures and won't begin to grow until soil has warmed.
Plant in raised rows 12 to 24 inches apart ,depending on the size of your egg plant at maturiey. Eggplants thrive in the heat of summer and tolerate dry weather but need good irrigation during dry periods..
Harvest the fruits when they are 6 to 8 inches long and still glossy.
By Cookie Curci