Collazzone is a town and comune located in the region of Umbria in Italy. Collazzone is located in the province of Perugia and is close to the capital of the province. The town is quite small, spread over an area of 55 sq km with a population close to 3108.
Collazzone is mainly an agricultural commune and does not attract many tourists. However, due to the importance given to agritourism in the region in the past few years, several people now visit Collazzone to experience its laid back village like lifestyle. Collazzone is dividided into frazioni or subdivisions that are mainly small hamlets and picturesque villages.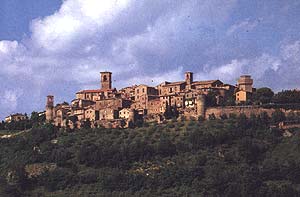 Attractions in Collazzone
Chiesa Parrocchiale di San Lorenzo
One of the main places to visit in Collazzone is the chiesa Parrocchiale di San Lorenzo. The church was built originally in the 19th century and is located on the main piazza. It has been dedicated to Saint Lorenzo. Although the church is quite new, it does have an interesting architecture. Inside the church are various beautiful decorations. The bas-relief is done in wood in a colorful Romanesque and byzantine style. The church had been last renovated in 1997 when the entire main piazza had been restored.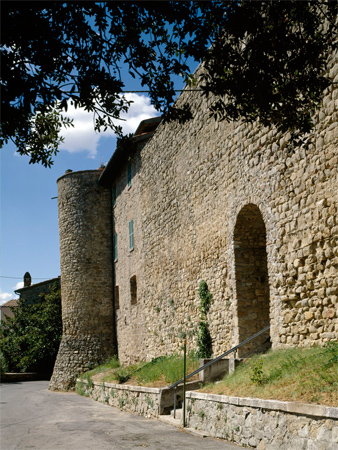 Madonna col Bambino
Within the Chiesa Parrocchiale di San Lorenzo there is a separate special room which stores one of the best known artistic works of art that belong to the commune. The Madonna Col Bambino is believed to have been made around the 13th century and is one of the most beautiful art works that can be seen in Collazzone. However, the artist is not known.
Convent of San Lorenzo
Another important religious site to visit in Collazzone is the Convent of San Lorenzo. Till 1290 the convent was a monastery but it was later used as a residence for the nuns till 1370. The convent was later restored in the 16th century. The abbey crypt of the convent is beautifully restored and is made in Romanesque style of architecture. The grave of Matilde Marzia is located inside the abbey.
Nature Trails
One of the best things to do while in Collazzone is to explore its natural landscape. There are several different nature trails which visitors can explore either by walking, mountain biking or by horse back riding. Along the nature trails visitors would find various traditional sites as well as plenty of local flora and fauna. Most trails are marked and several facilities like drinking water are available.
Getting to Collazzone
Collazzone is located quite close to the town of Perugia so reaching the town is not very difficult. The easiest way to reach Collazzone is by bus. The state buses in the region connect the town to several cities in the province as well as to the larger cities in Umbria. Buses depart every few hours for Collazzone from Perugia and from other smaller towns in the region. Those who have their own cars can also drive down to the town easily since Collazzone is located only 25 km from Perugia. Visitors can reach the town in less than an hour.
Moving Around the Town
The easiest way to explore Collazzone is on foot since the town is quite small and there are only a handful of places to be visited. There are several parking lots located in Collazzone so visitors can find a good parking spot for cars and just walk around within the town. The center of the town is quite compact so it can be explored on foot within a few hours. There are many narrow streets and alleys in Collazzone where it is difficult to drive cars, so the best way is to just walk around to explore the main sight seeing attractions. Those who have their own cars can also explore the nearby villages and the hamlets.
Stay and Accommodation
Although Collazzone is not a very large town, it does have ample accommodation options. There are a few good hotels in the town. Most hotels are quite small and are run by local families and are mostly located close to the center of the town. There are also a few good bed & breakfasts in Collazzone. Some of the best hotels in Collazzone are hotel Albergo Vallepuglia, hotel Abbazia dei Collemedio, hotel Relais Il Canalicchio, hotel La Fareta and hotel Il Palazzo. There are also a few farm houses and country homes located on the outskirts of the town which can be taken on rent by those who are planning to stay longer in the area. There are also a few old houses and villas located within the town which are available on rent. Generally, good rooms are available all year round in Collazzone even without a prior booking.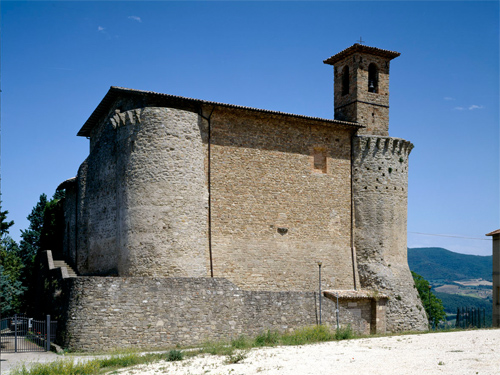 Eating in Collazzone
There are many good options in Collazzone when it comes to eating out. There are many good restaurants, trattorias and pizzerias in the town that serve simple home style cooking. In most places, food that is served is very typical regional dishes as well as Italian cuisine from other regions and is preferred by the locals. There are also a few good café, bars and taverns in Collazzone where visitors can get good drinks, local appetizers and light lunch dishes. Some of the best known restaurants in Collazzone are Ristorante Pizzeria Il Fiuaschetto, ristorante Abbazia Dei Collemedio, ristorante Il Pavone, ristorante Pizzeria Vallepuglia, La Locanda del Colle, Pizzeria Regine, Chi c'e' c'e'.
Shopping in Collazzone
There are not many options when it comes to shopping in Collazzone. There are a few places that visitors can try where the locals generally do all their shopping. Visitors would find plenty of small shops selling local food items like cheese, freshly baked breads, salami and various other things. The best thing to purchase while in Collazzone is olive oil and cheese. There are also many bakeries in the town that sell traditional pastries and various local desserts that are typical to Umbria, most would also have fresh cheese.