How to Watch an Italian DVD Overseas
Many people ask me how to watch Italian movies in the US. You will have to solve 2 problems wich are as usual harware and software. Hardware: make sure you have the right DVD player and Software: be able to get Italian movies. This first article will deal with the first issue, the hardware.
Background Information
The worldwide DVD market, especially the Italian DVD market, includes countless titles not available in the US as well as special edition discs not available in the US.
In order to play these rare titles in the US, the DVD player or the DVD itself must be region-free.
There are 6 DVD regions for different parts of the world and players bought in one certain region are only supposed to play DVDs from that same region. The US, for example, is Region 1, whereas Italy is Region 2, and Region 2 discs will not play in a Region 1 player. Unless – ironically enough – you buy the bootlegged DVDs widely available from street vendors. These DVD movies do not have a regional code and you can find them in all the major towns in Italy. However, there is no guarantee that these DVD movies will perform correctly and lots of them do have problems therefore they are not suggested.
REGION 0 — Informal term meaning "worldwide". Region 0 is not an official setting; discs that bear the region 0 symbol either have no flag set or have region 1–6 flags set.
REGION 1 — USA, Canada
REGION 2 — Japan, Europe ( except Russia Ukraina and Belarus), South Africa, Middle East, Greenland
REGION 3 — S.Korea, Taiwan, Hong Kong, Parts of South East Asia
REGION 4 — Australia, New Zealand, Latin America (including Mexico)
REGION 5 — Eastern Europe, Russia, India, Africa
REGION 6 — China, Honk Kong
REGION 7 — Reserved for Unspecified Special Use
REGION 8 — Resevered for Cruise Ships, Airlines, etc…
REGION ALL — Region ALL discs have all 8 flags set, allowing the disc to be played in any locale on any player.
Official (original) DVD movies are getting cheaper with time starting at 5 Euros each for old Totò movies and some special offers can be found at the news paper stand.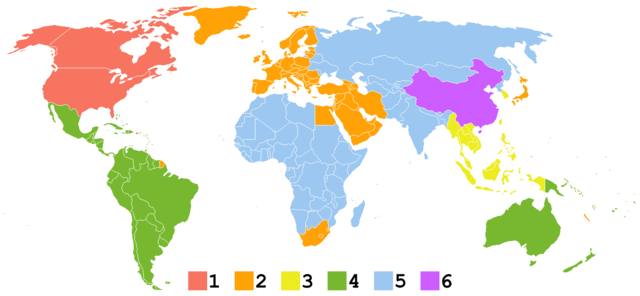 Solutions
Region Free DVD Players
The best solution is to buy a region-free (or code free) DVD player. These days a DVD player costs less than the average dinner at a restaurant – this should not break your bank. Region free DVD players are somewhat more expensive (ok, dinner for two) but still quite cheap.
Big box stores like BestBuy or your local DVD store will not sell region free DVD players: try ebay, for example, and you will have plenty to choose from.
Making your own DVD Player Region Free
For most DVD players there is a code that you can enter with your remote that will make your own DVD player region free. You will have to search on Google a little. I previously used VideoHelp: they have a section of the site dedicated to DVD HACKS. To use the site take down the name and model of your DVD player and if a hack exists then print out the instructions, take your remote control and program your DVD player. In a few minutes you will be able to play disks from Italy as well as discs from the US and from anywhere in the world
Watch Italian DVDs on your computer
There is another alternative to watch Italian DVDs in the US, use your laptop. Each laptop DVD player is set by default to the region correspondent to the country where it has been bought. However, you have the possibility to change the region any other of your choice; this is a cheap and easy way to watch Italian DVDs in the US, however, you should keep in mind that you can change region only 4 times on most laptops. If you had an older laptop that still works, you could change the region on it and keep it that way.