Rome Childrens Guide
See also Italy with Kids
This is a short guide to activities specifically designed for children. A treat to offer them to alternate traditional sightseeing of the Roman Forum or St. Peter's with something that's more child-oriented but can be fun for grown ups too. There are many reasons why you should visit Rome, and if you're traveling with your family, there are also plenty of options for things to do that the little ones will enjoy as well!
Indoor activities
Time Elevator
(Via S.S. Apostoli, 12 – off Via del Corso, 260) One of Rome's newest and most fascinating indoor activities. On board this time machine, you and your children will learn about Rome's history thanks to a virtual reality, multi-sensorial experience packed with special effects, including a motion base platform. The show lasts 45 minutes and runs daily non-stop from 10 a.m. to 10,30 p.m. Tickets are 11 euros for adults and 8 euros for children aged 0-12. Nearest underground station: Spagna (Metro A). Buses n. 40 express, 60 and 64.
Museo Explora
(Via Flaminia, 82 – near Piazza del Popolo)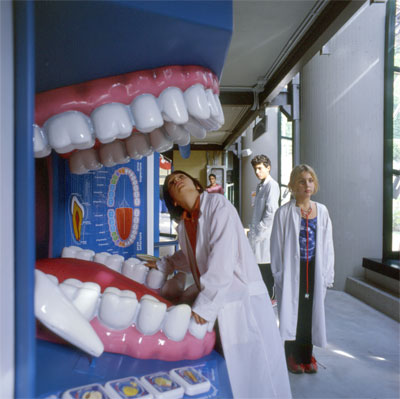 Explora is the first Italian museum expressly created for children aged 0-12. The area resembles a small town and is divided into four sectors: I, society, environment and communication. Children learn through hands-on, personal experience about these four different themes, in a mini supermarket, in a huge mouth or in a petrol station created within this small children-size town. The museum is closed on Mondays.
Visits last 1hr and 45 mins and have to be booked in advance. Call 06 3613776. Entrance fee for children aged 0-3 is free, children aged 4-12 pay 7 euros and adults pay 6 euros. Special concessions on Thursdays afternoon when children and adults pay 5 euros each.
How to get there
Nearest underground station: Flaminio (Metro A).
Buses n. 490, 495, 628, 92, 88, 6.
Museo dei Presepi
(Church of SS. Quirico e Giulitta, Via Tor de' Conti, 31a) This small museum offers a collection of presepi, representations of the Nativity, the more traditional, Catholic alternative to the Christmas tree, from every corner of the globe. These presepi are actually models of the Nativity, not only with the manger and the angels, but with villages and rivers and so on. Open on Wednesdays and Saturdays only from 5 to 8 p.m., except during the Christmas holidays, when it's open daily, from 5 to 8 p.m. Entrance free. How to get there
Nearest underground stations: Cavour and Colosseo (Metro B).
Open air activities
Bioparco – Rome's zoo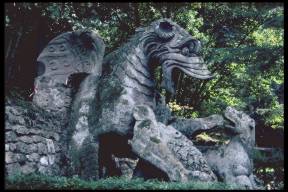 Rome's zoo, founded in 1908, has undergone a major change in its philosophy since 1998 when it was renamed Bioparco. Since then it has been transformed into an area with a clear educational objective and a strong attention to the conservation of species in captivity. It holds 194 species for a total of 1200 animals, in an area of 17 acres in the heart of Rome. Interestingly, the early 20th Century buildings have been kept, and coexist next to areas for the animals conceived according to modern theories of zoo management.
Entrance fee is 6,50 euros for children aged 3-12, and 9 euros for adults. The area is open to the public from 9,30 a.m. to 5 p.m. in winter, and from 9,30 a.m. to 6 p.m. in summer. How to get there Nearest underground station: Flaminio and Spagna (Metro A) Buses n. 52, 53, 926, 217, 360 and 910. Tram n. 3 and 19.
Luneur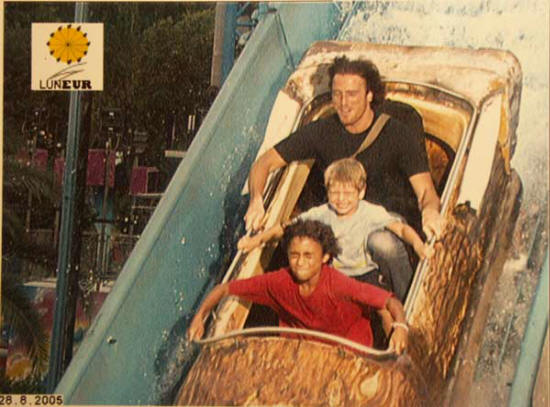 This Luna park has a long story as it was first created on the occasion of the agricultural exhibition which was held in the neighbourhood of EUR in 1953. There's plenty of activities for both children and grown ups and access is always free but you have to pay for the different activities. It is open every day from early in the afternoon to late at night, and also in the morning on Sundays. How to get there Nearest underground station: Magliana and EUR Fermi (Metro B) Buses n. 706, 707, 714, 717, 765, 771
Il Fantastico Mondo del Fantastico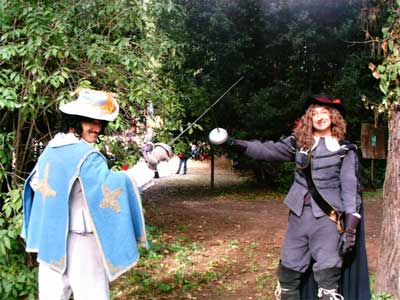 (Castello di Lunghezza, Via Tenuta del Cavaliere, 230 – Lunghezza, Roma) This theme park is only 15 km from the centre of Rome, easily reachable with public transport. Open every Sunday and public holiday, it is located inside the Park and the Castle of Lunghezza. Themed activities include famous characters like Red Riding Hood, Aladdin, Batman, Spiderman and Alice in Wonderland. It is open from 10 a.m. to 8 p.m. Entrance fee is 9 euros for children aged 3-11, and 11 euros for older kids and grown ups. The ticket gives access to all the activities within the park. How to get there From Rome, Stazione Tiburtina (Metro B), take the bus to Tivoli and get off in Lunghezza. From Rebibbia (Metro B) take bus n. 040 to Lunghezza.
Parco dei Mostri a Bomarzo
This park was commissioned in the 16th Century by Vicino Orsini, who belonged to one of Rome's most famous noble families. The fame of this park is due to its grotesque sculptures which gave it the name of monsters' park. This sculptures are often inspired by mythology and fantasy, including dragons and ogres. It is open daily from dawn to sunset. Entrance fee is 7 euros for children 4-8, free for smaller children. Adults and older children pay 8 euros. Besides the park, the small town of Bomarzo organizes a palio (a horse riding contest between the various neighbourhoods of the town, similar to the more famous one in Siena). The palio is held on April 25th, together with a parade in costumes from the 16th Century.
Tips for Visiting Rome, Italy
How to get there:
By car, take the A1 towards Florence and exit at Attigliano; then take the SS204 towards Viterbo and follow indication for Bomarzo. Nearest railway stations Orte and Attigliano. For more information call 0761-924029.
Aquapiper
(Via Maremmana Inferiore, km 29,300, Guidonia Montecelio, Roma) Open in summer, this is one of Rome's best aquatic parks, with swimming pools, water slides and other water activities designed for children and grown ups. It also hosts a skating rink and an open air disco! Open daily from 9 a.m. to 7 p.m. (7,30 on Sundays). Entrance fee for the whole day is 12 euros during weekdays and 15 euros on Sundays. One child aged 0-10 is free if accompanied by a paying adult. How to get there:
From Rebibbia (Metro B), walk to via di Ponte Mammolo and catch a bus to Guidonia.
Gianicolo
The Gianicolo is also a nice place walking from the Fontana dell'acqua Paola commissioned in 1612 by pope Paul V placed at the end of a Roman Aqueduct built by emperor Trajan. You can see most of Rome from the fountain. During the summer there is a place to eat and a theater right next to the fountain. You can walk up to a street flanked by either sides by old plane trees ( Euripean form of sycamore ). Half way to piazza di Garibaldi on you left there is small parco giochi ( kids arcade ) with rides with a mini carousel for small children ( 5 and under ) and video games for older kids. Continue walking up to piazza Garibaldi and on your right you have a view of Rome and on you left, on the opposite side of the piazza you have a view of S Peter. Right next to the piazza there is also a puppet theater for kids of all ages. A beautiful amphitheater with excellent live performaces during the summer. My wife and my son who is 5 both enjoyed Shakespeare midsummer nights dream in Summer 2005. If you keep walking down the hill toward San Peter there is a handy bar with tables overlooking Rome. Last thing to notice is the Hospital Bambin Gesu' which is Rome children's hospital ( just in case ).

Visiting Rome.
Shopping with Your Children
Shopping for toys
Citte del Sole (Via della Scrofa, 65 – between Pantheon and Piazza Navona) This toy shop offers a wide selection of toys for your kids, with a strong attention to educational games, both from famous brands and smaller producers. A wide selection of inexpensive toys for your children may be a good treat to offer them if they're tired of travelling.
Shopping for Books
Mel Giannino Stoppiani Children Bookstore (Piazza SS Apostoli, 59/65 – just off Piazza Venezia) If you need to buy a book for your kid, why not have a peep in this bookstore specialised in children's literature. There's a good choice of books in English too, especially those for age 0-5, with a few titles for older children.
Try also the Anglo-American Bookshop, in Via della Vite, 102 – a short walk from Piazza di Spagna.
Shopping for Clothes
Pure (Via Frattina, 111)
If you're looking for high fashion clothes for your kids, from Cavalli and Diesel Kids to D&G Junior, check out this store, obviously located in the fashionable area of Piazza di Spagna.
Iana (Via Cola di Rienzo, 211 – Via Appia Nuova, 146)
For more affordable made in Italy kids clothes, visit Iana stores. This firm based in Treviso (near Venice) has been producing clothes for children since 1928. For instance there's a Iana store in the shopping neighbourhood of Via Cola di Rienzo (Metro A Ottaviano), and another one in Via Appia Nuova (Metro A San Giovanni). In this same neighbourhoods you'll find lots of excellent shops for grown ups too!