Montecatini Terme is set against the backdrop of picturesque hills in the Valdinievole (Valley of Mists), some forty Kilometers west of Florence. I first discovered this elegant and leafy spa resort in the summer of 1998 and was immediately impressed by its elegance and by how green and well manicured the public park and gardens were.
Although relatively modern by Tuscan standards, the town has a fascinating historical and cultural background and although I enjoyed the views and sounds of Florence during my assignment there, I really wanted the luxury of being within easy commuting distance from my office and yet be somewhere strategically well placed to reach other parts of Tuscany. I made my choice. Here, I could enjoy town life intermingled with country life and so decided to make Montecatini my base for the duration.
CHANGING FORTUNES
Reputed to be a popular spa during Roman times, the town declined. During the Middle Ages much of the area was covered by marshland. Although some minor improvements were ordered by Cosimo de' Medici during the sixteenth century, most of the area's development is really owed to the intervention of Grand Duke Pietro Leopoldo I who, by initiating a new wave of renovation and construction in 1772, provided much firmer foundations than that of earlier years.
Nothing was to be quite the same for Montecatini. In a gradual upsurge of popularity it was to become in its heyday, a fashionable resort for the rich and famous. Devotees of the good life; here they would come to take the waters with curative powers (the minerals apparently promise relief from stomach and liver disorders) and also to indulge in other leisurely activities. Famous personalities that have been associated with Montecatini Terme include Giuseppe Verdi who came here regularly throughout the last eighteen years of his life.
PLENTY OF CHOICE
There would be little point in visiting Montecatini Terme without sampling the spring waters or rejuvenating your mind, body and soul in one of the many therapeutic centres on offer. Now one of Italy's largest spa resorts, it is also strategically well placed to reach Pisa, Lucca and Florence by road or by rail. The centre of town is a "shopofile's" paradise; the fine boutiques scattered along the main streets of Corso Matteotti and Corso Roma are like powerful magnets enticing you to be tempted by a broad range of beautiful things. This is a place where you can literally shop until you drop, so don't leave home without your credit cards!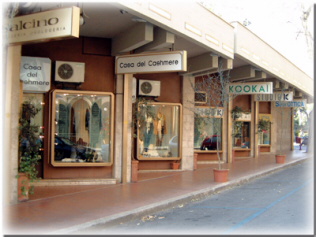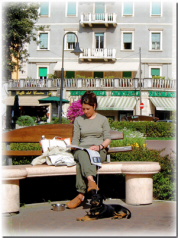 Fashionable boutiques in Via San Martino and relaxing in Piazza del Popolo The scores of bars and cafes here are stuffed with tempting and delicious things to eat (the best known are the cialde, sweet, wafer-like biscuits) but perhaps the most celebrated of them all is the Cafe Pasticceria Giovannini, whose cakes are absolutely exquisite and the best I've tasted. Graziano Giovannini has also won numerous awards for his famous sculptures. Using chocolate and icing sugar he has constructed many of Italy's famous buildings, the most spectacular of these sculptures being Pisa's Piazza dei Miracoli.
Montecatini presents the visitor with a tantalising choice of hotels, restaurants, osterias and trattorias. They are everywhere and you can't avoid them. I have my personal favourites; the Grand Hotel Vittoria for its classical charm and the Grand Hotel Ambasciatori (the tallest building in town) for its splendid rooftop views. For genuine Tuscan cuisine as well as ambience, I prefer Ristorante Pietre Cavate or Ristorante Montacolle, both offering magnificent views of the Valdinievole.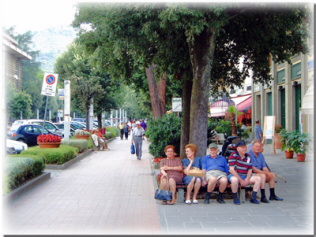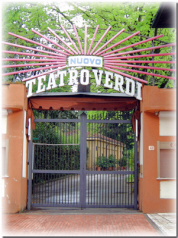 LEFT: Viale Verdi RIGHT: Teatro Verdi
GARDENS AND PALACES
There are nine spa establishments in Montecatini and two in nearby Monsummano Terme. Beautifully set amongst colourful gardens, studded with rich and fascinating buildings, the Stabilimento Tettuccio with its monumental façade adorned with intricate sculptures, pilasters and windows is for me the most grandiose looking of all. Its origins date back to the sixteenth century, although it was later modified during the early part of the twentieth. During the spring and summer months, pretty floral displays decorate Viale Verdi and the lush oasis of the Parco Termale offers a much-needed respite under the cool shade of the leafy canopy of trees.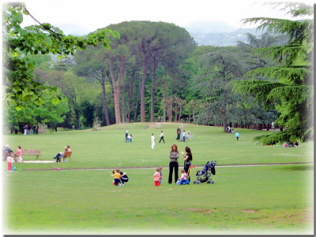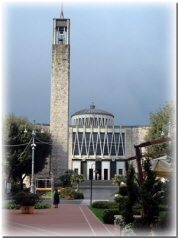 LEFT: Parco Termale RIGHT: Basilica di Santa Maria Assunta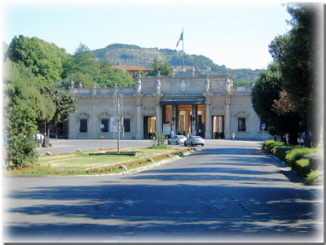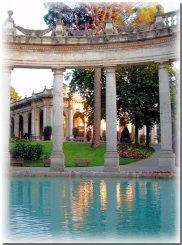 LEFT: Stabilimento Termale Tettuccio RIGHT: Spa waters
If you fancy a foray into the past then standing vigil 300 metres above town is the medieval village of Montecatini Alto. From the vantage point of Via Vittorio Veneto you get uninterrupted and spectacular views across the valley, but what remains clear in my mind is the village lit up at night with its unusual spiral of streetlights, almost as if it were a UFO. Once almost totally destroyed as a result of the battles that waged between Guelphs and Ghibellines, the entire hamlet now represents an interesting fusion of ancient and modern buildings. As you dip into the intricate, narrow streets you will discover fascinating gems like the remains of an ancient castle, the Torre dei Lemmi, the church of San Pietro, and the Teatro dei Risorti in Piazza Giusti.
LET THE TRAIN TAKE THE STRAIN
For me, the most enjoyable way to get to the top is to take the ten-minute trip on the funicular railway from the lower station in Viale Diaz (open April to October only). Inaugurated in 1898 the railway has truly stood the test of time. On a hot summer evening, a ride to the summit inside one of these bright red cars, either "Gigio" or "Gigia", is a treat not to be missed. Those of you feeling energetic enough can also trek up to the top via the steep path through the olive groves running alongside the funicular. It is an invigorating walk. And if you are still sufficiently fit, I recommend the return route down Via Maona.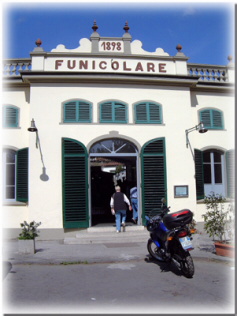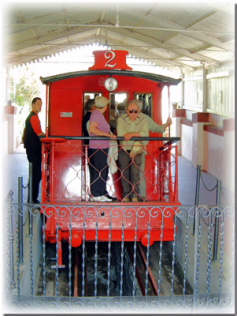 Funicular
WARRIORS AND POETS
Continue east and you will reach the hilltop village of Serravalle Pistoiese. Yet another pawn in the constant struggle for supremacy between Pisa, Lucca and Florence, the village extends across from the gentler northern slopes of Monte Albano and is typical of the many defensive hilltop sites that are scattered throughout Tuscany. Here, the remains of two strategic fortifications – the Rocca Vecchia and the Rocca Nuova – that once encircled the entire village are still visible. Serravalle literally means, "locked valley": an appropriate name since the two fortresses played a major role in controlling the main east–west communications route by blocking the entire valley. They comprised the central stronghold and defensive system for the whole area.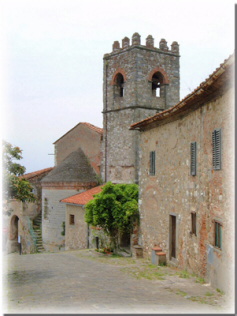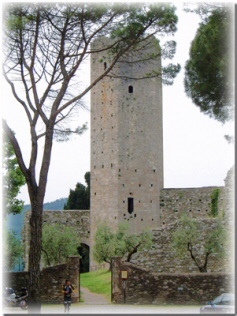 Scenes of Serravalle and the Rocca Nuova
The smaller spa town of Monsummano Terme lies to the south. It was originally an eleventh century fortress situated on top of a hill dominating the Padule di Fucecchio and the Valdinievole. Named after the Castello di Montessomano, which for a short period belonged to the Abbey of Sant' Antimo in the Val d'Orcia, it was sold to Lucca in 1218. Because of its strategic position, it also aroused great interest from Florence. In an attempt to keep the Florentines out Monsummano later joined the league of Valdinievole.
In the fifteenth century a rural town, today it is a deceptively busy place. The main attractions for the visitor being the limestone caves, to be found in the immediate area, which now provide the thermal grotto's known as "Paradiso", "Purgatorio" and "Inferno" (so called to commemorate Dante and his Divine Comedy).
FUN, FOOD AND GOOD FRIENDS
Living in Montecatini has definitely left its mark and I have acquired a deep affection for the area. If my villeggiatura in Valdinievole could be compressed into a single experience, it would have to be the many pleasurable hours spent over an excellent lunch or dinner with my friends in Monsummano. I certainly miss the wonderful risottos and other interesting dishes that my friend Marcella used to prepare!
HOW TO GET THERE:
Airports:
Pisa (50Km) – Firenze Peretola (40Km)
By Train:
From Pisa: Linea per Lucca-Pistoia-Firenze
From Florence Santa Maria Novella: Linea per Prato-Pistoia-Lucca
By Road:
Autostrada A11 Firenze-Mare exit Montecatini Terme
Where to stay:
Grand Hotel Vittoria Viale della Libertà 2/A 51016 Montecatini Terme PT
Grand Hotel Ambasciatori Viale IV Novembre 12 51016 Montecatini Terme
Where to eat:
Ristorante Da Giovanni Via Garibaldi 25/27 (Closed Monday)
Ristorante Da Egisto Piazza C. Battisti 13 (Closed Tuesday)
Ristorante La Torre Piazza Giusti 8 Montecatini Alto (Closed Tuesday)
Ristorante Montacolle Via Marlianese 27 (Closed Monday)
Ristorante Pietre Cavate Via Pietre Cavate 11 (Closed Wednesday)
Where to shop:
Corso Matteotti, Corso Roma, Piazza del Popolo, Via S. Martino, Viale IV Novembre, Piazza XX Settembre, Via Grocco and Viale Verdi.
Shops are open on Sundays but they are closed on Mondays. Good time for bargains is in January during the sales.
Best place for ice cream:
Bargilli
Via Grocco
Bottega del Gelato
Corso Roma
Gelateria Desideri
Viale Verdi 84
If you have a sweet tooth:
Pasticceria Giovannini
Corso Matteotti 4
Slitti Caffe e Cioccolato Via Francesca Sud 240 Monsummano Terme
Local Tourist Office and spa information:
APT Montecatini Terme Viale Verdi 66-68
Societa' delle Terme di Montecatini Viale Verdi 41
For Students
The Pistoia Student Card and Handbook, allowing cardholders to receive discounts in more than 100 establishments throughout the province of Pistoia. For more information contact APT Pistoia on 0573 34326.
By Charles L. Joseph