Are you looking to bring a bit of Italian Tuscan countryside into your home but don't think you have the budget for it? With the central themes of Tuscan decor being food and nature this is one of the most popular and easiest styles to replicate and with a little creativity it can be one of the cheapest too.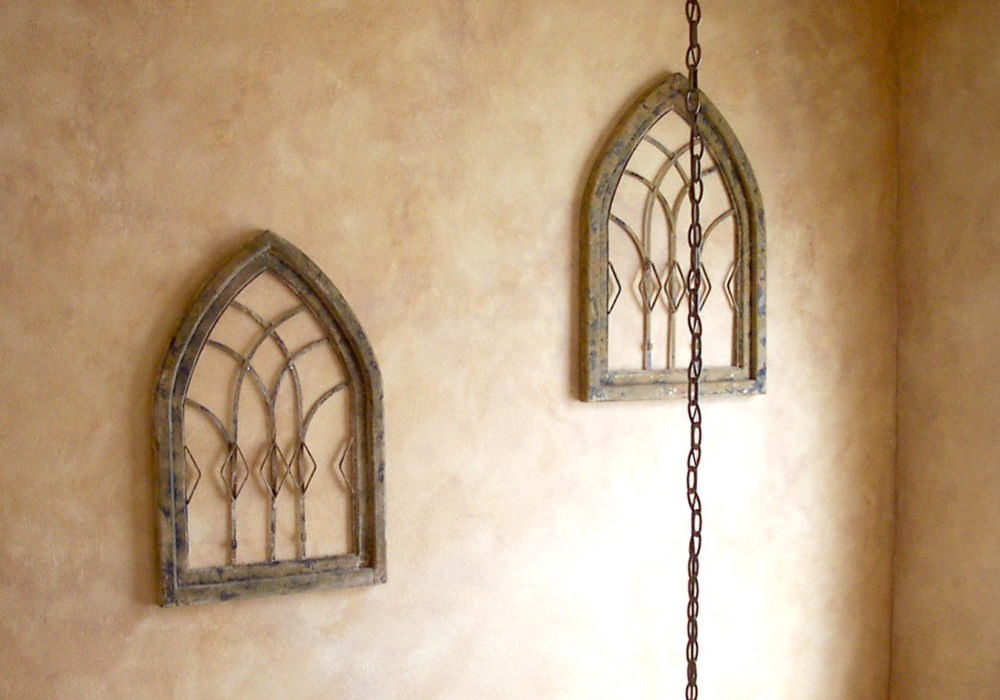 Italian country decor takes food, wine and nature and turns it into art. One of the easiest rooms to incorporate this theme into is the kitchen. With the use of deep, earthy colors like terra cotta, browns, deep reds, oranges, yellows and greens you will soon feel the touch of the Tuscan countryside. Add natural textures like stone, tile, aged wood, exposed wood beams, iron and copper, throw in some grapes, olives, and wine bottles and you'll feel like you're in Tuscany.
Tuscan decor is full of texture, especially on the walls. If you want to give your walls a textured look, Venetian plaster is a good choice, though it can get expensive if you have a large room. It can also be very time consuming. The easiest way to add some texture is by using a texture additive with regular latex paint.
You can buy the additive in different degrees of texture from light to heavy and you can also control how much texture you have through the mixing. The more of the additive you use, the heavier the texture will be. It's easy to mix; it usually in a bag and it is almost like sand. You just pour it into your paint. I would suggest using a separate bucket to mix it and not just pouring it into the can of paint that way if you accidentally pour in too much your whole can of paint is not ruined.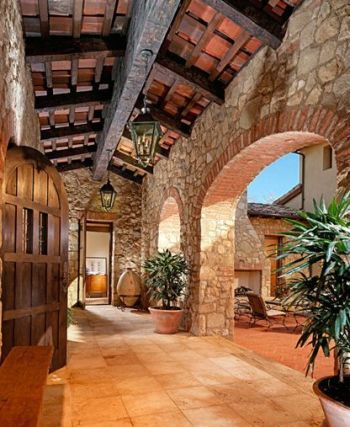 Start out with just a little and test it on a scrap piece of wood or cardboard. Keep adding a little more until you get your desired effect. Then paint your walls. After painting you can add a few faux wooden beams by taking pieces of wood at the desired length and width and framing it in to make a hollow beam.
You can distress it by hitting it with a chain or hammer, burning it a little with a torch and scraping it up. Then add your stain and finish it. You'll have wooden beams at half the price, even cheaper if you find scrap wood that can be used for this project. I think the best place to add the wooden beams is the ceiling.
If you want to change your flooring stone tiles or hardwood floors are the natural choice for Tuscan decor, but quite pricey. You can fake it. You can get laminate flooring that looks like hardwood for probably half the price and it's a lot easier to install. Another choice is vinyl tile flooring that looks like stone. If you choose to redo your floors this will probably be the most expensive part of your budget.
You don't have to spend a fortune on stone flooring or add exposed wooden beams to your room. A few well chosen pieces of furniture and some accessories can give you the Tuscan feel and look you're going for. You can find old pieces of furniture with an aged and distressed look at flea markets, garage sales, even on the side of the road in someone's garbage. You can also take a piece of furniture and give it a distressed look yourself.
There are several ways you can do this. Using a crackle coat finish is one of the easiest. Some pieces of furniture to look for are old style kitchen cabinets, sideboards, and buffets. Also look for a big farmhouse type dining room table, large, simple and sturdy. You don't need to try and find 4 or 6 chairs that are the same. Mix them up, use chairs that are different sizes and heights to add more texture and old world feel. Look for old stools and any other pieces that you think would compliment the others and look great in the room.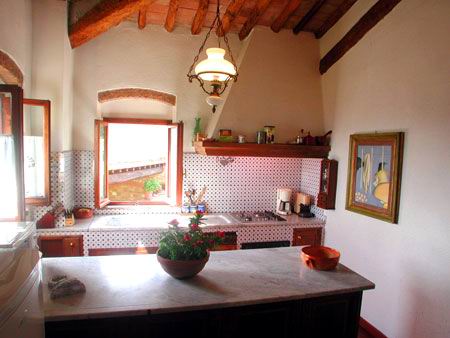 Now you are ready to add some accessories and well chosen accents. Think nature and food. Tuscan decor thrives on food and nature. Terra cotta pots filled with fresh herbs, wicker baskets full of fruit and vegetables, displays of glass bottles filled with vegetables, fruits, and herbs steeped in vinegar or oil, copper pots on display filled with dried pasta or garlic cloves. Baskets, terra cotta pots, and bottles can all be found very cheaply.
Chances are you might already have some of these items sitting around and just didn't know what to do with them or how to display them. The copper pots might be harder to find, but keep your eyes open at flea markets. You can turn to nature to find many free items for your decor. Tree branches make wonderful and stylish curtain rods, little twigs can be arranged in a vase with flowers, and rocks can be used as paperweights or put in a bowl to make a nice display.
Other things you can add are grapes and grape leaves, grape vine wreaths, anything that incorporates grapes, wine, wine bottles, or wine glasses. You can find a small iron wine rack and fill it with wine bottles (they don't have to be full; it can be just for show). You can also add iron work accents to your walls. These can also be found at flea markets, thrift stores, and salvage yards. A decorative piece of old iron can be hung on the wall and laced with some grape leaves and grapes to give you a wonderful showpiece.
Use your creativity and soon with the right colors, accessories and accents you will feel like you're in a villa on the Italian countryside.
By Wenona Napolitano
P.S. – Take a look at some inexpensive Hand made Terracotta