Murano Glass Vases – Even Prettier Than the Flowers They Showcase
I love to have fresh flowers in my home. They're just a fantastic addition to any décor. To me, there's nothing better than showcasing the fruits of Mother Nature in Murano glass vases. In many cases they're even pretty than the flowers they hold. Well – almost.
In this article, we'll look at some fantastic vases made of Murano glass. They're elegant. They're beautiful; and, well, you just check them out.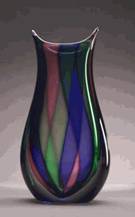 This swirl-style vase is created in the Fazoletto, or handkerchief, style. It has ribbons of white glass that mingle every so prettily within the clear cristallo. The vase measures about 7.5 inches wide across and 7.5 inches tall (at the tallest point). I think this would make a great heirloom piece, one that could be passed down from generazione to generazione.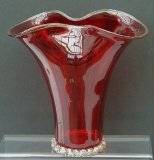 I love this ruby-red vase. It's perfect for orchids, lilies and long-stemmed pink roses. The top is done in a bit of a swirl style with a clear glass crimped edge. The edges are also indented slightly to increase the curve.
The base has gold detailing that is both eye-catching and functional. I think this vase is just exquisite!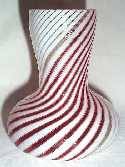 Don't you think this multi-colored Antica Murrina Veneziana vase is groovy? This piece takes me back to the psychedelic sixties. I'm not sure what flowers go into this vase; but, the item sure is a conversation starter.
The vase measures 7 cm wide and 15 cm tall. It's very lightweight and works with a variety of color schemes and decors! It would make a fantastic gift for a fun and funky friend.
I must say that this vase is more my style. It's elegant and colorful without being too overpowering. The shape is exquisite and sophisticated. I love the way the top indents in the middle. In fact, the whole vase is curved beautifully.
This piece reminds me of a vase my nonna used to have in her home. It's so simple and pretty and Italian. It's a true masterpiece of Murano glass.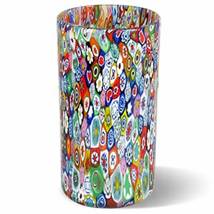 Here is a gorgeous, vintage Murano vase. This piece comes to us from Dino Martens and Aureliano Toso. It's mezza filigrana. To me, it looks like a luscious candy cane confectionery. I would love to see a dozen long-stemmed roses in this vase which dates back to the 1950s. I can see it on my shelf right now (hint, hint).
So, there you have it – a collezione of marvelous Murano glass vases. They're all beautiful. They are perfect for any bouquet and will add color, glamour and sophistication to your decor.
Ciao!
By Domenica DiPiero