Murano Venetian Glass Chandeliers
Murano Chandeliers – Hanging Elegance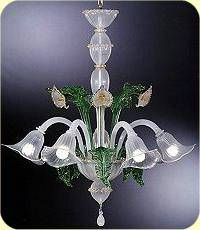 This white glass chandelier with decoration in green and 24-carat gold trim is a visual wonder. It's hand-forged and glass-blown, of course. The chandelier can hold six lights. However, you could also find the piece made for 3, 5 or 8 lights if you so desire. It measures about 30 inches tall and 26 inches wide. I envision this in a sumptuous dining room or even a gala ball room in an elegant home.
There are matching wall sconces available from the vendor to complete the look and feel of your room. The chandelier retails for almost $2,000 euros.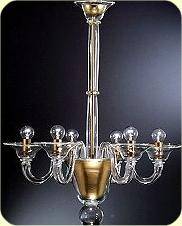 For those of you who like to mix the traditional with the modern, this chandelier may be perfect for you. This piece has 6 lights configured. The lines are clean, crisp and so modern. They're almost industrial. The glass is clear and there are gold-plated touches here and there.
I love the simplicity of the piece. It is 34 inches tall and 27 inches wide. This would fit right into a modern home or villa. It retails for around $1,800 euro and can be customized to your liking. That's the beauty of purchasing a hand-crafted, Murano chandelier. They are made in the traditional style and can be built to your specifications.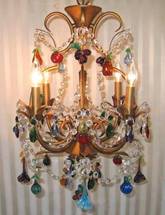 The 'Barbara' chandelier is a fruit-lover's feast. It is a veritable glass fruit basket containing pears, apples, grapes and luscious plums. Don't forget the oodles of crystals which frame the piece. Notice the bell flowers that finish off the piece. All of the fruits and flowers are of Murano glass. And hand-made, of course!
The piece measures 26 inches tall by 17 inches wide. It's surrounded by four candle lights which rest on a burnished wrought iron frame. The chandelier retails for around $800.00 and would make a fantastic addition to any holiday décor, wouldn't it?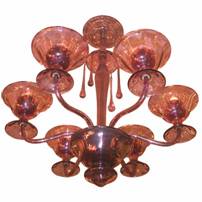 I do love amethyst. It reflects the light so beautiful. This Amethyst Murano Chandelier is just an ideal piece for your home. It has 8 arms and features tear-drop pendants. It can be used out of doors; however, I can't imagine why you wouldn't want to showcase this in the best room of your home. It's visually stunning. A true conversation piece. It's a vintage find from 1940s Italy and a throw-back to a more glamorous time and place. It measures 29 inches tall and 27 inches across. You'll have to contact the seller to uncover the price; but, how can you put a price on a piece of Italian history?
There are many more chandeliers made of Murano glass – and craftsmanship. I hope you have as much fun looking through the offerings as I did in showing these few to you. Remember when you purchase a Murano glass product; you are getting a high-end, quality piece, one that will withstand the test of time.
By Domenica DiPiero