Dazzling and Colorful Murano Dinnerware
I'm strange. I enjoy a beautiful table setting almost as much as I enjoy eating a fantastic meal. Dishes should be elegant. They should be sophisticated. As you can guess, there are no paper plates for me. Murano dinnerware is among the world's best, of course. In this article, we'll take a look at some of the finest dishes and table items that Italy's artisans have to offer.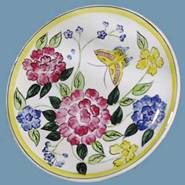 This dish is almost too pretty to eat off of. I love the blooming flowers and the colorful butterfly. It's like a shot of spring time any time of the year. The Murano ceramic is flawless. And hand-painted, of course. I feel like it's a piece of artwork meant for my own consumption. Yummy.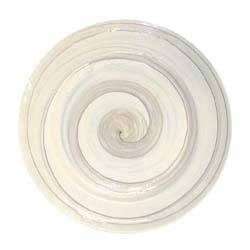 From Vietri, we have this swirling glass plate. The technique harkens back to 15th century Venice when artisans began taking taupe, cream and a tad bit of blue glass and first combined them to create similar items. The edges are smooth and sleek so don't be fooled by the textured appearance. This plate is a conversation piece that will impress even the most finicky dinner guest.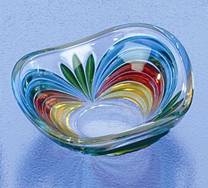 Now here's a serving dish that's just made for some ripe Italian olives. What a gorgeous piece of multi-colored, decorative glassware we have here! I love the multi-colored layers in glass. They create a rainbow that's CRYSTAL clear (excuse the pun)! I also love the clean lines and curves. If you place this on your table, you don't need to add anything else to make a statement of sophistication!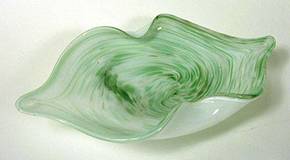 This dish is not made for food. Rather, it's meant to be displayed like a piece of art. Notice the smooth texture. It's flawless. The swirling color is fantastic. And it's a mint green, not a yellow-based green like so many Murano pieces. You could use this in a variety of ways and for just about any occasion.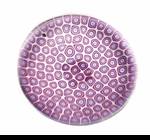 Look at this vision in lavender. Lavender is one of my favorite colors. I just am stunned by the sheer beauty of this peacock-inspired print. Notice the periwinkle blue accent. It sets off the lavender quite nicely. The piece is from Ercole Moretti so you know it's high-quality and expertly crafted.
Finally, we have this beautiful millefiori glass bowl, also from the Moretti family. Pieces of millefiori cane are cut and fused together to create the intricate patterns and the vibrant colors. The results are astounding, aren't they? I love the vibrant colors and the richness of the pattern. It's so very pretty.
So, there you have it – some of the best Murano tableware that the Venetian glassmakers have to offer. Each piece is exquisite, intricate and absolutely breath-taking. Murano dinnerware can certainly kick any meal up several notches! Check out also the best Italian dinnerware brands!
By Domenica DiPiero