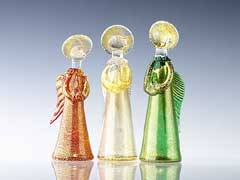 These three hand-blown Murano glass angels make a perfect gift. They come in silver, emerald and ruby red. I love the gold-foil accents. Each of these angels is approximately 6 inches tall. I love the details on the wings and the full, golden halos. These make a perfect gift for the holidays. They're exquisite and delicate, a true treasure to behold.
Note: I've seen the angels in other gem-inspired colors like amethyst and sapphire too so you can mix and match if you so choose!

You too can feel like Cinderella with this collection of Murano glass slippers. No, they're not for wearing. They're gorgeous collectibles. You can choose from topaz, aqua, white, crystal (clear), pink and red. Personally, I think you should collect them all. These slippers are intricately designed and feature 24 karat gold accents.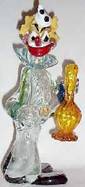 My mother's best friend has a fantastic clown collection. This Murano glass clown is one piece that she has been dying for. It's easy to see why. The vintage item is from the 60s (at least) so it's a rare collectible. I love the detail. The red, red lips and the white, white skin. This piece has a sense of whimsy. Notice the large, floppy clown shoes and the perfect costume, complete with goofy, clown collar. It's a rare find.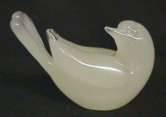 This elegant dove is a pure delight. It's opalescent – and elegant. I love the soft curves and the overall shape. It appears as if the dove is resting or looking back while in flight. It's absolutely exquisite!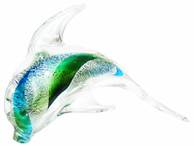 This gentle sommerso design uses silver foil. Other colors are twisted in and then the clear is left as the outside cover. It's as beautiful and peaceful as a real dolphin I must say. I just love this miniature figurine.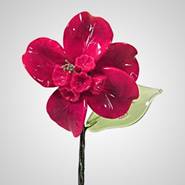 There is nothing as beautiful as a flower, right? Murano glassmakers don't just make fantastic vases; they can create elegant blossoms. This red flower is adorned with delicate green leaves. You could put it in a gorgeous vase or leave it on your mantle all by itself. It's just gorgeous – and it will last longer than the blooms in your garden too!
Murano glassmakers can certainly fashion just about anything out of the medium within which they work. They are true masters. They are artists who create delicate and exquisite pieces of art every day. I hope you enjoyed looking at and reading about these items as much as I enjoyed looking for them.
Ciao!
By Domenica DiPiero