Mending Treasured China And Crystal Is a Family Tradition
Special to The Washington Post – Thursday, December 5, 2002
From the Washingtonian Magazine interview to Giovanni:
"In Murano, Italy, "Nason basically means glass," says Giovanni Nason, 72. His family has made and restored fine glass there since 1625.
The family received a title and crest from the doge of Venice to encourage them to stay on the island. But Giovanni fell in love with an American woman. After marrying in 1967, they moved to Washington.
Nason first ran a bath boutique in Rockville. On the side, he began doing glass engraving in Georgetown. He switched to restoration full-time 15 years ago; his firm, Glass and Crystal Restoration Center, is in Potomac.
"I got a big house and a mess everywhere," says Nason, who works from his home. He started getting phone calls asking him to restore things such as a Seder plate, a Venetian glass mirror, and, in the case of Alice Blair, a family heirloom-a Christmas-tree topper.
The broken ornament, an eight-sided glass star with red and silver tendrils, had been in Blair's family for 70 years-ever since her parents bought the antique in New York City-atop every Christmas tree. Two pieces of the star's glass base were cracked, and three red tendrils were missing. Nason had his brother in Murano reblow them, and he reattached the parts.
When Nason finished the repair, Blair asked him to make three replicas; Nason plans to finish them by Christmas so Blair can give them as gifts to her three children.
"Glass is part of my blood," Nason says. He says a repair person like him is called a maestro.
"There is a difference between maestro and artist," he says. "The artist is the one who makes the piece. If you ask him to make another one, he cannot. But the maestro, if you show him the piece, he can make 20 like that."
Many people look forward to setting holiday tables with crystal, china and ornaments that may get little use other times of the year. But fragile tableware and precious platters and figurines are in particular peril of getting chipped, cracked and broken.
But help is at hand, according, to Giovanni Nason of the Glass and Crystal Restoration Center in Potomac. Even if your favorite vase or candelabrum has been previously mangled by a bad glue job, Nason can take it apart and re-bond it almost flawlessly.
Although some pieces should no longer be used for serving food, says Nason, "there are really almost no restrictions with decorative items. In most cases, we can make things look brand-new."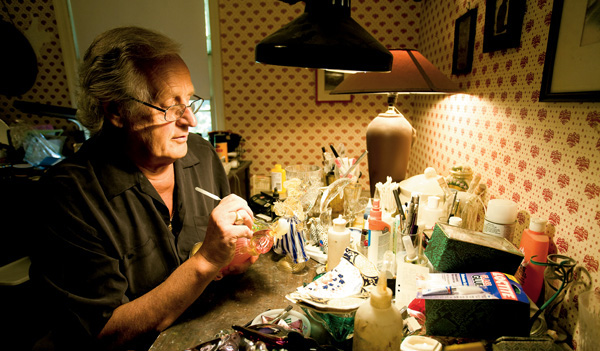 Crystal and glass repair
Nason speaks from long experience: He has been engraving and repairing china, crystal, chandeliers and Venetian mirrors since coming to this country from Venice more than 35 years ago.
He is backed by a family tradition that dates back to 1625, when the Nason family of glassblowers was included in Venice's "Golden Book," which recorded the city-state's master artisans. "To keep us in town, we even got a title and crest from the doge that entitled us to marry his daughters," Nason laughs.
And although he has been living and working in this area for more than three decades, he still stays in close touch with his brother, Giampaolo, who runs the family glass studio in Murano and collaborates with Nason on complicated replacements and repairs. This transatlantic connection enables Nason to duplicate missing parts for even the most elaborate, painted or gilded glass and crystal objects. If the fix requires more than his workshop's resources, his brother can usually supply what's needed.
"Like new" reconstructions of china, porcelain and crystal are known as "perfect" or "invisible" repairs. They generally require injections and buildups with epoxies, refiring and even repainting if a pattern is involved. One caveat: Like other china and porcelain repair professionals, Nason cautions that plates, bowls, wineglasses and other repaired items cannot be used for serving and eating food. The materials used to rejoin broken pieces can be health hazards, and don't interact well with food, heat or cleaning products. They can still be enjoyed as decorative objects; but if serving is your intention, he says, "try to buy a replacement."
Nason says much can be done to salvage glass items, in particular. He has worked on intricate Waterford objects, art glass and Tiffany glass, making cracks disappear or re-creating missing pieces with colors and finishes that duplicate the original. He can even make crystal vases water-worthy again.
The multistage process requires patience: Nason heats up the piece, then carefully injects special epoxies. In most cases, he says, visible cracks disappear. Surfaces needing further refinement are built up, smoothed and polished — sometimes again and again — until the look of the original is achieved. His success in this area is one reason high-end glass dealers such as the Glass Gallery in Bethesda turn to him for help.
He also repairs chipped glass and crystal cups, goblets, bowls and pitchers — but only if it's a question of smoothing chips along the rim or rejoining a wineglass's base and bowl. He won't rejoin the pieces of your heirloom crystal goblet unless it's retired to the display case, no longer used for holding food or liquids.
The process is relatively simple: Using a light touch, Nason hand- or machine-grinds the chip just enough to even out the rim. Cost: $20 to 25 per chip. But Nason says that sometimes, what appears to be a chip is actually a crack. In that case, he'll discuss options and give a price based on the work involved.
"Every piece is difficult in a way," he says. "To do it right is a question of time. It's not like a surgeon doing an operation, but it can feel like that, especially on big pieces. I tell people, my rate is cheaper than a plumber."
Because of his familiarity with Venetian glass techniques, Nason is a repair resource for chandeliers and mirrors that have lost parts or need delicate etching duplicated. In one instance, working with his brother, he was able to replicate the delicate flower pendants from a Murano chandelier, matching the original design, two-tone color (the glass was a difficult combination of rose and pale blues) and gold overlay.
International effort is not always needed, though. When a customer brought in a pair of Venetian candlestick that were missing parts, Nason duplicated them using epoxies and colors: "It came out perfect," he says. "If it won't, we'll tell you before we start."
When it comes to china, Nason again cautions against repairing pieces that are going to be used for food. "I'll work on a rim if it's just a little chipped, something small like that. But if you have a dinner plate in three pieces, forget it."
Repairs to items such as punch bowls (foot or base only), display platters, figurines and other items often involve crafting a missing part. One client's precious Hummel figure was missing a basket. Working from a picture, Nason made an elaborate woven piece so skillfully the owner says she forgets it was ever broken.
Nason can even repair porcelain rimmed or overlaid with gold. "We try to match the finish. If it's missing gold, 99 percent of the time we can apply it and refire it so you can't tell." However, if a piece also needs repairs to the porcelain area, it may not be possible to fix both porcelain and gold, since the heat of the firing needed to anneal the metal would deteriorate the epoxy.
What should you do to stabilize a broken piece before taking it for repair? Never try to repair it; household glues will have to be removed. Don't bind it together with sticky tape: This can remove glaze and gilding. And avoid trying to fit the pieces back together; this can further damage the edges of glazes.
After repair, treat the repaired piece carefully, avoiding the dishwasher; high heat and bleaching detergents can damage the repair material itself or any post-firing decoration. Don't lift any piece, large or small, by the restored area. Keep it clean – dusted or carefully hand-washed with gentle cleansers. And if you must pack it, place plain white tissue over the restored area to keep it from contact with any materials that might darken or destabilize the repair.
Where to find it: Giovanni Nason, Glass and Crystal Restoration, Porcelain and Ceramics repair Center, 10 Overpond Court, Potomac. 301-340-2624 . ( Giovanni preferes phone call rather than email )
© 2002 The Washington Post Company