Murano Glass Jewelry
Murano Glass Jewelry – Some Truly Fantastic Finds
Murano glass is world-renowned. It's elegant, sophisticated and extremely beautiful.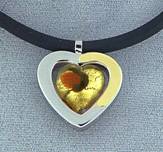 Usually, when you think of Murano glass pieces, jewelry doesn't spring to mind. Chandeliers and wine goblets, perhaps – but not jewelry. By the time you are through reading this article, I hope to show you just how gorgeous Murano jewelry can be. Here are some pieces that I think would make a fantastic addition to any collection.
This necklace is truly eclectic. I can just picture having this around my neck. So what if the chain is made of black rubber. It works with a variety of casual looks. It's a great gift for a young woman perhaps one who's still at university.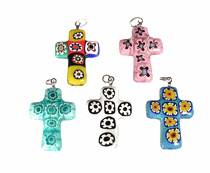 What I love the best is the golden Murano heart in the middle. Do you see the rose detail in the upper left corner? Isn't it stunning! For $36.00, you can't normally get such elegance and beauty. This piece is a true value.
These Millefiore crosses are a favorite item for travelers to Venice to bring home to their loved ones. They're a fantastic souvenir, aren't they? Colorful and beautiful, these crosses could fit on a delicate chain or a bracelet as a charm. They may even be a treasured keepsake to hold in your jewelry book or a curio with other similar pieces. I just love them all. They're very affordable at around $23.00 a piece!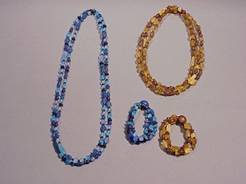 Murano glass beads are delicate and exquisite. These amber and blue necklaces and bracelets can be worn with a variety of looks. The necklaces are multi-strand and come in either a short of a long look. The bracelets are a bit chunky; but, not clumsily so. They're really cute. I picture wearing these on a trip to the seashore. Or perhaps a trip back to Italy to visit relatives. Wearing these pieces is like taking an instant vacation, isn't it?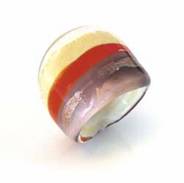 This Murano glass ring is completely handmade and crafted using the lampwork technique. It's fashionable and available in a variety of different colors including blues, greens and earthy tones. I like this ring because it's just so vibrant. It's a great gift for the holiday season or for any reason you can conjure up!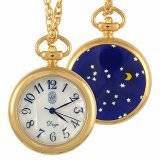 The Antica Murrina Veneziana is gold-plated brass. It has Arabic numerals and a Murano glass backside. I love the night-time detail. Isn't it elegant? The glass pattern is set by hand ON EVERY SINGLE PIECE. Now that's old-world craftsmanship, isn't it? This item would make a perfect family heirloom, one that you'd be proud to pass along from generazione to generazione, no?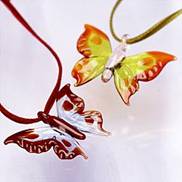 Finally, I'm featuring these Murano glass buttefly necklaces. Aren't they just stunning? They're almost too pretty to wear. Each pendant is mouth-blown, so it's guaranteed to be unique. These butterflies are suspended in air and time from a velvet cord which adjusts from 16-18 inches long. They retail for around $200.00; but, how can you put a price on quality like this? They're so beautiful!
Of course, there are many more pieces of Murano jewelry all over the internet and well, the world. A piece of Murano jewelry is a treasure. It's hand-crafted. It's a living testament to an Italian tradition that is millennia old. They're gorgeous, elegant and fashionable. Each and all of these pieces – and many more not seen here – would make fantastic gifts to give to others or to keep all to yourself.
Ciao!
By Domenica DiPiero