Venetian Glass- Fantastic Collectibles
By now, I'm sure you realize that I love to collect things. Beautiful things. Exquisite things. Stylish things. Italian things. I am not a smoker. Both of my parents are and a few of my siblings engage in the habit. Personally, I think it's a nasty little habit; but, I do love ashtrays. Oh yes! Ash trays can campy. They can be kitschy; but, they can also be very collectible. Murano glass ashtrays are among the most beautiful ashtrays in the world. In this article, we'll take a look at a few that you may want to add to your collection today.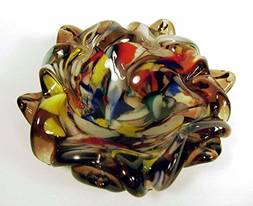 When I first noticed this multi-colored violet Murano ashtray, I wasn't even sure it could hold ashes. It seems more like a high-end antique. It belongs in an art gallery, not on someone's coffee table, right?
I love the rich violet color of the base. The rich reds, bright yellows and vibrant rainbow of colors add dimension and depth to the ashtray. The design swirls and curves and is just a perfect little accent piece for any home. Of course, it's heavier on the form than the function – but, with form like this, who cares?

This ashtray looks like a gorgeous seashell, doesn't it? This pink piece has gold flecks. It's scalloped on the outer ends to make it look like the Mediterranean Ocean carved it just for us. The top is fluted, which adds to the look and feel of the piece. It's a true beauty.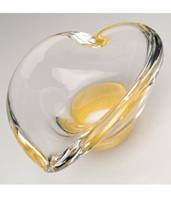 What a pretty heart-shaped piece of Murano glass! Can you believe it's an ashtray? The base is flecked with 24-karat gold leaf so it's affordable – and elegant. That's a rare combination. The heart is made of 100% crystal. It's sturdy and sophisticated. It makes a great gift too!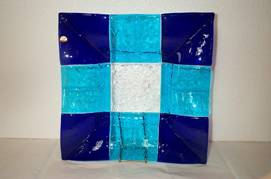 This final ashtray is a true Murano work of art. The multi-colored glass in white and shades of blue is just so fantastic. It really is the work of a master. It's functional and beautiful. I love the quilt-pattern of the piece. It's very Italian and very elegant. Don't you agree?
I hope that you enjoyed looking at these Murano ashtrays as much as I enjoyed hunting for them. Each of these is a true labor of love. They're created by the best artisans that Murano Island has to offer. They're stunning, sophisticated and very Venetian.
By Domenica DiPiero