When talking about Italy, one of the first thoughts coming to mind is food, our best export.
Lasagne, pizza and other delicious, but rather heavy, foods are among Italy's best-liked dishes abroad.  However, they are not what Italians would choose during the Summer, when something lighter and fresher is preferable.
Many Italians spend their vacations near the sea or the lakes.  The Summer brings an increase in fish-based dishes like pasta alle vongole or grilled fish and seafood, often paired with white wine.
Basically, any seafood dish is a good Summer dish.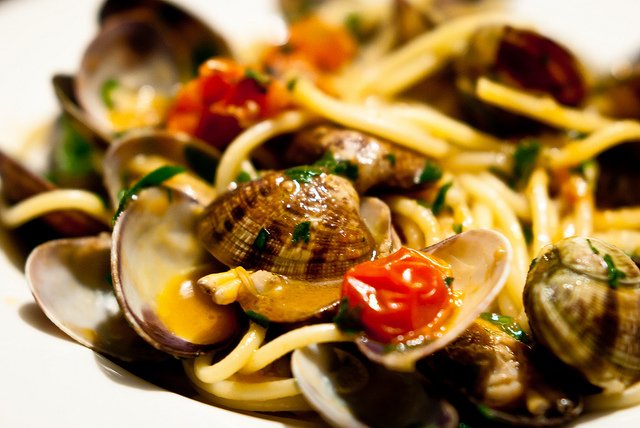 However, this article will focus on non-fish, less stereotypical Summer dishes, where fresh ingredients and traditional products are combined to create delicacies low in calories and easier to eat when the temperature is high. Because, let's face it, when it's hot appetite generally decreases and something low in fat and fresh is the best choice for lunch and supper. Indeed, salads and fresh fruits and vegetables triumph on Italian Summer tables.
Some recipes are true staples of Italian Summer cuisine, so much, so that they have become part of the best Italian cooking tradition. Among the most famous we have pasta con pomodori crudi (pasta salad with fresh tomatoes), insalata di riso (rice salad), panzanella, friselle con pomodori, bruschetta, carpaccio di bresaola, rucola and parmigiano or macedonia (fruit salad). Well-liked is also vitello tonnato, which is versatile enough to be served as a starter or a light main dish.
La pasta con i pomodori crudi
La pasta con pomodori crudi is a simple, wholesome dish. It is, indeed, the simplicity that makes it so successful.
Cook the pasta al dente in salted water. In the meantime cut tomatoes (cherry or Campari) into small cubes, add fresh basil, 3 or 4 large pieces of fresh garlic (do not use chopped up garlic or the flavor will be too strong). Add some pieces of Grana (Parmigiano) and some other type of cheese, if you wish (mozzarella di bufala would work just fine), salt and pepper. When the pasta is ready (or almost ready), mix it all together with extra virgin olive oil and voilà. You're done.
Insalata di Riso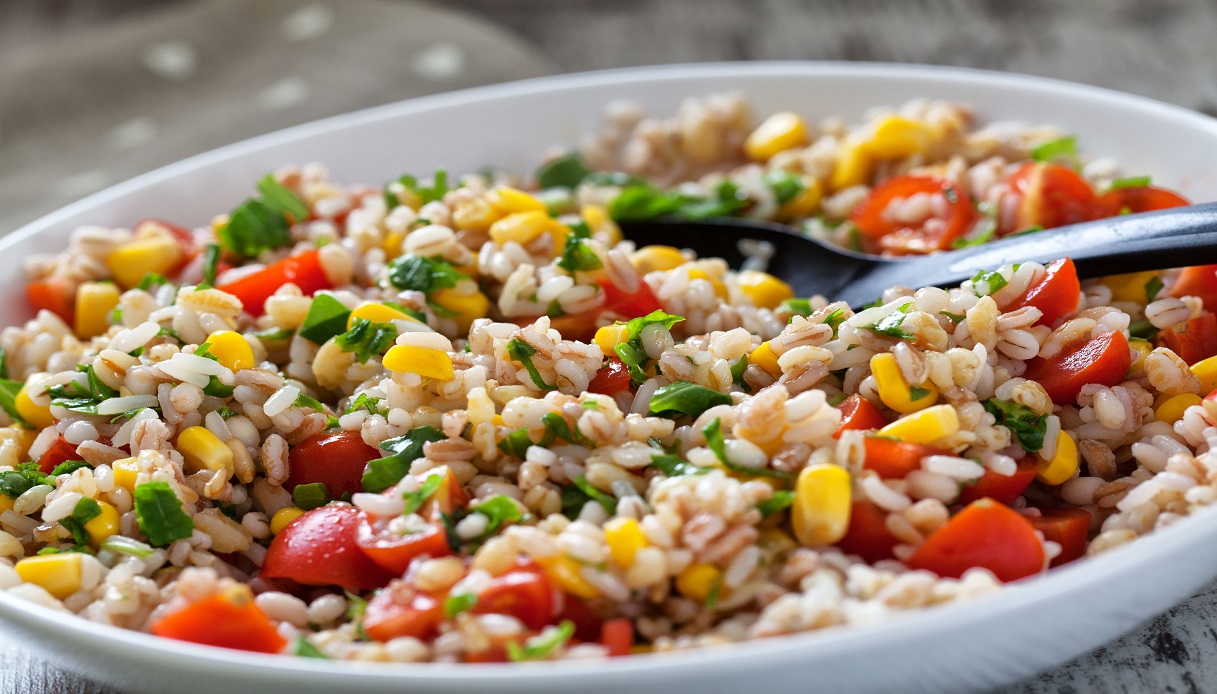 Unlikely the name suggests, the insalata di riso, or rice salad, is made with rice and other fresh ingredients, but it does not include green lettuce. There are a lot of ways to make it and not everyone uses the same ingredients, although some are traditionally included. Ham, pickles, tomatoes, mayonnaise, egg, and tuna. Everything is mixed up with boiled rice, refrigerated for a few hours, and served cool. Rice is sometimes replaced with pasta. Personally, I think that insalata di riso is one of the best iconic summer Italian Dishes. Fresh and delicious at the right point, easy to prepare and if well stuffed, satisfies every kind of taste! Try it. If you come to Italy in summer, don't forget to taste it!
La Panzanella
Panzanella is a typical Tuscan dish, nowadays popular all over Italy. The authentic recipe requires to be soaked and crumbled stale bread, which is then mixed up with other ingredients, such as red onion, basil, olive oil, vinegar and salt. Some recent alternatives include the addition of Parma ham or eggs.

Follow this recipe for the best panzanella! 
Friselle con i Pomodori e le Bruschette
Friselle con pomodori are large croutons served with fresh tomatoes, basil, olive oil and salt. Bruschetta is similar, but instead of croutons, the ingredients are served on toasted bread.
Famous Italian food blogger Sonia Peronaci shows us how to make a perfect Bruschetta Caprese.
Carpaccio di Vitello
Veal carpaccio with arugula and Parmesan cheese is another simple and easy dish to prepare in the summer months.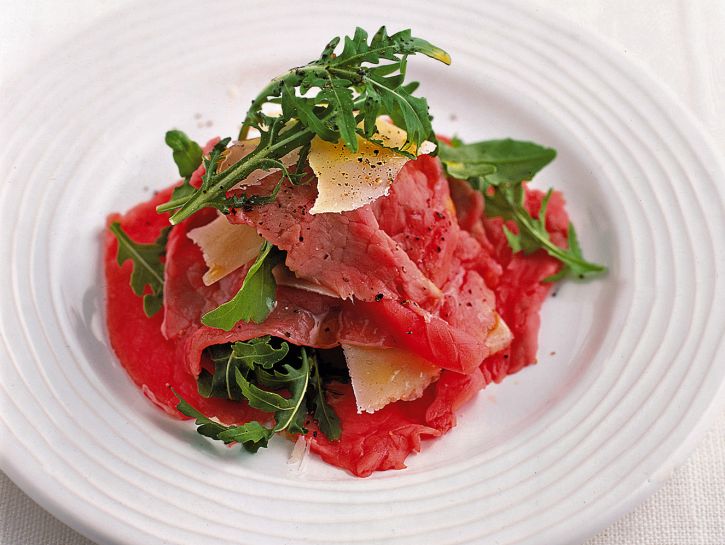 Choose the very best veal, sliced very thin.  Arrange the slices on a platter, sprinkle with arugola and parmesan cheese, then season with olive oil, lemon, salt and pepper. Make sure that the raw meat is of high quality (the equivalent of "sushi grade" – to be eaten raw) and fresh.
An interesting curiosity: carpaccio was invented by Giuseppe Cipriani, founder of the famous Harry's Bar in Venice, in the 1950s. He prepared this dish for the first time during an exhibition of paintings by the artist Vittore Carpaccio, to follow the needs of the Countess Amalia Nani Mocenigo, who unfortunately was forced to follow a diet that prevented her from eating cooked meat. You may remember Cipriani as the creator of another quintessentially Italian product, the Bellini cocktail, of which we have already talked in one of our articles on Italian food legends. 
Prosciutto e Melone, Insalata Caprese and Macedonia di frutta
Great easy and Summer Italian dishes are also Parma ham with melon and Insalata  Caprese. In Italy, we usually choose Cantaloupe Melon (the orange one!) to match with some nice prosciutto. Make sure the melon is ripe and sweet by checking its aroma at the greengrocer's. You just need to smell it to understand if it is ready to be eaten, as ripe melons have a fresh and sweet scent.
Caprese salad is a mix of three of the most iconic ingredients of Italian cuisine: tomatoes, mozzarella and fresh basil. Add some olive oil and you'll have a perfect summer dish. You can personalize the salad with black olives, anchovies or buffalo mozzarella, too. Caprese can be served as a salad, with chopped tomatoes and mozzarella, or as a platter, with slices of tomatoes and mozzarella layered one upon the other.
Macedonia is a mixture of fruit, cut in pieces and seasoned with sugar, lemon or orange juice and sometimes liqueur, such as Grand Marnier or Maraschino. It is a lovely dessert for the summer months, sometimes served also with ice cream. Its concept is the same as fruit salad, but the presence of lemon juice and sugar makes it different in taste and preparation.
All in all, it is easy to see how Italian Summer cuisine tends to be quick to prepare and fresh. Fresh because many of its staples are cold dishes, but also because seasonal fruit and vegetables dominate the list of its ingredients. It is also a type of cuisine where the creativity of the chef is very much protagonist, so just get some fresh ingredients. Get inspired and … buon appetite!
Edited by Francesca Bezzone & Francesco Paladini