Nemi is a small town located in the province of Rome in Italy. The town is located close to Lake Nemi and is surrounded by Alban Hills. Nemi is located close to Rome and Velletri and is mainly visited by tourists as a day excursion from Rome. Nemi, Italy is actually more like a village since it is extremely small, with an area of just 7 sq km and a population of around 1700.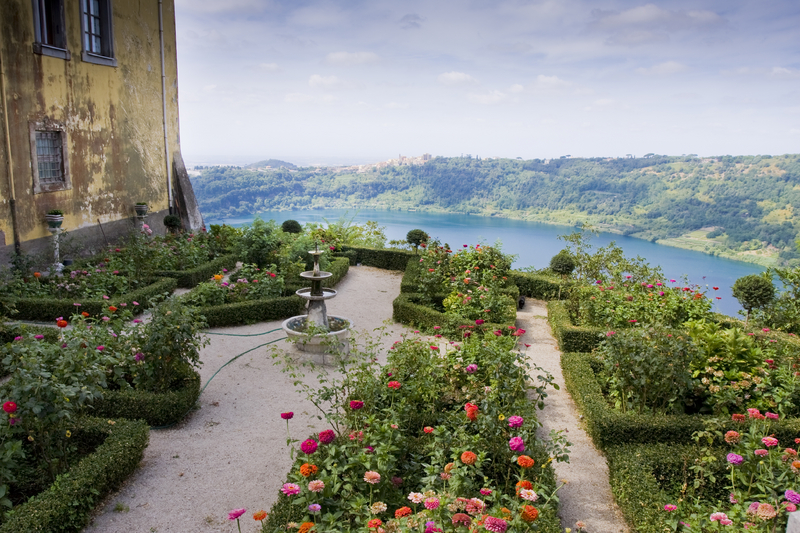 The nearby Lake Nemi, Italy has been considered sacred since the ancient Etruscan and Roman times. The area has been known to have been blessed by the Goddess of Fertility and in ancient times several people from the region used to come to Nemi to bathe in the sacred lake waters.
Getting to Nemi, Italy
Nemi is located quite close to Rome and Velletri. Visitors can get a bus to Nemi from either of these cities from the main bus stations. Buses generally leave for Nemi every few hours and the tickets are available at the station. Nemi is also connected to the other smaller towns in the province through state buses. The easiest way is to drive down to Nemi from Rome or from Velletri, the drive does not take very long. Those who are coming from other areas of Italy or from other countries can take a flight to Rome and then take a taxi or bus to reach Nemi.
Moving Around Nemi
Nemi is a very small town with an area of just 7 sq km and there are not many places to visit in the town. Those who have their own cars can easily drive around the town. Exploring the town on foot is also quite convenient and easy since the streets here are very traffic-free and most locals only walk around rather than use any other mode of transportation. Nemi has abundant natural beauty and green landscape with picturesque village-like streets, which makes strolling around quite enjoyable.
Attractions in Nemi, Italy
Museo Delle Navi Romane
Museo Delle Navi Romane is a small museum in Nemi. The museum mainly has various ship hulks that are being displayed for locals and tourists. In ancient Roman times, several barges and ships were built for navigating Lake Nemi, Italy. One of these ships was a shrine and the other boat was designed for pleasure. During the renaissance times, the relics of these boats were discovered at the bottom of the lakes and had been salvaged. Replicas and various other items that were salvaged from the boats are displayed in a museum in Rome and the hulks of these boats are displayed at the Museo Delle Navi Romane.
Castello Ruspoli
Castello Ruspoli is the main monument and one of the most visited places in Nemi. The castle was originally built in the 10th century, much of which was destroyed in the later years. Over the years many additions and renovations have been done to the main structure. The imposing structure of the castle stands dominating the skyline of Nemi today and is an interesting place to visit.
Sagra Delle Fragola
Nemi is famous for its strawberries which are known as Fragoline di Bosco, which literally means wild strawberries. These strawberries are smaller in size than regular strawberries and are very sweet. Every year in May the strawberries are harvested and Sagra Delle Fragola is the strawberry festival which is organized in Nemi then. During the festival, visitors can get a chance to taste these strawberries and eat as many as they like. On the first Sunday of June, local girls wear traditional costumes and distribute free strawberries to the passer-bys. This has been a long-standing festival in Nemi. Since the end of the First World War, Nemi has been celebrating the strawberry festival and girls have been distributing them free to guests. Visitors who are traveling to Rome should definitely visit Nemi in the first week of June to participate in this well-known festival. Tourists can not only eat as many strawberries as they like but they can also purchase fresh strawberries during the festival which have been harvested from the woods from the areas surrounding Nemi.
Stay and Accommodation
Nemi is a very small town, and in fact, it can only be called a village. Except for one or two small hotels, there are no other accommodation options in Nemi. Because of its proximity to Rome, most people prefer to stay there and come to Nemi only as a day excursion. People generally prefer to stay in Rome since there are more options. The two most well-known bed & breakfasts in Nemi are II Giardino Di Diana and hotel Caligola. Other than these, there are not many options for accommodations in Nemi.
Eating in Nemi, Italy
There are very few restaurants and pizzerias in Nemi, most of which are family-run. The restaurants in town are quite small and have a relaxed and casual atmosphere. The food served is mostly Italian and typical regional dishes that the locals prefer to eat. Most restaurants would serve good quality wine and use fresh local ingredients and cheeses. Desserts that are served are quite traditional and many are strawberry-based. Some of the only places in Nemi for eating out that are popular among the locals are Lo Specchio Di Diana, Ristorante La Panoramica and Ristorante Il Castagnone.
Shopping in Nemi
There are not many places in Nemi where visitors can shop. The shops and old vegetable and food markets in town are mainly where the locals do all their shopping. The weekly markets in town are the best places to find the freshest local produce, fruits, bread, cheese, and other items that visitors can purchase. Visitors who come to Nemi can visit some of the shops on the main street of the town to find something to purchase. Mainly, visitors prefer to purchase strawberries when they come to Nemi since the town is mainly famous for its sweet wild strawberries.