Montepulciano is a small hill town located in Tuscany, in the province of Siena. Montepulciano is mostly known for its medieval buildings and its natural beauty. The town is located at an altitude of 600 meters, perched on top of a limestone ridge. The town is located quite close to Siena, Florence, Rome and Pienza. Montepulciano's economy is mainly based on agriculture and is known for its beautiful wines including Il vino Nobile di Montepulciano, considered one fo the best in Italy by several wine connoisseurs.
According to scholars and archeologists, the first inhabitants in the area go back to the 3rd and 4th century BC, even before the Etruscans. After the Etruscans, the area was then ruled by the Romans.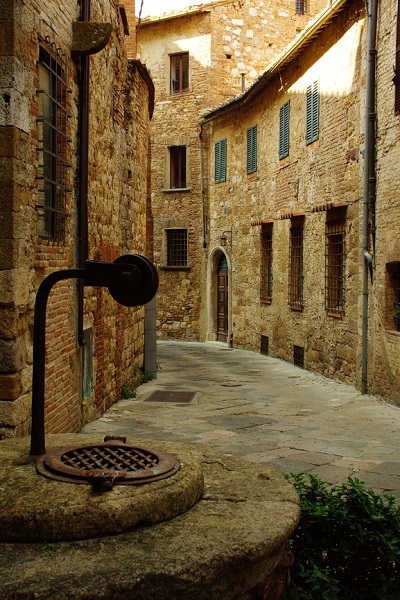 Attractions in Montepulciano
Palazzo Communale
The Palazzo Comunale di Montepulciano was designed by Michelozzo. The palace was built in an architectural style typical of Tuscany and of Florence in particular: in fact, the design of Montepulciano's Palazzo Comunale  is very similar to that of Palazzo della Signoria, in Florence.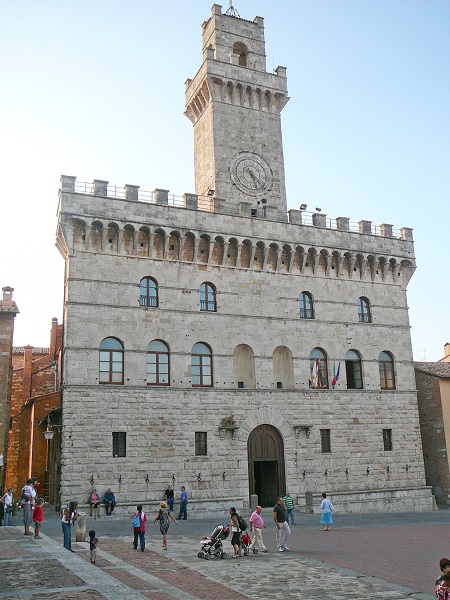 Palazzo Tarugi
Palazzo Tarugi is an interesting place to visit because of its beautiful architecture. The palace is entirely built in traventine (the typical stone of Rome) which makes it quite different from the typical building of the region. The palace also has a portico which was once open for visitors,  but had to be, unfortunately, closed to the public.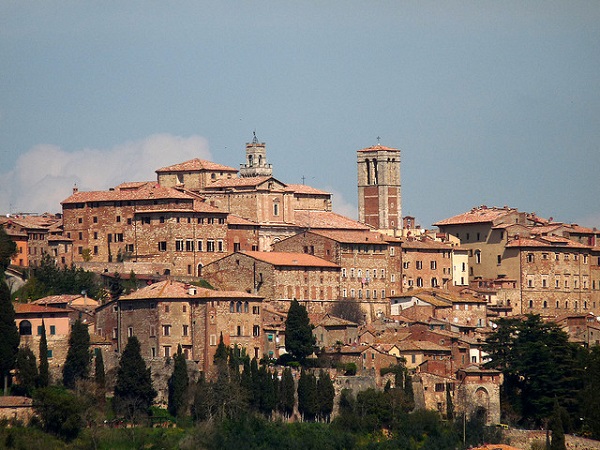 The Cathedral of Santa Maria Assunta
The Duomo, or  cathedral of Santa Maria Assunta is the most important religious place in Montepulciano. The cathedral was built between 1594 and 1680 and has a beautiful interiors,  decorated with many artworks, the most noteworthy of which is a large Assumption of the Virgin painted in 1401 by Taddeo Di Bartola, representative of the Sienese School.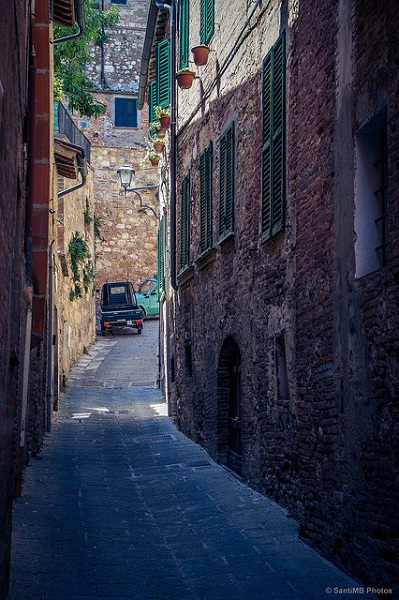 Church of Santa Maria delle Grazie
The church of Santa Maria delle Grazie was built in the 16th century, and presents a simple architecture with a three arcade portico. Inside the church is a single nave, embellished by a precious terracotta altar made by Andrea della Robbia.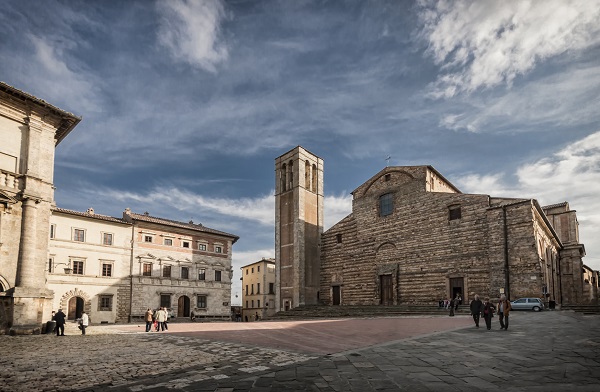 Sanctuary of the Madonna di San Biagio
The sanctuary of the Madonna di San Biagio is located close to the city,  and has been built in typically Tuscan style in the 16th century. The sanctuary was built at the location of an ancient church, and has a circular shape with a large dome over a terrace. The façade is all done in white travertine and features two large bell towers.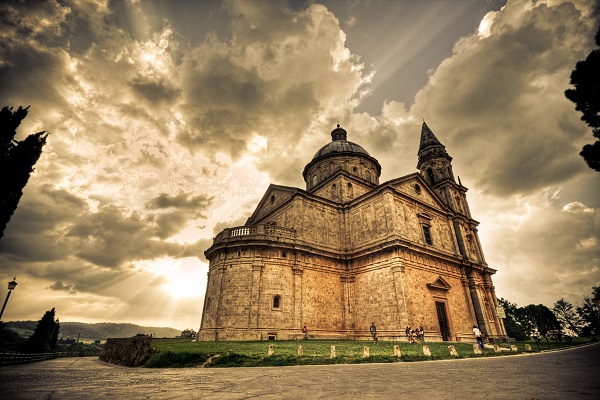 Fiera delle Tre Berte
The Fiera delle Tre Berte is a typical festival held in Montepulciano every year in May. The festival showcases regional agricultural produce, as well as agricultural machineries.   Attending visitors might get a chance to sample typical food items and local delicacies, including Montepulciano renowned wines.
Getting to Montepulciano
Montepulciano is a fairly small town, so there are not many options in terms of transportation. The easiest way to reach it is by bus. Several buses for Montepulciano depart regularly from Florence, Rome, Siena and Pienza each day. There are also many buses reaching town from other smaller villages in the province. Buses are generally very comfortable and, as said, they run regularly, however delays are not uncommon.  Tickets are easily available, even in peak tourist seasons. Those who have their own cars can reach Montepulciano quite easily by road from Siena, Florence and Pienza.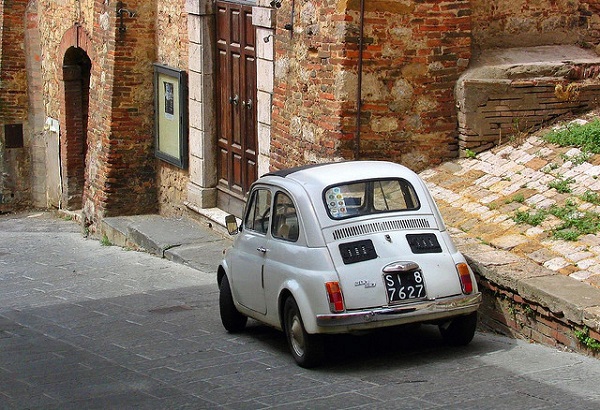 Moving Around Town
Montepulciano is pretty small,  so visitors can easily move around without worry. Most of it can be explored on foot, since streets here quite picturesque and not very crowded. The town is known for its beautiful, car free pedestrian streets so walking around can be quite enjoyable. Public buses are an option, in case you are staying outside the town centre. If you drive your own car, remember most of the historical centre is  for pedestrians only.
Stay and Accommodation
Montepulciano is a very small town, but because of the rise in agri-tourism there are quite a lot of good hotels in the area. Most of them have been converted from old villas and family homes. There are also a few good bed & breakfasts, where tourists can find clean and comfortable rooms for lower prices. Some good places  to try in are Hotel Granducato, Hotel Panoramic, Albergo Duomo, Hotel Albergo Marzocco and Meubel II Riccio. Most hotels are located close to the town center and rooms are easily available all year.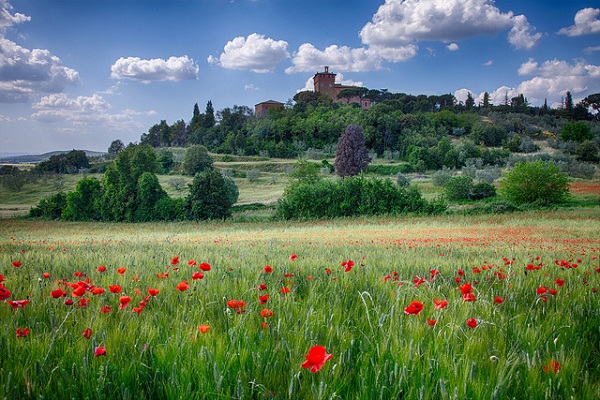 Eating in Montepulciano
Montepulciano has many good options for eating out, as it is known for its agricultural produce and local dishes. Most restaurants serve local Tuscan dishes, including pork and cheeses, as well as a type of thick pasta called pici. Most restaurants also offer excellent quality wines, since the region is famous for it. Some good places to try in Montepulciano are Osteria Acquacheta, Le Logge Del Vignola, Ristorante La Grotta, Ai Quattro Venti and Trattoria Di Cagnano.

Shopping in Montepulciano
Montepulciano only has a few places to shop, mostly on the main street, which stretches from Porta Al Prato to Piazza Grande. The best thing to purchase in Montepulciano is wine, since the town is very famous for its many vineyards from where the famous Vino Nobile is made. Plenty of wine shops in the town sell Vino Nobile, however visitors must be careful as there are also other, cheaper varieties sold. Visitors can also find a variety of locally made cheeses in Montepulciano.