A UNESCO Heritage Site rich in history, beauty, good food and great wines
I was born in the province of Cuneo, near the Alps, in a village that looks like a still from a 1930's movie, where women still feel they need to have red lipstick and heels to leave the house and go buy bread, where Sunday is still the day you go to mass at eleven in the morning, then stroll down the portici of the main street, chatting with people and end up at the caffe' for a San Simone before lunch.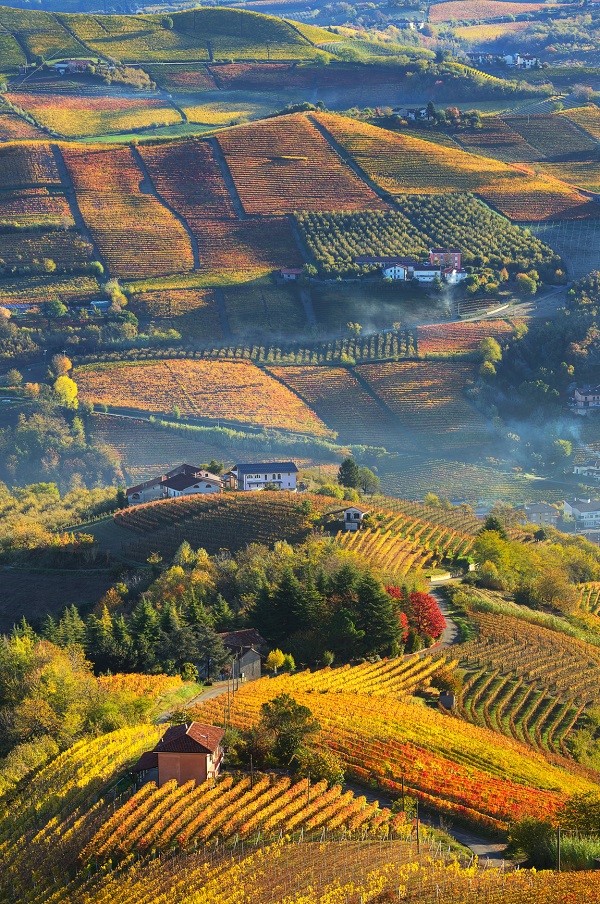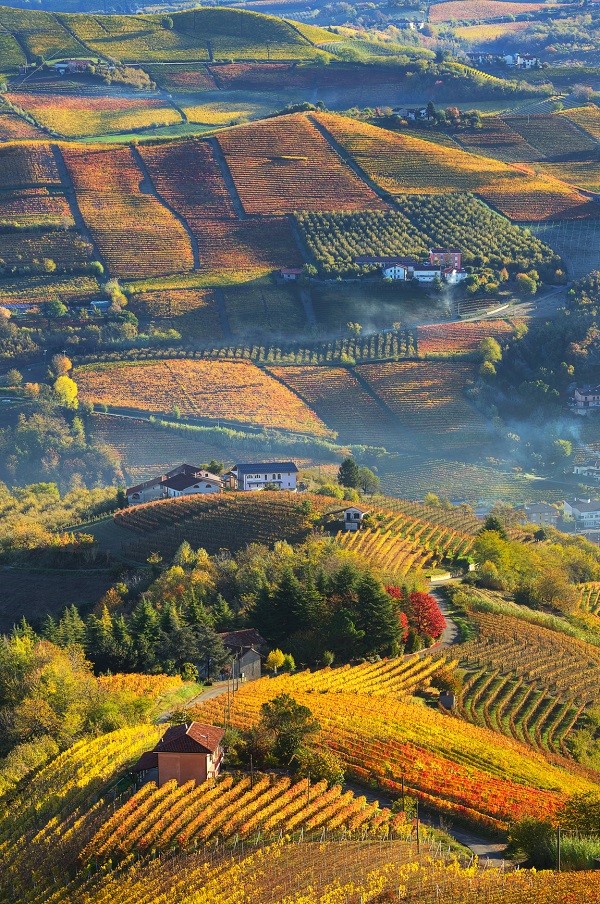 A village where you still see the scars of World War Two, because our valleys have lost a whole generation of men, then, and there is not a single person who does not have a soldier's story to tell or remember.
My village is beautiful and special, but there are many like it in the Cuneo province: it is a village of the Langhe, the rolling hills of good wine, hazelnuts, amazing cheeses and incomparable food, so much so you probably know about them without even realizing it. Barolo, Nebbiolo, Dolcetto, Barbera are our wines; hazelnut cakes, cornmeal shortbread (so delicious when dipped in red wine!), and castagnaccio are our desserts; sheep cheese, we call it "tuma", castelmagno, nostrano and ricotta are some of our cheeses. We are the land of the best white truffles in the world, the "tartufo d'Alba", and I can guarantee you, there is nothing quite like it anywhere else: I know my truffles, trust me. My father used to go truffle searching and I grew up thinking having truffle shavings over scrambled eggs and fresh pasta with butter or ragu' was absolutely normal. Only when I was an adult I realized how lucky I had been.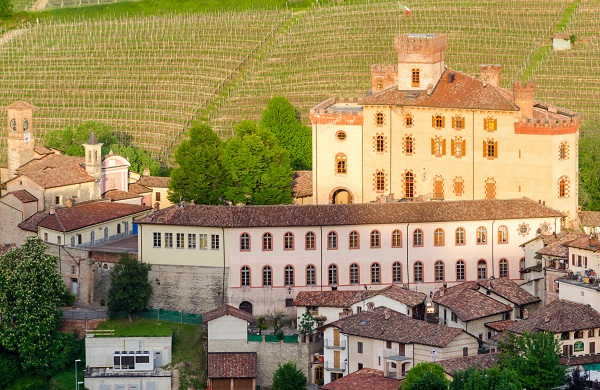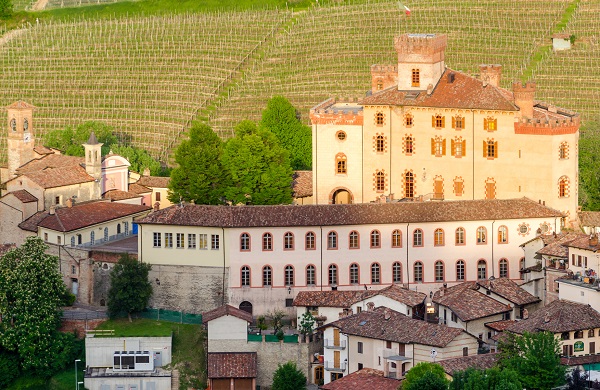 I could say the same about wild mushrooms: porcini, spugnole, castägnin ( we call them so because they always grow around chestnut trees), just to mention a few. Our meat is considered among the best in Italy: just ask about the Carru' beef and veal and see gourmets' eyes light up with desire.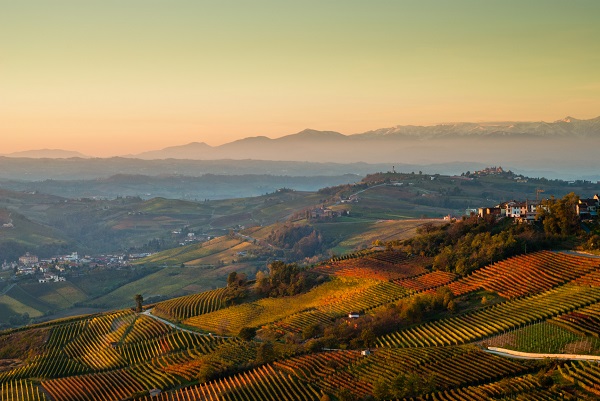 It is not a case that the most famous culinary association of the past thirty years was born just here, in the Langhe: you all know it well, if you love Italy. The Slow Food Association was created in 1986 in the town of Bra and has as its main aim the promotion of locally grown, traditional produce and products. The Slow Food people don't care about money, the association started as a non-profit affair, and still is today, in spite of its popularity pretty much everywhere in the world; the movement has become a sort of umbrella name for several groups, initiatives and entities, including a University of Gastronomy in Pollenzo (CN), a publishing house (Slow Food Editore) and several other initiatives all aiming at protecting, valuing and bringing back on our tables some of the most amazing Italian dishes and products.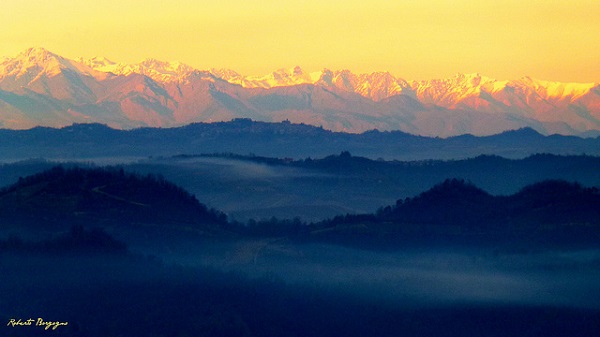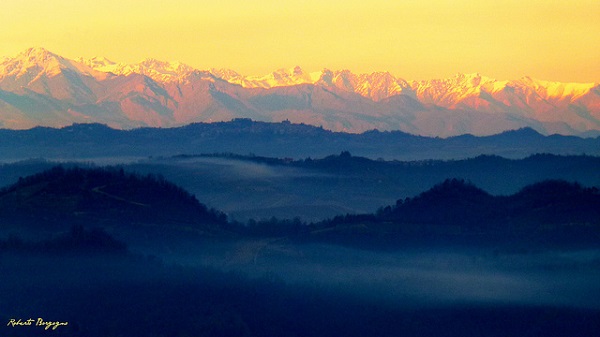 But the Langhe won't charm you simply and solely because of their food: they are truly beautiful, too. Almost hauntingly so. It is the colors of vineyards, the deep oranges, red and browns of the Autumn, stark against the shimmering, white majesty of the Maritime Alps, which embrace these ancient hills, lift them up to the bluest of skies. The Langhe will conquer your heart with their fresh, zingy air and the sweet grumpiness of their people: they say we Piemontese are a strange lot, who don't like to speak a lot and have the same reserved, surly look of the mountains that cradle us lovingly every day of our life, and well: it is true, at least in part. We are not the most social of people, we like to keep to ourselves and, on average, we don't like change a lot; but there are a lot of great pros to these apparent cons. We are trustworthy, we believe in family values, we are good people. And when we open our houses to somebody, they become family members to us, they'll always be welcome. We cook like gods and goddesses. We are great mountain walkers. You see, we can be pretty charming… So… the people in the Langhe: they will amaze you, too.
There is something, in this little corner of Piemonte, that made time stop; it may be the mountains, it may be the fact, as I said already, we don't like change much, we Piedmontese, so we must have signed a pact with the angels or whatnot to let us live our lives as it were the '40s (minus the war, clearly. We didn't dig that), but there is something incredibly charming about the Langhe, their people, their stories: read Cesare Pavese, and you'll see.
We haven't changed much and neither did the hills and the mountains. We'll still invite you in our kitchen for some fresh bread, good salame and cheese and a earthy tumbler of dolcetto.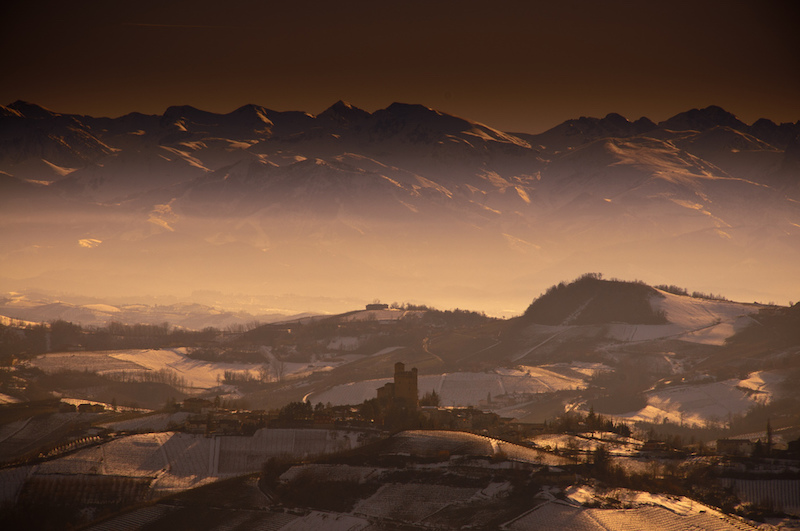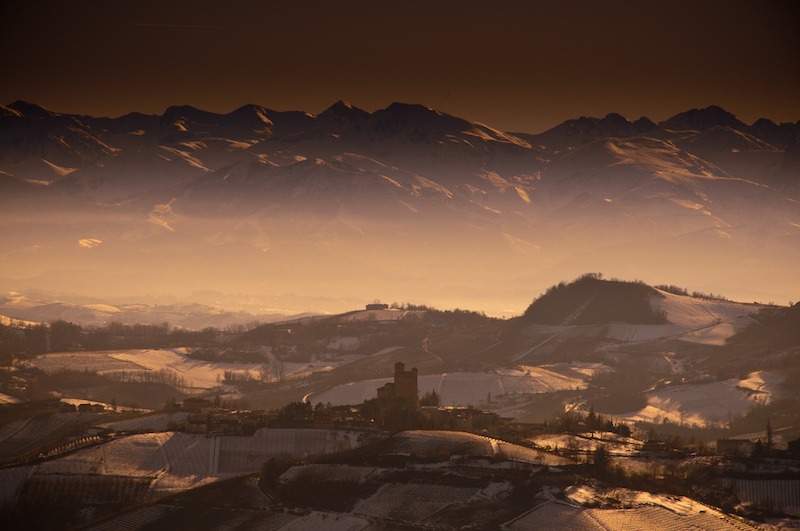 How to get there
To easiest way to reach southern Piedmont is by flying on Turin or Genoa airports, then reach the province of Cuneo either by train or car. If you fly on Turin (easily reachable from Paris, Frankfurt and Rome, if you're flying from the other side of the pond) and decide to rent a car, you can do so at the airport, then head for the A6 highway Torino-Savona (known as the Verdemare) in the Savona direction, and get out at the Carrù exit. From there, you can follow the national road indication to lead you towards your chosen destination. If you'd rather take the train, then you'll need to reach the central Turin station of Porta Nuova and catch a train in direction of Savona or Ventimiglia, and get off at either Fossano or Mondovì. From there, you should be able to reach villages with local bus services.
The same can be said if you fly on Genoa: if you rent a car, take the A10 Genova-Ventimiglia in direction Ventimiglia up to Savona, then take the A6 towards Turin. From this direction, the best exits are probably Ceva, Niella and Mondovì, from which you can easily visit the Langhe area by travelling on national roads.
Alba, Dogliani, Murazzano, Bra and Barolo would be particularly good locations to visit, but the area is all fantastically beautiful and it is the small villages that truly give you an idea of what the Langhe truly are. The best option would be probably to stay in a relatively large place, such as Alba, and take daily excursions by car into the hills. As the Langhe are renowned for their agriturismi, you should consider spending some nights in the one of them, deep in the coutryside.
Truth is that, if you really want to enjoy the Langhe fully, you should probably rent a car. Train services are really good for larger cities on the Turin-Savona line, but bus transfer may become cumbersome and may not reach the more secluded areas. Keep it mind!
Where to stay
The Langhe have been popular with tourists for some time now, and even more so today, after they became UNESCO recognized heritage site.   You can check some of these suggestions to make your choice a bit easier:
Hotel Palazzo Lovera (Cuneo), a beautiful 4 star hotel, located in the heart of the beautiful baroque town of Cuneo, which is also capital of the homonymous province. Hotel Cantine Ascheri (Bra), is perfectly located at the heart of the Langhe, in the town where the Slow Food Movement took its first steps. It includes a winery and a fantastic restaurant.  If you'd like to enjoy a country retreat, then try the agriturismo and spa Palas Cerequio, in the vineyards of Barolo, at the very heart of the Piemontese wine country. Always in Barolo, but in the village, you will find the hotel and restaurant Barolo. In Dogliani, you could opt for the 4 star Hotel Villa Santa Teresa and, always nearby, you could relax at the Cascina Bricco Rosso, which also produces its own wine. In Alba, you could stay at the Hotel Savona (a solid 4 star), or choose one of the many B+B available in the city.
Where to eat
Langhe is synonymous with good food and good wine, so you'll get just that pretty much every where you go. However, some places are well known, even among the locals, for being outstandigly good. In Carrù, look no further than Il Vascello d'Oro and Al Bue Grasso, both serving some of the best bollito misto of the province. Trattoria Marsupino, in Briaglia, is a family run restaurant offering some good, old fashioned piedmontese cuisine: fantastic. In Alba, you can treat yourself to a three Michelin stars dinner at Crippa's Ristorante Piazza Duomo: very pricey, but certainly worth it. If you'd like to spend decidedly less, go to I Castelli (which is also a beautiful hotel). If you're a fan of the Slow Food Movement, then look no further than L'Osteria del Boccondivino, in Bra, the movement's own in-house restaurant.
Now Google Street View gives you the opportunity to see the Langhe at 360°. Click on the link and enjoy!