5 Steps to a Romantic Home
Italians are successful at creating elegant and relaxed homes by following five simple rules.
Mix don't Match
Many Americans opt to buy their furniture in entire sets, when Italians prefer to mix and match. One way to do this is search for pieces you truly love. Look at a variety of different places. Go to flea markets, antique fairs, yard sales, upscale boutiques, and outlet stores to look for a chair or bed that catches your eye. Furniture from different periods can compliment each other as long as the scale works in the space. Deciding on a color scheme is one way to tie everything together. Never feel pressured to fill up a new home in a hurry. The best approach is making slow and thoughtful purchases over time.
Modernize the Old
Italians appreciate history and this includes their own family lineage. It is common for Italians to pass down furniture in their family for many generations.
Don't make the mistake of tampering with antiques of high value. Often you can get old furniture from friends or neighbors clearing out their houses, so ask around. Torn and faded fabric on a set of dining room chairs can be updated with bold striped silk or luxurious velvet. An armoire can be sanded and stained for an old world look. I suggest visiting your local hardware or paint store where a professional can help you find the specific materials you need. All it takes is an imaginative eye to turn one person's trash into your own treasure.
Purchase Art
Original artwork gives the walls of your home points of interest and can really liven up a home. With the Uffizi and Gallerie dell'Accademia right at their fingertips, Italians are raised to respect fine arts. You can also follow in their footsteps and appreciate art everyday by displaying it in your home. Follow your heart when you choose work. You will naturally gravitate towards certain art and your instinct is the best guide to finding pieces you will treasure. Begin your hunt by attending gallery openings. Artwork found in galleries can range from the hundreds to the millions, but if you do your homework and research thoroughly, you can consider your purchase to be an investment.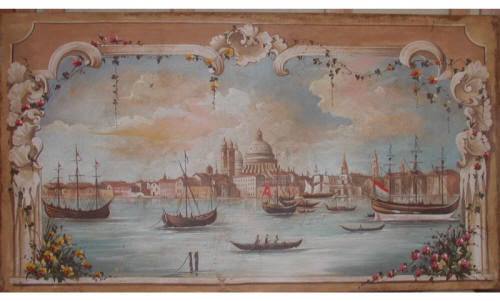 Italian Frescoes for your home! Custom pieces or choose from existing frescoes here
It is possible to buy artwork in any budget. A fabulous way to scope out affordable art is to call your city's university and see when their annual show is. You may get lucky and be the first to discover a local Picasso. If you have the opportunity to meet the artist in person, I encourage you to ask questions about their process, choice of materials, inspiration, and career. Another option is finding out when artists studios are open to the public for viewing. You can walk through the basements and lofts they work in while they explain their methods and cut deals with buyers. Also, many people enjoy picking up local watercolors and photography sold in street markets during their travels.
Bring the Outdoors In
Keeping an herb garden in the kitchen is both functional and charming. You can find terracotta and colorful ceramic planters at your local nursery. There is no substitution for the taste and smell of fresh Italian rosemary, sage, and basil in your pasta dinner. Live topiaries are very sophisticated and require little maintenance. You often see topiaries outside, but two paired around an inside doorway or the mantle can give your home an earthy, organic feeling.
Who doesn't love fresh flowers? Planting a garden in your backyard or balcony is ideal for replenishing flowers on a weekly basis. The local farmers market or florist will suffice for those who lack a green thumb. Lilies and roses smell sinful, but if your top priority is aesthetics, a single potted orchid makes a beautiful statement. Better yet, display sunflowers to remind you of the peaceful hillside villages of Tuscany.
Romantic Atmosphere
Love is alive in the air of Italy. You can give your home a romantic ambience with a few simple tricks. Don't ignore lighting. Replace light bulbs in lamps with pale pink bulbs for a subtle glow. Keep candles burning and play music while you cook and relax. Two Italian favorites are Carla Bruni and Andrea Bocelli for their soulful melodies.
By Meredith Paslawsky