Capo Vaticano is a large swimming and sunbathing destination in the municipality of Ricadi, part of Italy's Calabria region. The cape is made from grey white granite which has intrigued many geologists from around the world. For decades, the granite has been examined for its peculiar geological characteristics. The altitude of the Cape is around 124 meters above sea level and starts from Tano Bay and stretches up to Virgin Mary Bay.The most famous bay is Groticelle which has some of the best beaches.
It has been said that Capo Vaticano is a Roman hill, as suggested by the famous writer Giuseppe Berto of Venice. The Cape was an important sacred place in ancient times and many fortune tellers and priests travelled to the Cape to predict futures based on the flights of birds. The Mantineo rock located over the Cape has long been considered especially holy.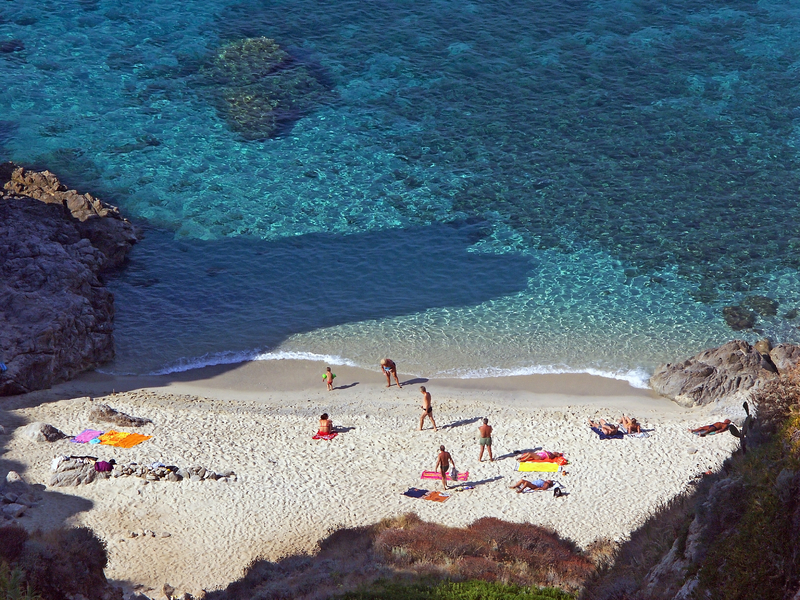 Attractions in Capo Vaticano
Capo Vaticano is a sea side resort, known for its dramatic cliffs and its breathtaking views and crystal clear waters. There are no sight seeing attractions in Capo Vaticano, except for its beautiful natural wonders. The area boasts exceptional untouched beauty with its massive rock formations and its many small bays and isolated beaches. Several bays can only be reached by sea and many remain totally secluded. The clear blue waters surrounding make it a beautiful place to visit.
The area is also rich in flora and fauna which are Mediterranean in nature. During spring and the summer months, the entire area is covered with beautiful fragrant flowers and various regional plants and shrubs making it a delight for nature lovers.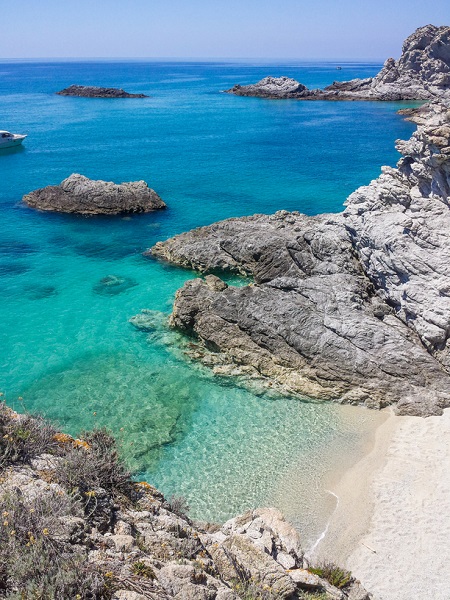 The sea that surrounds Capo Vaticano is known for its amazing variety of sea creatures and its numerous types of fish, making it a perfect spot for scuba diving. In only seven kilometers that surround the Cape, there are several different shades of water that range from dark blue to pure turquoise.
The landscape is diverse and can be explored over a few days, ranging from rocky cliffs, limestone hills, coves and sandy bottoms, granite cliffs, canyons and caves which are so remotely located that they can only be visited by water with expert guides.
The rocks located in the area are surrounded by various clean white sand beaches, quite a lot of which remain mostly deserted and are well hidden from tourists. Beaches are dotted with palm trees and in some places by prickly pear and heather. The water ranges from green to blue. The hills surrounding the beaches are dense and thick and are covered with figs, pines, oaks and olive trees.
There are many ancient vineyards and various terraced vineyards in the location. The festival of Nduja is organized in the area every year in August and is very popular among food lovers. Nduja is a sausage which is made by fat of minced bacon, pork, lard and hot chili peppers that are famous in Calabria. The mixture is aged for two or three days and smoked with various local herbs. Nduja is prepared in the region every winter and a ritual is followed, the festival is a celebration of this ancient culinary tradition which has been handed down from generations.
Getting to Capo Vaticano
The nearest airport to Capo Vaticano is Lamezia Terme which is 130 km away. Visitors can also reach the Cape by boat from Maratea harbor. Trains that travel on the Rome-Naples-Reggio Calabria route stop at the Praja Ajeta Tortora railway station from where visitors can easily reach Capo Vaticano. The easiest way to reach Capo Vaticano however, is by road. The A3 motorway which connects Salerno to Reggio Calabria can be taken; visitors can exit at Lauria and then follow SS585 till Fondo Valle del Noce, from there the SS18 exit to Praia. Those coming from South can exit at Falerna and then follow SS18 and exit at Praia to reach Capo Vaticano.
Moving Around Capo Vaticano
The only way to move around in Capo Vaticano is on foot. The bus service that connects the Cape to the nearby villages and to Ricadi is not regular and cannot really be used for travelling locally. Visitors who have their own cars can drive around to the nearby coastal regions and towns like Groticelle which has plenty of nice beaches that are good for swimming and for sunbathing.
Stay and Accommodation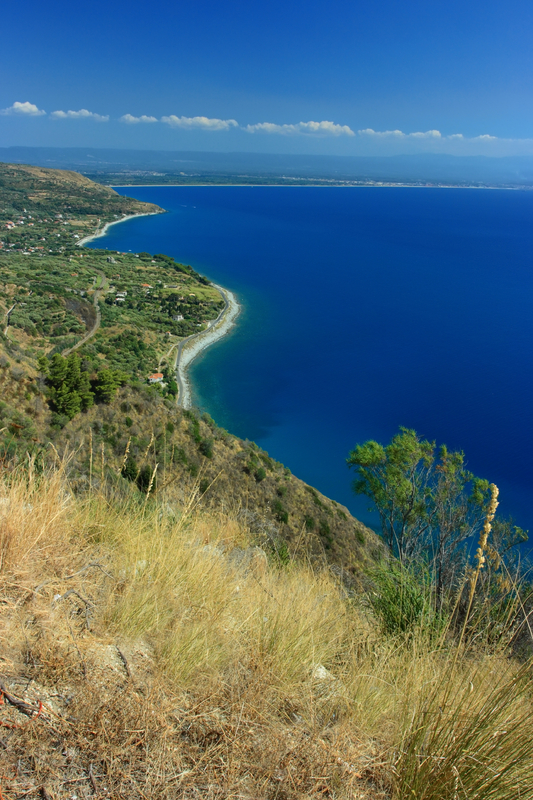 Capo Vaticano has become a popular holiday destination among the locals in the region as well as the other parts of Italy. Due to its stunning natural beauty, the Cape attracts several tourists every year because of which there are plenty of accommodation options. Capo Vaticano is also surrounded by several small villages and hamlets and has many hotels, bed & breakfasts, country homes, farm houses, family residences to choose from. There are a few luxury hotels as well as many budget accommodation options. Some of the best hotels in Capo Vaticano are Hotel Ipomea Club, Hotel Residenza Costa Azzurra, Hotel Sciaron, Hotel Residenza La Taverna and II Gattopardo Hotel Residence.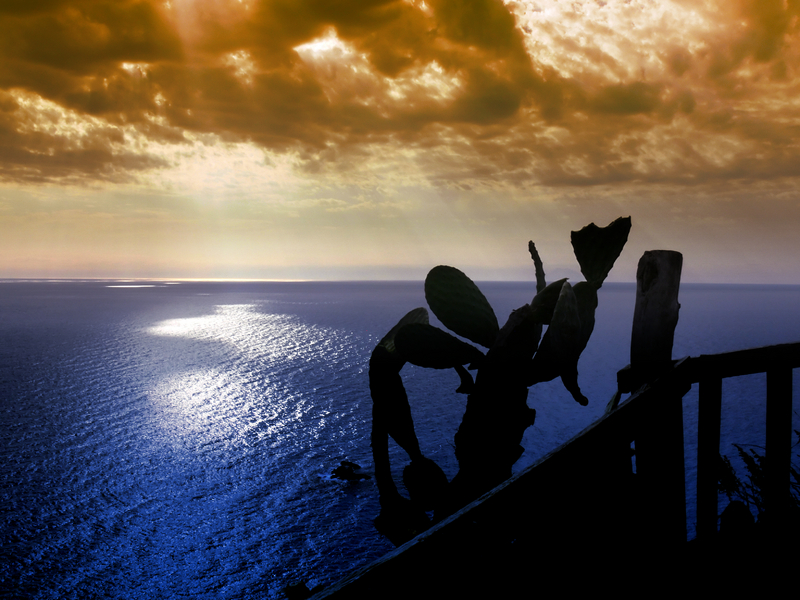 Eating in Capo Vaticano
There are many good options for eating out in Capo Vaticano. The area does have quite a lot of good restaurants, pizzerias and trattorias to choose from. There are also many good traditional restaurants that serve typical dishes which are famous in the region. Good wine is available almost everywhere in the region since there are plenty of vineyards located close by. Some of the best restaurants to try in Capo Vaticano are ristorante pizzeria La Notte, ristorante La Grotta, Restaurant The Norman and ristorante pizzeria Rainbow.
Shopping in Capo Vaticano
There are a few places in Capo Vaticano where visitors can shop. The surrounding villages and hamlets all have several small traditional shops where visitors can purchase local handicrafts made by the village artisans. The best things to purchase while in Capo Vaticano are wine, extra virgin olive oil, cheese and the famous Nduja. There are many good vineyards located close by where good wines are made.