The origins of this remarkable product can be traced back to Ancient Rome when it was used to preserve food. Closer to us, in the 19th century, people began to use it also for therapeutic purposes. Let's learn about the best balsamic vinegar from Modena. What is the balsamic vinegar, and also recipes with balsamic vinegar!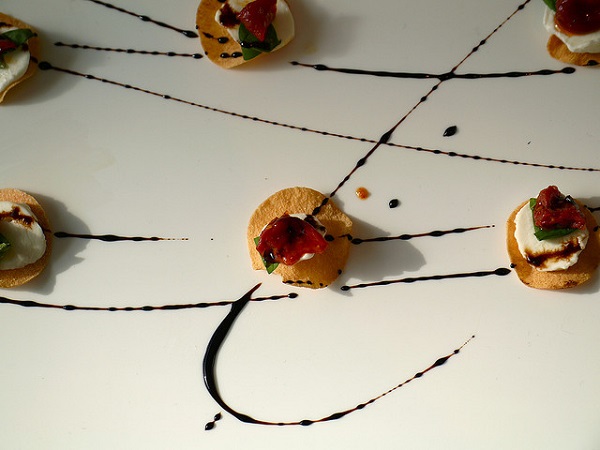 Emilia Romagna, and Modena, in particular, have consecrated balsamic vinegar to the Olympus of the made in Italy. Emilia Romagna has always been famous for its vinegar: some made with plain, cooked must, others obtained mixing it with fermented, spiced must, both of which are considered excellent.
Until the first half of the 19th century, balsamic vinegar remained a peculiarity of Modena, almost entirely unknown outside the area, with the exception of some gourmet experts. Only after Italy's unification (1861) and the consequent growth of national and European trade, its commercialization improved. For more than 20 years now, balsamic vinegar production has been protected by the Consorzio Aceto Balsamico di Modena, which makes sure a specific code of conduct is followed during all stages of production. It is also thanks to its effort that balsamic vinegar has become a symbol of Italian "eating well." Nowadays, balsamic vinegar is known worldwide and it is on almost all Italian tables. In fact, thanks to its versatility, balsamic vinegar has many uses: besides being perfect to dress salad and fruit, such as strawberries, it is added to many types of meat or pasta recipes, as well (check the bottom of this article for some ideas).
Balsamic Vinegar of Modena
The Consortium of Producers of Traditonal Balsamic Vinegar of Modena instituted, in 1979, rules and regulations to be followed when making "true" balsamic vinegar. In April 2000, the European Union granted this product the highest recognition by awarding it a D.O.P (Protected Origin Denomination) tag, ensuring consistency and continuation of this centuries-long tradition. Within the Consortium, professional tasters guarantee each bottle is produced in compliance with all the rules, regulations, and procedures set forth by the Consortium itself.
Based on the aging period, the Consortium has denominated two types of balsamic vinegar: Aceto Balsamico Tradizionale di Modena, which is aged for a minimum of 12 years, and the Aceto Balsamico Tradizionale di Modena Extra Vecchio (Extra Old), which is aged for a minimum of 25 years.
When professional tasters give their thumbs up, vinegar makers can bottle their product in specific bottles, designed by Giorgetto Giugiaro: these unique bottles are literally a "seal of quality," guaranteeing the vinegar inside has been produced in accordance with all the rules, regulations and traditional procedures endorsed by the Consortium. Only balsamic vinegar kept in these bottles is considered the real aceto balsamico tradizionale di Modena D.O.P.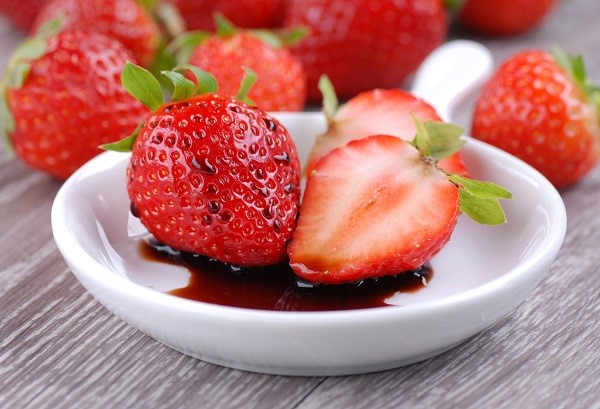 How to make Balsamic Vinegar at home?
The three-step procedure has been passed from generation to generation throughout the centuries and consists of three essential moments:
1) The harvesting of grapes
2) The pressing of grapes and the cooking of their must
3) aging Ageing takes place in a series of small barrels made of different kinds of wood, usually mulberry, chestnut, oak, or cherry; the barrels must have decreasing volumes and they are usually kept in the attic of the house. Every year, using a special method of decanting, the smallest cask of the sequence provides a few liters of the product, while the reduction due to concentration is compensated for by the addition of cooked grape must to the largest cask. Only after at least 15 to 25 years of maturing, does the product reach that surprising balance of aromas and flavor that allows it to bear the title of "Protected Origin Denomination" (D.O.P.).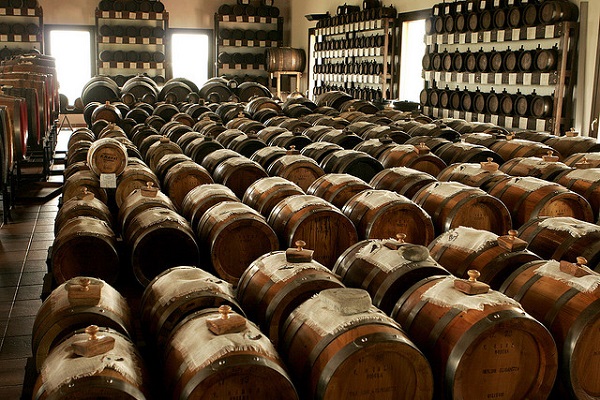 Here is how you can try to make aceto balsamico at home:
Take 6 barrels with decreasing volume and fill the largest 5 with a grape must. Cover each barrel's opening with a mesh cloth. This allows evaporation and reduction of the liquid. Wait six months.
Fill the smallest barrel with the content of the next in size. Repeat the filling process until you reach the largest barrel.
Pour a new must into the largest barrel.
Continue to transfer liquid from the larger barrels to the next smallest once every year, for 5 years.
Take 0.3 US gal (1 liter) of the vinegar from the smallest barrel.
Continue to transfer liquid from the larger barrels to the next smallest once every year for another 7 years. After 12 years you will finally have your first balsamic vinegar.
Balsamic Vinegar recipes
I would say most Italian use red or white wine vinegar for dressing salads, but sweet and tangy balsamic vinegar is the secret to many recipes… One of these balsamic vinegar recipes is:
Beef stew with balsamic vinegar
Beef stew with balsamic vinegar is classic comfort food, which is simple to make, too. The addition of balsamic vinegar gives this stew a new delicious taste! See our highlight of the balsamic vinegar recipes!
yields: 8 to 10 servings
Prep time: 30 min
Cook time: 2 hr
Ingredients for beef stew with balsamic vinegar recipe
2 1/2 pound of good-quality stewing beef*
1 cup or more of good-quality balsamic vinegar
2 tablespoons of olive oil
2 bay leaves
1 teaspoon of fresh thyme or 1 1/2 teaspoons of dried thyme
2 cloves of garlic, finely chopped
1 can of tomato paste
1 1/2 teaspoons of chopped fresh rosemary leaves
2 cups of homemade beef stock (such as boneless beef chuck, trimmed of excess fat and cut into bite-sized pieces)
3 cups of red wine (such as Barolo, etc.)
1/2 cup of water
1 pound of small red potatoes (unpeeled), cut into bite-size pieces
1 pound of carrots, cut into 1-inch slices
2 small onions, quartered
1 pound of small mushrooms, quartered
3 tablespoons of water mixed with 3 tablespoons cornstarch (optional)
1/4 cup of chopped fresh parsley
Coarse salt and freshly ground black pepper to taste
Preparation of beef stew with balsamic vinegar recipe
In a large bowl, place the meat cubes and the balsamic vinegar. Put in the refrigerator and let marinate overnight. When ready to use, drain off the balsamic vinegar and discard.
Browning the meat: in a large heavy pot over medium-high heat, add olive oil. Add stew meat and brown on all sides. If a lot of liquid accumulates while browning, drain into a bowl and save for later to add back to the stew.
Reduce the heat to medium-low. Add the bay leaves, thyme, garlic, tomato paste and cook until the garlic is fragrant.
Add the rosemary leaves, beef stock, wine, and water. Cover with a lid and bring just to a boil over medium-high heat; reduce heat to medium and simmer approximately 1 1/2 hours or until meat is fork-tender, but not falling apart. Check on the meat every now and then to make sure liquid does not evaporate, adding a little water if necessary. You want the resulting juice to be concentrated and full of flavor.
Always cook stews at low temperatures: the surface of the liquid should barely move. When you simmer very gently, the fat melts out of rich meats and mingles with the liquid. The dish can then be chilled, and the fat easily skimmed off.
After the beef is cooked, add potatoes, carrots, onions, and mushrooms. Bring back to a simmer and cook approximately 45 minutes, stirring occasionally, or until vegetables are cooked. Optional: at this point, you may add the cornstarch mixture if you want a thicker stew. Stir mixture into the stew until slightly thickened.
Add fresh parsley, and salt and pepper to taste.
Serve with a good bread to soak up some juice and a simple green salad.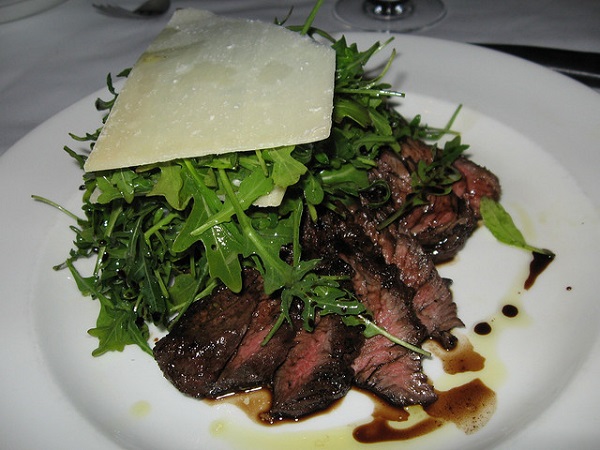 Another one of our favorite balsamic vinegar recipes
Penne with pumpkin, bacon, and balsamic vinegar of Modena
Ingredients for this balsamic vinegar recipe
2 c. of cubed fresh pumpkin, divided
1/2 an onion, chopped
1 Tbsp. of salt
1/2 c. of smoked pancetta or bacon, cut into 1/5-inch pieces
1 tsp. of extra virgin olive oil
1 clove of fresh chopped garlic
1 tsp. of fresh chopped rosemary
1 tsp. each of salt & pepper
16 oz. of penne pasta
2 oz. of Parmigiano Reggiano cheese
Preparation
Set 1 cup of pumpkin aside. Place the remaining pumpkin, the onion, and 1 tablespoon of salt in a pan. Cover with water and bring to a boil. When the pumpkin is tender, drain the water off and whip it, along with the onion, to a cream-like consistency. Set aside.
Cut the pancetta pieces into julienne strips. On Medium heat, add oil to a nonstick skillet and fry the pancetta until just crispy. Remove from the pan and drain on paper towels. To the same pan, add the reserved pumpkin and cook for 2 minutes on low-medium heat. Add the garlic, rosemary, pancetta, and 1 teaspoon each of salt and pepper to the pumpkin. Stir to combine and continue to cook for a few minutes. Add the pumpkin cream and cook until heated through. Cook pasta in boiling, salted water according to package directions. When done, drain and add to the pumpkin sauce. Cook an additional 2 minutes. Drizzle with balsamic vinegar, sprinkle with parmesan, and serve.
Enjoy!
By Elisa Bressan