Do you know where Carnia is in Friuli? If not, we'll share with you some insights about Carnia, Italy. Along with that, we'll also share some insights of the traditional Carnia cuisine.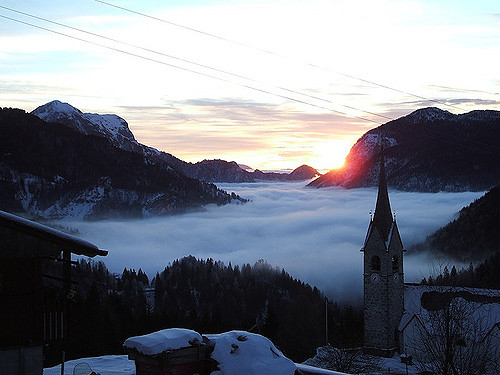 The mountainous territory of Carnia is the part of Friuli which stands astride the border between Austria and Slovenia. Due to its anguished history, often marked by extreme poverty, Friulians are extremely attached to their land and have learned what the land has to offer and to use it in the best possible way.
Carnia cuisine
Luckily the land's characteristics have allowed for a variety of products, which time and experience have transformed into the cuisine. For instance, a wide variety of herbs have been used to create an infinite array of delicious recipes, both simple and sophisticated.
Friuli's Alpine and Pre-Alpine valleys are the place of origin of this tradition, the springtime being the best moment of the year to experience it. Some herbs are used not only in the preparation of delicious dishes but also in aromatic grappa and herbal teas. Grappa is essentially made from the leftovers of the season's grape harvest. Every year, this tradition is celebrated in Carnia with village parties and festivals.
Extremely rare is the radic di mont, mountain chicory which comes in three different varieties, one red (the most precious) and two green. It is harvested in the first weeks of May and preserved in oil.
Many recipes in Carnia cuisine with it would come to mind to a Friulian: exquisite omelets and first course dishes mainly, as well as of stuffings for meat-based dishes or as an accompaniment to Sauris' famous smoked ham. 
Carnia Traditions
I would like to mention the famous Carnival of Sauris which takes place during the second half of February. Sauris is, in fact, the highest town in the region and it is very cold at this time of the year. The Rolar is a magic, armed, demon figure whose role is to warm everyone up for the evening's events. His name derives from 'rolelan', the bells attached to his body which rings out as he moves. The Kheirar is the king of the masked demons who leads the ceremonies. He carries a broom to beat the doors of the houses where he wants to enter. He brushes their floors and introduces a couple of masked creatures, one ugly and one very beautiful: both do a little dance, accompanied by an accordion.
The masks are based on original models found at the Museum of Arts and Popular Traditions of Tolmezzo. The Carnival evening ends with stops in the typical wooden and stone baite where mulled wine is offered, along with Sauris' smoked ham.
Cheeses of Carnia
Cheese is another characteristic product of Friuli and Asino cheese is one of the region's best known. Asino cheese gets its name from the fact that it is partly made up of donkey milk. The cheese originates from the Mònt d'As, in the fascinating frame of Pieve d'Asio, in the actual districts of Clauzetto and Vito d'Asio. Probably born from the evolution of an ancient conservation process, Asino was first mentioned by the historian Enrico Palladio in his book Rerum Foroiuliensium, in 1659.
Thanks to its savory flavor and soft, delicate texture, it was popular in both Venice and Trieste's cuisine. Today, it is also known, in these same areas, as "salty cheese" or "Friulan cheese".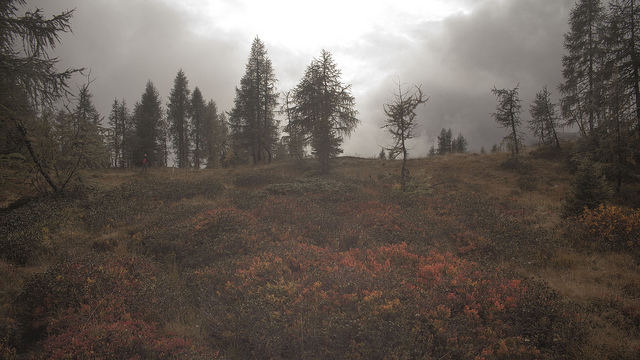 In the Friulian tradition and Carnia cuisine, soft Asino is served on grilled slices of bread or polenta, and matched with ham to preserve its salty flavor. It is particularly recommended also with artichoke, asparagus, liver, and risotto. Classic Asino, particularly delicious when fresh, produces a tasty cream and can be used to flavor both cheese sauces and fonduta. Matched with meat or grilled vegetables, it will satisfy you with its delicate but clear flavor.
Another authentic and tasty cheese is Montasio, which is produced high on Friuli's Alpine plateaux. It is matured for a period of two, five, or twelve months for the full flavor and harder version.
Frico is my favorite cheese and it is suitable for cooking in a frying pan. Another Friulian cheese, Cit, is actually made from defective pieces of other cheeses and it is creamy.
Sauris Smoked Ham
Sauris ham is a type of cured smoked prosciutto, exclusively produced in the Sauris area. The prosciutto di Sauris has an I.G.P. denomination, which means that the real thing can only be produced in Sauris and its surroundings. What makes this prosciutto special is its light smoked taste, obtained with the exclusive use of beech wood.
This traditional Carnia cuisine delicacy can be enjoyed on its own as a starter or as part of a pasta dish.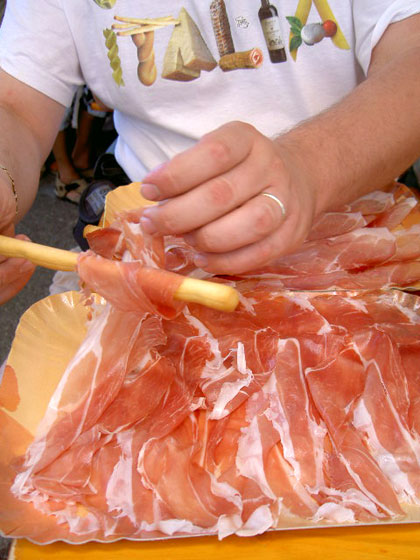 Traditional Meals in Carnia
First course: Minestrone soup of cabbage or beetroot with beans and potatoes; Blecs – pasta squares served with rabbit and chicken sauce; Spaetzle -a type of Austrian gnocchi; Slicrofi – a Slovenian ravioli filled with potatoes, bacon, onions, and parmesan cheese; sausage risotto and liver slices with aromatic herbs.
Second course: Goulash alla carne with a spicy sauce; fresh pork sausages with polenta; tripe, seasonal vegetables such as radicchio, with bacon and beans, ardelut or valeriana.
Some Friulian recipes – Carnia cuisine
Goulash
Traditionally, goulash is a Hungarian stew, made with beef and flavored with paprika, but it's also the most famous dish of Carnia cuisine in my region, in Friuli.
Ingredients for 6 persons:
– 800gr of diced beef
– half kg. chopped onions
-70gr of lard or pig fat
– 2 spoons of tomato paste
– broth
– paprika
– rosemary
– one bay leaf
In a casserole melt the pig fat and cook the onions; add the beef to lively fire and brown, add the paprika, rosemary and bay leaf, and tomato paste (dissolved in warm broth), Put the cover on the casserole, and cook at low, adding more broth if needed, season with salt. Serve with boiled potatoes.
Pasta with Asino Cheese
In a pan fry some onion in olive oil, put some pieces of Asino cheese, and some cream. Let it all melt at low temperatures. Add a small portion of minced pine nuts, chopped olives, and raisins, and allow it to cook for a few minutes. Add fresh tomato and some basil leaves. Serve over the pasta, which you should cook in unsalted water. These are some highlights of the Carnia cuisine in the Friuli region.
Elisa Bressan