Positano is an outstanding town in Italy. With this article, we will be going through some great things to do in Positano, and highlights for your trip to the Amalfi Coast. One of the most magical coasts of Italy, the Amalfi Coast is a real gem. Moreover, Positano looks just like if you just stepped into a fairytale seaside town. The unreal, beautiful town on the Amalfi Coast attracts thousands of visitors each week during the summer. So, let's explore together Positano, Italy.
Why visit Positano, Italy?
One of the most beautiful places in Italy is Positano. It is a village located on the Amalfi Coast in Italy that should be on everyone's bucket list. The houses of the town are built on the hills surrounding the beach, which makes this a very unique place. There are amazing sights, beautiful places, tasty food, and much more
Things to do and see in Positano?
Are you ready for a perfect vacation on the Amalfi Coast? Here are the best things to do in Positano. A quick guide to the best things to see in Positano, Italy. You'll also have some tips for the best places to eat in Positano, as well as some great places to stay in the town. Make sure you check also the best places to stay in Positano!
1. Take photos of the views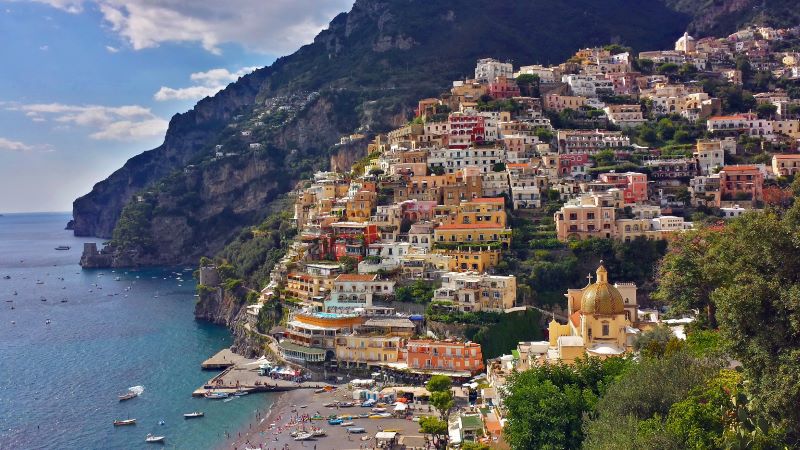 Positano is well-known for its amazing views. Because the town is situated on hills, there are lots of levels from where to take in the beautiful views of the town and the sea next to it. The hills make the view more beautiful because it allows the houses to all be present when looking at Positano. This makes the town very photogenic and it's why there are lots of Instagrammable photo spots in Positano. Taking photos of the views is one of the best things to do in Positano.
2. Church of Santa Maria Assunta
Another great activity in Positano is going to the church of Santa Maria Assunta. This is a beautiful and picturesque church close to the beach of Positano. What's great is that there is no admission fee, so everyone can enter the church and relax inside.
3. Hike the Path of the Gods
For those looking to do something adventurous, hiking is a great and unique activity in Positano! There are several places for hiking in and near Positano. One of the best hiking trails is the Path of the Gods that starts in the town of Bomera and ends in Positano. During the hike, there is a lot of beautiful nature and there are incredible views of the coast. It is not a difficult hiking trail, so everyone can do it.
4. Go to the beach
Positano is well-known for its beach, called Spiaggia Grande. Being here is very relaxing and very fun. What's amazing as well is seeing the beautiful houses of the town while on the beach. Moreover, there are sun umbrellas that look lovely. This makes this beach very unique and a beach that is great to be.
5. Shop at the local shops
There are lots of shops in Positano where it's possible to shop for local items. When walking through the center of the town, one goes by a lot of these shops. That's why Positano is a great place for shopping if you like local items.
6. Do a day trip
Even though Positano is great to be, there are many places near Positano that are worth visiting too. For example, Amalfi is another great town on the Amalfi Coast as well, with many things to do. It's easy to get to Amalfi by either bus or boat. Other great day trips from Positano include ones to Sorrento, Naples, and Pompeii.
7. Swim at a pool with a view
There are many amazing hotels in Positano that have a pool with a beautiful view of the town. It's a great experience to swim and at the same time be amazed by what you see. A great hotel with a beautiful pool is Villa Tre Ville.
8. Rent a boat and see Positano from the water
In Positano, one can rent a boat to explore the town from the water. From there it's possible to get an even better view of the town and by boat, it's possible to visit other places on the Amalfi Coast.
9. See the town at night
At night, Positano looks beautiful as well. The lights of the houses in the town give a wonderful effect that is beautiful to see. This makes strolling around the town at night one of the best things to do.
10. Try out limoncello
Limoncello is a drink that is made from the skin of lemons and sugar. Especially in summer, this is a great beverage. It is a typical drink for this town and trying it while in the town is a must-do experience.
Where to eat in Positano?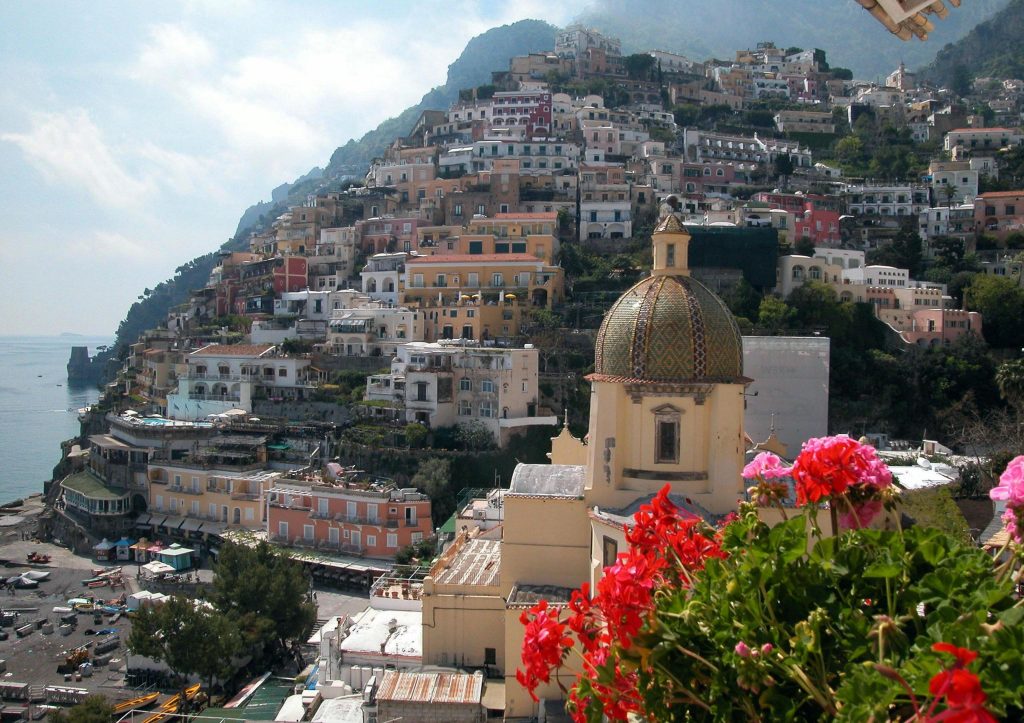 There are plenty of great restaurants in Positano where you can taste delicious food including local dishes. Some of the best of these are listed below.
1. La Tagliata
La Tagliata is a great restaurant that serves local dishes from Positano. For this, they use vegetables that are grown on their own land. Furthermore, they use other ingredients from local sources. An example of the food that can be ordered at La Tagliata is handmade pasta. Besides the great food, there is a great view to enjoy while eating the food.
2. La Cambusa
To try out dishes that differ per season, go to Ristorante la Cambusa. This restaurant uses local cooking traditions to prepare its dishes in a simple way to serve the most delicious food.
3. La Sponda
La Sponda is a restaurant in hotel Le Sirenuse that serves contemporary Italian dishes that are made with fresh local ingredients. The restaurant has a Michelin star and the food is amazing. The view from La Sponda is wonderful, so there is both delicious food and a great view.
Where to stay in Positano?
There are many hotels that are great to stay at. The town of Positano is packed with luxury hotels and apartments. One of the best hotels is Le Sirenuse. A 5* place in Positano with a spectacular view, beautiful rooms, and pool with a view! The restaurant La Sponda, as mentioned before, is located in Le Sirenuse. For those who are looking for more affordable places to stay on the Amalfi Coast, we definitely suggest picking accommodation in Sorrento, as this town is much cheaper.
How to get to Positano?
It is easy to get to the town of Positano, but a transfer via nearby towns the town indeed.
It's possible to get to Positano from Sorrento or Amalfi by ferry or by bus. Both options are convenient and the cheapest of the two is the bus.
To get to Sorrento from the larger city of Naples, it's possible to take the train. Amalfi is easy to reach by train from many other parts of Italy.
Alternatively, it's possible to get to Positano by renting a car. Also, there are taxis that can offer transfers from, for example, Naples to Positano. This is the easiest way to get to Positano, but also the most expensive option.
Written by Dymphe from Dymabroad
Pin it: Things to see in Positano