Sorrento is located in southern Italy in the Campania region. It's a well-known tourist destination on the Sorrentine Peninsula and the area is surrounded by several beautiful sights. The closest biggest city is Naples and between them is a very sufficient public transportation connection. Sorrento's highlights are lemon products, delicious cuisine, breathtaking sea views, and a charming little town itself.
Things to Do & See in Sorrento
Sorrento is a pretty small town and thanks to that it's mostly walkable. It's peculiar to Italian seaside towns with many churches, steep hills, and colorful buildings. Before you dig in, also make sure you're picking the right place to stay in Sorrento!
Stroll Around Marinas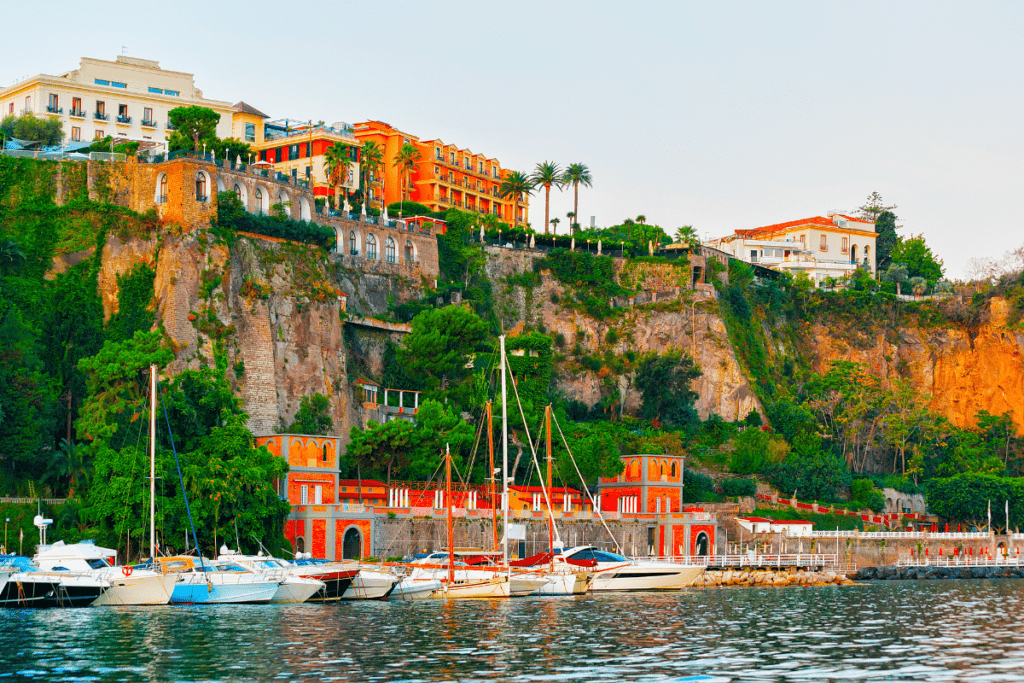 Sorrento has two marinas called Marina Piccola and Marina Grande. A beautiful Marina Grande lies along a steep coastal line with colorful buildings and with the atmosphere of a fisher village. That shore is packed with several seafood restaurants and it also has a small beach area for sunbath.
Another fun fact is that Marina Piccola (Small Marina) confuses by its name because it's actually bigger than Marina Grande (Big Marina).
Quick Dip in Bagni Della Regina Giovanna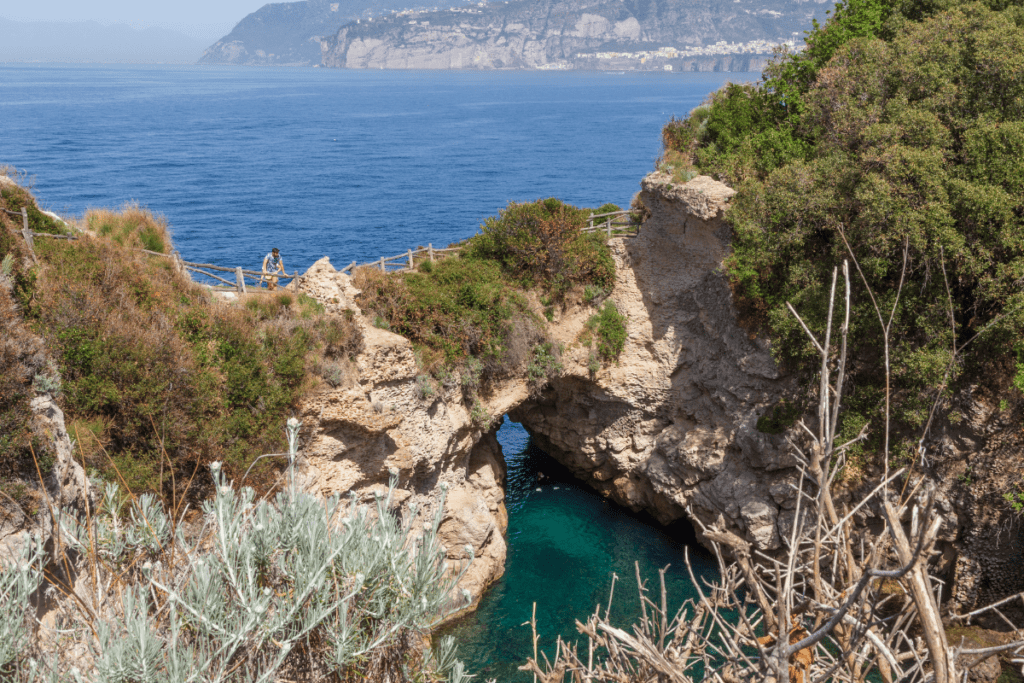 Regina Giovanna Bath is at the point of Capo di Sorrento. There are ruins of A Roman villa, but what is more exceptional is the natural swimming lake. The lake is separated from the sea by a natural rock arch. From there are also excellent views over the coastal area.
Taste the Local Limoncello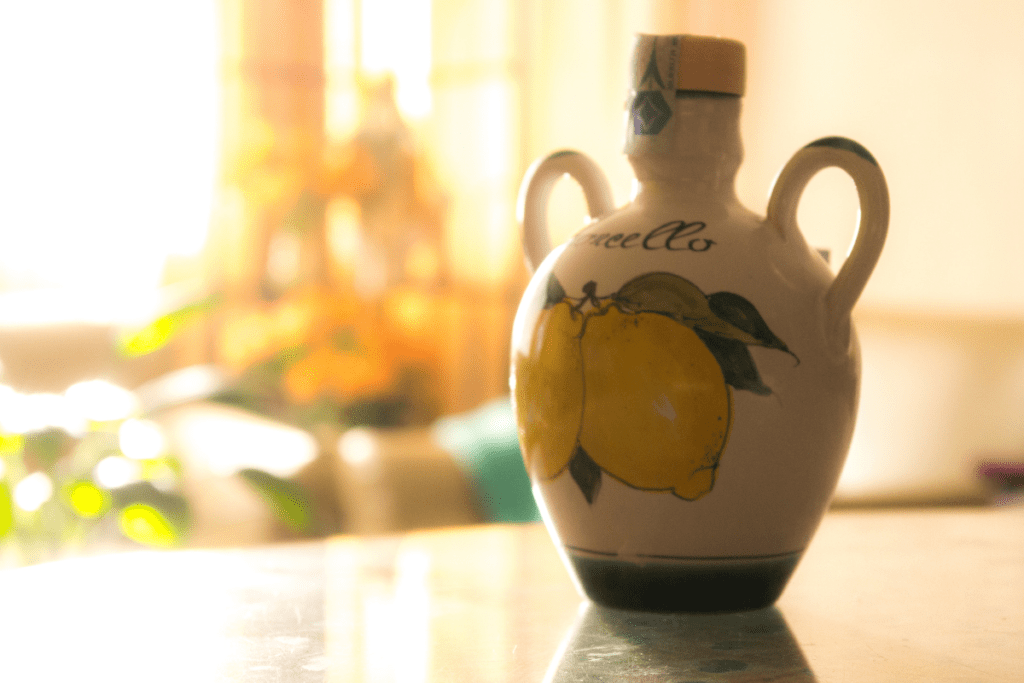 Around Sorrento grows a lot of lemons. It is seen from the streets with several markets and shops related to that fruit. One thing that is produced from these is a liqueur limoncello. Sorrento Old Town, especially Via San Cesareo street are several shops to taste the most famous drink of Sorrento.
Take A Break at Villa Comunale Park
The park is right above Marina Grande, near St.Francis Church. It's a perfect place for a break after a long day. The hilltop coastal area is a must-visit in Sorrento, which offers the best views to the Bay of Naples down to the Sorrento coast. From there it's seen Mount Vesuvius and it's the perfect place for sunsets.
Check Out the Vallone dei Mulini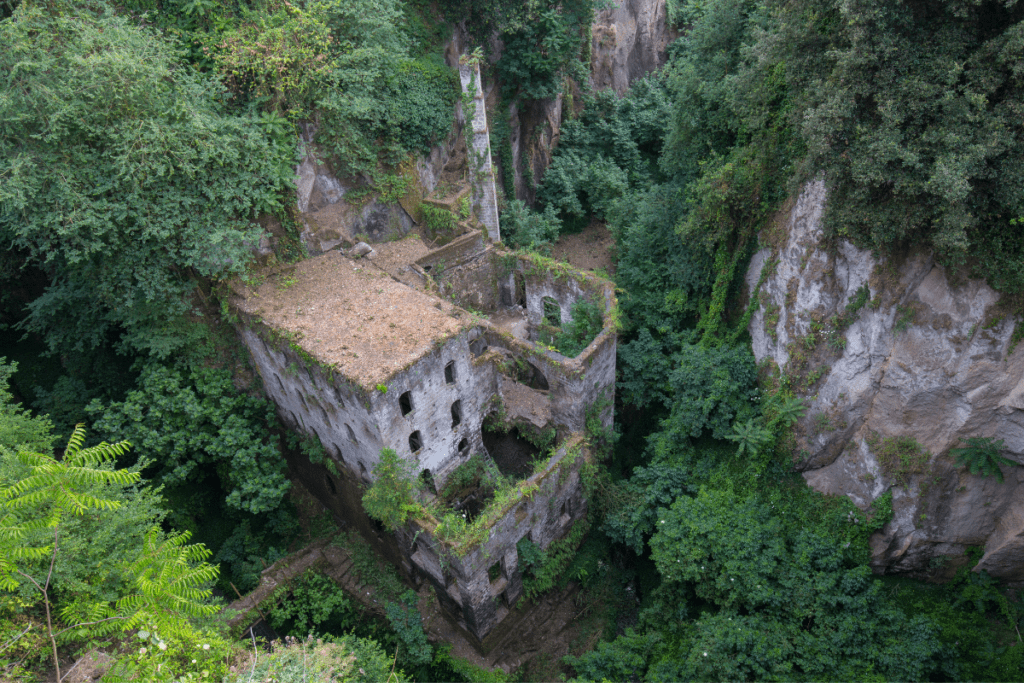 The Valley of Mills is located on the edge of Sorrento. These mills were constructed back in the 13th century and had different functions from grinding grain to providing sawn wood. Mills were closed in the 1940s and since then it has been abandoned. Over the years the untouched mills have been taken over by nature. Now it's one of the most unique things in Sorrento where everybody can look down and take pictures of the abandoned sawmill from Via Fuorimura street.
Piazza Tasso and Corso Italia
Piazza Tasso is the busiest square in Sorrento. Filled with cafes, bars, and restaurants to have a quick snack or coffee right in the heart of Sorrento. It's in a very convenient spot with many accommodation options and a train station nearby. From there starts a pedestrian Corso Italia street with shops on both sides. Close by the area is also Old Town.
Wander Around the Old Town of Sorrento
Sorrento's old town is charming and it's great to just wander around. There are many boutique shops with lemon products, handmade crafts, gelaterias, and some small cafes as well. The busiest street is Via San Cesareo where several shops are packed to each other.
Where to Eat in Sorrento
Sorrento is a great place for delicious local cuisine. There is no shortage of restaurants which are filled with different Italian dishes.
Firstly, Sorrento is a seaside town with exceptional options for fish meals. To fit with the surrounding atmosphere, then probably the best area to have a fish meal experience is in Marina Grande. Try their seafood gnocchi from Trattoria Da Emilia. It's also the oldest restaurant in Marina Grande.
Classical Sorrento cuisine is found from Corso Italia street in Ristorante 'O Parrucchiano La Favorita. This place has been known for over 100 years by their cannelloni, which was invited in their kitchen. The restaurant has a spacious patio for outdoor dining.
Terrazza Bosquet is a Michelin star restaurant between the Marinas. A restaurant that offers excellent local cuisine with views of the Bay of Naples on its rooftop balcony. It's one special place to experience Sorrento cuisine.
Where to Stay
Like with restaurants Sorrento is filled with a variety of accommodations from budget to luxury. It's better to book in advance because it's a popular place for tourists.
Hotel Palazzo Tasso is in the heart of Sorrento, right next to the main square. The hotel is surrounded by transportation stations, the old town, and the shopping street. There are varieties of budget range rooms.
Villa Oriana Relais is a mid-range boutique hotel a bit outside of the town. It's a hotel to consider who wants to be away from the busy Sorrento lifestyle and enjoy the views of the coastline.
Maison La Minervetta is a luxury hotel with stunning views over the sea. It's located at the top of the steep hill with access to the private beach on the shore of Marina Grande.
How to Get to Sorrento?
Sorrento is well connected with public transportation. The closest big city is Naples and between them operates trains, busses, and boats.
There are two train options: Circumvesuviana or Campania Express. The cheapest option is to use the public train Circumvesuviana. The train runs approximately after every 30 minutes and a one-way ticket costs 3.60€. A journey lasts about one hour and ten minutes. Campania Express train also operates between Naples and Sorrento. It takes less time to travel (45 minutes) and costs a bit more (8€) than Circumvesuviana.
Curreri bus company departs from the Naples airport and goes directly to Sorrento. One-way ticket costs 10 euros and the travel takes about 75 minutes.
The fastest and most spectacular way to get to Sorrento from Naples is by ferry. Departing from the Port of Naples straight to the Port of Sorrento. The journey takes about 45 minutes and ticket prices vary between 13 to 20 euros.
From Sorrento are many close-by day trip opportunities. The chance is to either take a train to historic Pompeii, a boat trip to Capri island, or a bus to the scenic Amalfi Coast.
Why to Visit
Sorrento has won many hearts by the magnificent sea views, delicious cuisine, shopping streets, and perfect location. It's situated in the steep hills with astonishing views of the Bay of Naples. Many opportunities to taste traditional Sorrentina cuisine from seafood to pizzas. The town's two main shopping streets, the Corso Italia and Via San Cesareo have many different authentic boutiques and lemon shops. Last but not least, it's the perfect place to visit other scenic and historical sites as a day trip around the Sorrento.
Written by Erki from Genem Travels