In Italy, it is not only people who gets ready for Christmas, but cities, too. It is especially Christmas street lights and decorations that help creating that special holiday mood everywhere, so much so that walking around, shopping or simply strolling enjoying the atmosphere, is one of people's favorite activities this time of the year.
There is more than Christmas trees and ornaments: center stage is usually taken by famous luminarie, urban Christmas lights.
Luminarie are the colored lights placed in the main areas of towns for Christmas: every Italian town is lit up during this period of the year, but some towns are particularly renowned for their Christmas lights, which have become a source of tourist attraction. We have selected two towns that stand out for their spectacular lights, that are not simply considered Christmas decorations but real artistic works of art. It is not by chance that they are entitled "Luci d'artista", lights of artist.
Turin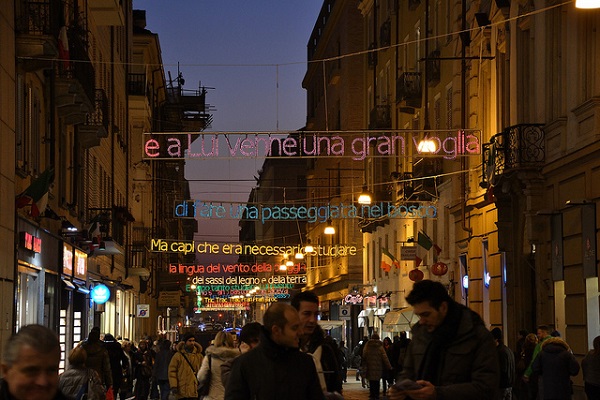 Since 1998, Turin has been shining under luminarie during this period of the year. Luci d'Artista has brought together more than 30 artists from all over the world, who created amazingly beautiful light installations throughout the main streets of the Piedmontese capital.
In 2019 there are 25 different installations, works of contemporary art created with lights, a true open air art exhibition. Of these installations, some are part of a collection that is displayed every year, others are original. Like all art masterpieces, each installation has a title and a very specific atmosphere to evoke.
In 2014, the Luci D'Artista in Turin where turned on during a marathon
This year 2019 Luci d'Artista are on in Turin since October 29th, and will stay on for all of us to enjoy until the 12th of January. There's a full map with the various location of the lights that you can find online.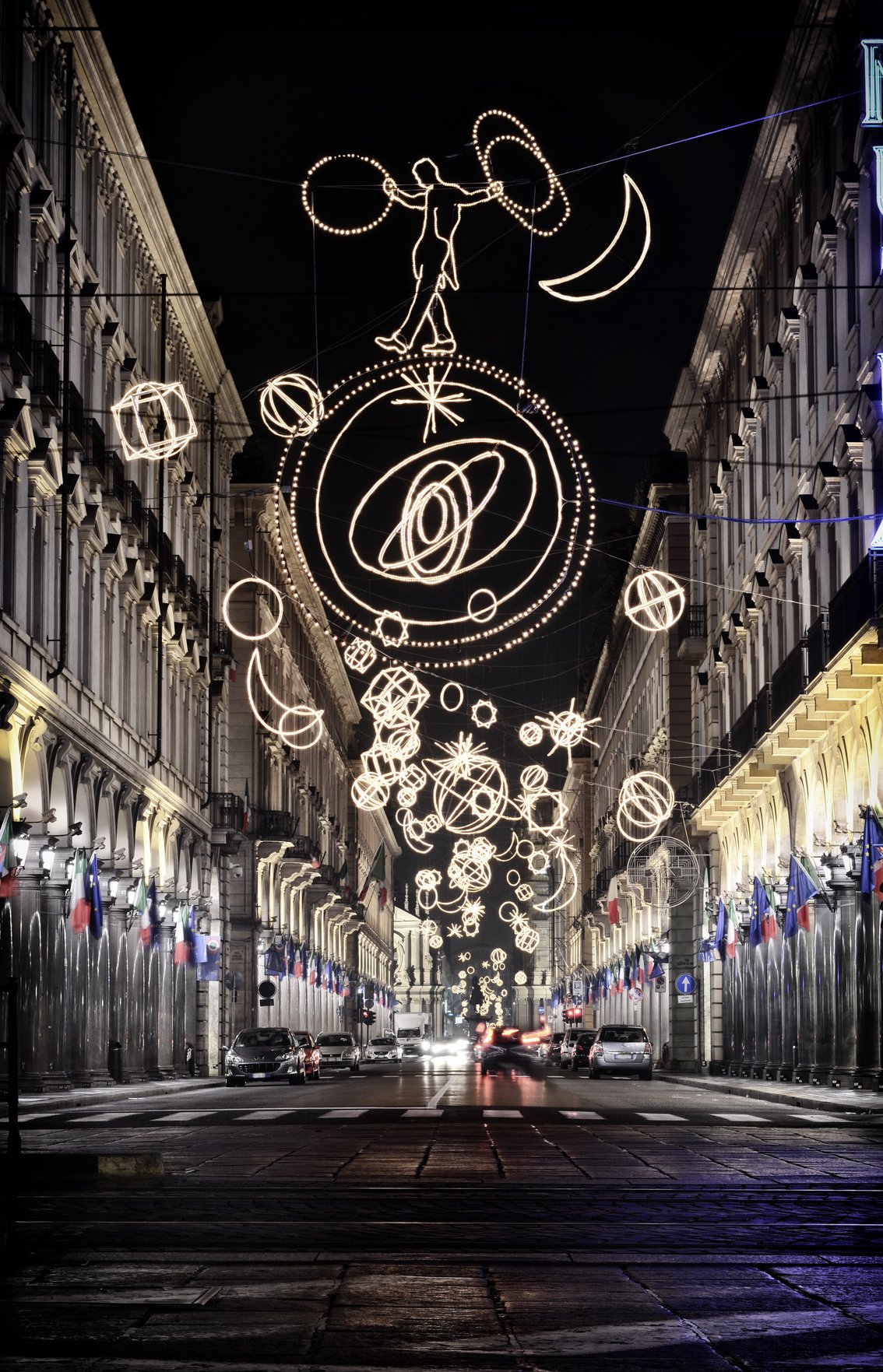 The lights are left for quite a long period to give tourists the opportunity to see them, so the lights are not exclusively a December event. The luminarie were born as an expression of art and as a way to use and mold lights, images, and emotions. The art pieces were also originally created as a means to support local shops by attracting Christmas tourism to the area.
Salerno
In 2019 the Luci d'artista in Salerno were inaugurated on the 15th of November and will keep illuminating the streets of the town until January. Every year there is something new. In 2014 inspiration for the artists' creations were fairytales and mythology, along with, of course, Christmas and the enchantment of fables. In 2015 the theme was the forest, with fairytales, enchanted gardens and exotic worlds as subjects. There will be lights also on the new born Santa Teresa beach. In 2016 a panoramic wheel was added, that allows visitors to see the lights from above. In 2017 the lights represent forests, Noe's Ark, the ocean, the Amalfi Coast. 2018's theme is "Sea, Myth and the Divine Coast". In 2019 lights are about flowers and animals.
The inauguration of Luci d'Artista in Salerno
The town of Salerno is becoming popular thanks to its luminarie and it is attracting more and more tourists year after year. This event is accompanied by several initiatives and shows that take place and tourists are able to visit the town and get a taste local produce by enjoying art, music and food.
The luminarie are not to be missed for all those visiting Italy at Christmas. However, if you are coming to the bel paese in the second half of November or at the beginning of January you will still have the opportunity to see the luminarie and dream under their shining lights. These are some of the most renowned places for artistic Christmas light exhibitions because in other parts of the country you will find they are not works of art in the same way as they are in these two enlightened towns.