Finding just the right gift to take home for someone can be as much fun for the giver as for the recipient. These Trastevere shops, located across the Tiber from the city center, all provide unique (but not weird) and useful (but not boring) gift ideas. You won't find cookie-cutter chain stores here, but rather one-of-a-kind places with their own singular ambiance. Sometimes hard to spot, tucked away in corners and having non-descript doorways, it isn't always obvious what treasures are hidden inside. The following will get you started, and you're sure to make some wonderful finds of your own along the way.
Ceramica D'Arte
Weaving a basket or shaping clay has never looked easy, but Lavinia Santi combines both and makes it appear effortless. She has been perfecting her style for 25 years to create original pottery baskets, plates, bowls, jewelry and even lamps complete with electrical fittings. Prices run from Euro5 to 1,300. Via S. Dorotea 21, tel. 065882079. 09.30-13.30, 15.30-19.30. Mon closed.
GraphicArt Bazaar
Young, hip Veronica Di Giovane and Riccardo Giove, owners of this six-year-old shop, create whimsical designer stationery, photo albums, diaries, picture frames and more using only natural products. Each item could qualify as a work of art, but without demanding auction-house prices. Expect to pay from Euro 8 to 95. Vicolo del Cinque 30/b, tel. 065895552. 19.00-24.00. Mon closed.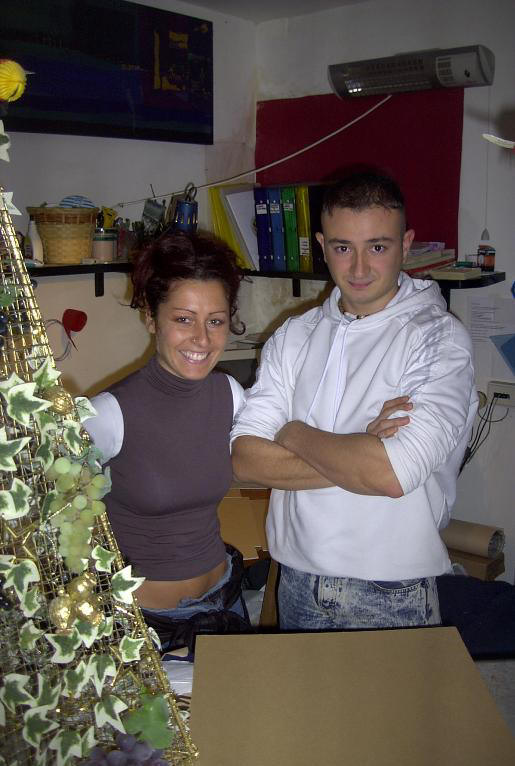 Ferrara
"Upscale" best describes this gourmet food/wine shop and restaurant. A gift-boxed, 100-year-old bottle of balsamic vinegar will set you back about Euro270. For the rest of us there are reasonably priced Italian specialties including capers, olives, pesto and tomato sauces. Apricots, pears and clementines packaged in glass jars are almost too pretty to eat. If your aim is to impress, this is the place. Prices range from Euro 0.70 for a chocolate to 900 for a rare bottle of wine. Via del Moro 1/a – Piazza Trilussa 41, tel. 0658333920. Mon-Sat 10.00-15.00, 18.00-00.30. Sun 18.00-00.30.
Polvere di Tempo
Interesting items at this time-themed shop include handcrafted hourglasses, sundials, globes and kaleidoscopes. The owner, architect and craftsman Adrian Rodriquez, explained how candles marked with numbers were used by monks in the evening to note the passage of time. The tapers, priced at Euro 10, are attractively wrapped in brown paper and tied with twine. Prices range from Euro 8 to 630. Via del Moro 59, tel. 065880704. 10.00-20.00. Sun closed.
The Almost Corner Bookshop
This English-language bookstore carries all types of books and an especially good selection of history and fiction. Owner, Dermot O'Connell from Kilkenny, Ireland, invites you to browse among the latest bestsellers in the shop's larger, brighter space, two doors down from its old premises. His focus for the shop is to maintain its interesting and unusual reputation and to obtain anything a customer requests. Special orders usually take about three weeks, sometimes less. Regarding prices, O'Connell says: "We have books for every pocket." Via del Moro 45, tel. 065836942. 10.00-13.30, 15.30-20.00. Sun 11.00-13.30, 15.30-20.00.
Fuori Orario
If nothing you buy is cool enough for the female teenagers in your life, this shop may lessen the (generation) gap, at least for a little while. The offering of trendy clothes is impressive, with styles from Italy, Spain, France and England. Embellished t-shirts and trousers, leather and suede pieces and distinctive items including a zebra-striped coat provide lots of great gift ideas. Prices range from Euro20 to 250. Via del Moro 29, tel. 065817181. The shop opens daily at 11.00 and has no set closing time.
Valzani
As you wind your way up Via del Moro, the window display at Valzani will stop you in your tracks. Rich chocolate cakes, sacher torte and typical Roman favorites like pangiallo (what fruitcake should taste like) and panpepato (made with honey, chocolate and pepper) tempt even the most determined dieter. In business since 1925, the Valzani family has built up quite a following. Virginia Valzani says that their customers come not only from all over Rome but from around the world. Glossy red gift boxes filled with their handmade sweets are priced from Euro 7 to 20. Via del Moro 37a/b, tel. 065803792. 09.00-20.30. 7-15 Jan closed.
Cartoleria
Now that you have made the rounds it's time to wrap it up. Stop in this card shop located in this bustling piazza and choose from the vast selection of wrapping paper, ribbons and cards. If you're all thumbs with tape and ribbon, stock up on gift bags and tissue paper. They will give your careful selections the perfect finishing touch. Piazza S. Maria in Trastevere 1, tel. 065897105. 09.30-20.00.
Martha Miller