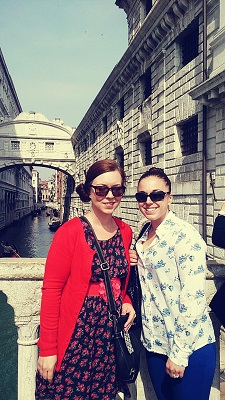 My husband is in the Army. Almost one year ago (2013) he told me that we were moving to Vicenza, Italy; it seemed so unbelievable to me that we were actually that lucky!
We were given the choice of living in Government house or private. We have two small boys, three and five so after little discussion we decided that if we were going to do this than we would completely immerse ourselves. My husband found a lovely home for us in Costabissara, which is about a 20 minute drive from Caserma Ederle. We enrolled our boys in an asilo (Italian nursery school) close to our home.
We got here in August, it was horribly hot, and we had heard horror stories about the cost of utilities so we suffered through and didn't use the air conditioner much.
There are very few Americans that live in our town and very little English spoken. It was quite a challenge in the beginning, I used to walk around with my phone so that I could use Google translate and I would study the dictionary at night. I was very surprised at the kindness I received just because I attempted to speak Italian.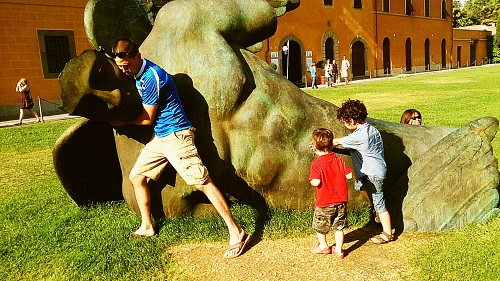 It was difficult to get a job and my husband worked many hours so my little boys and I explored almost every road in our town. We would walk around a new corner everyday in Costabissara just going on adventures. We would also walk to our favorite Pasticceria everyday for cappuccino and gelato. It didn't matter what time of the day it was.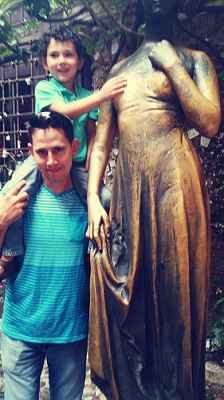 When my husband did have free time we would travel anywhere we could. Our first trip was to Asiago, which is still one of my most favorite places. Such a beautiful and inviting city center. The houses were painted much brighter than those in Vicenza and they have wooden shutters that make it such a warm and inviting place. Asiago is the place where I learned to not sample every bit of cheese available. Especially if you don't know what it is.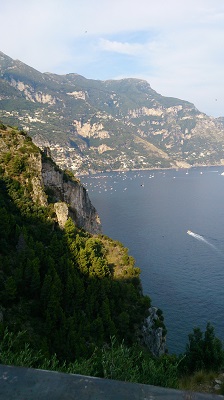 Of course we've travelled to Venice, Verona, Florence, Rome, Pisa, and many other tourist spots, each has their own unique offerings and all are fabulous, but now my heart desires to explore the unseen. Now, one year later, our goal is to go to the most un-tourist spots.
Just this month we started from Vicenza and drove to Pisa, all the way down the coast, stopping whenever we desired. I discovered that Livorno is a great place to go if you like sea food and you don't have small children. We actually were not allowed into a restaurant for the first time! I think it's because we were not dressed nice enough and we have small kids. The waiter said it was because the kitchen closed at 9:00.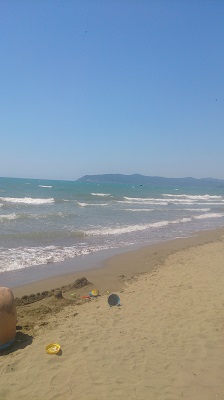 We drove down some sandy gravel roads in Cecina and found the most fabulous unmarked beach.
The water was the color of turquoise you dream about. We stopped in San Vicenzo, which is an absolutely amazing vacation spot! It has all the shops and restaurants in the center of town without all of the tourists. We found a reasonable enough hotel right on the beach so we stayed a couple of nights.
We then drove on to Naples. A word of advice, if you are searching for the Naval base, your GPS will most likely take you to the police station. In the city center. It was an awful experience; I almost don't know how we survived it! There were so many cars, and mopeds, and pedestrians just coming at us from everywhere. Our car was like a loaf of bread and they were pigeons attacking us!
On our return, we saw a sign for a campground in Orbetello so we decided to check it out. I never imagined camping could be so comfortable! We set up our tent maybe 50 meters from the beach, the showers and toilets were clean, there was a bar and a restaurant, and we were able to stay there for four nights at the cost of one night in a hotel. One of those nights we ventured out for some dinner and got a little lost. We came across the most beautiful site, which were the ruins of the Church of San Bruzio.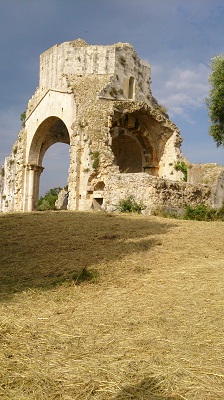 After exploring that we continued our drive, we came across a walled city, Magliano; again, there were no Americans. We found a tiny museum with some artifacts which the lady we spoke to said they were insignificant, but they were fascinating to us. We walked all over the town and finally came along a Trattoria. We decided to check it out. The outdoor seating area looked like that of a fairy tale. Flowers and candles and vines overlooking the Tuscan farmland. The menu was astonishing, and the meal even better. My husband had the gnocchi with duck and I, the lasagna with summer vegetables. For dessert we shared a plate of sheep and goat cheeses with fig jam and honey.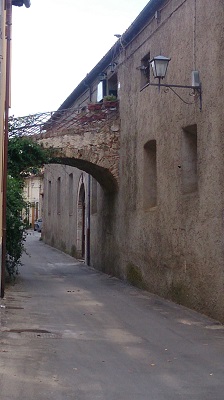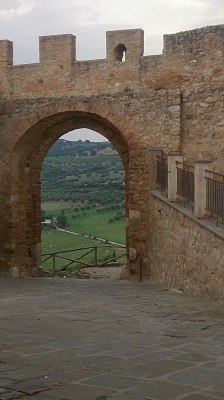 There are beautiful things everywhere in Italy. It's not just the places you read about. It surrounds you. You cannot be afraid to get lost.
The next two years I will continue going to places no one has heard of and I know for a fact that my family and I will take home memories beyond anyone's dreams.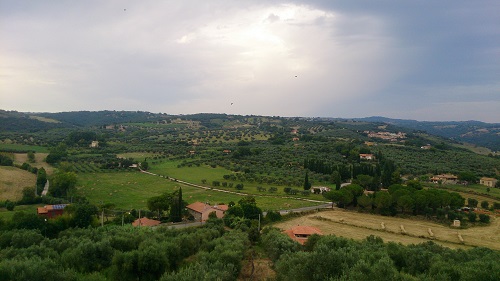 Text and pictures by Christina Hettinger.